New Voting Rights Act Rewrite Would Revive Federal Oversight for Only 4 States
Georgia, Louisiana, Mississippi, and Texas would be required to earn DOJ approval of any changes to election law under the new proposal.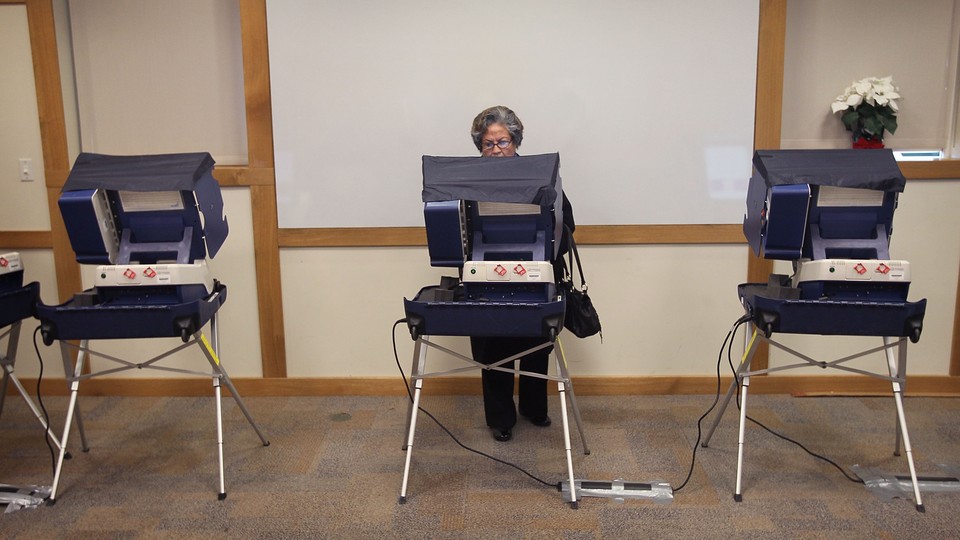 Seven months after the Supreme Court invalidated key sections of the Voting Rights Act for relying on outdated standards of racial discrimination, a bipartisan group of lawmakers introduced a bill Thursday reasserting federal oversight of voting in some states.
The bill, sponsored by Democrats Sen. Patrick Leahy and Rep. John Conyers and by Republican Rep. Jim Sensenbrenner, would amend Section 4 of the Voting Rights Act to require states to undergo preclearance changes if five or more voting-rights violations have occurred within the last 15 years in the state, or a locality within the state, with at least one violation being committed by the state itself.
The Voting Rights Amendment Act of 2014 would revive the Justice Department's oversight of election activities in certain states and would determine which states need to earn approval from the department for any change to election law, a process known as preclearance.
The formula prescribed under the bill would be less strict than the one used in the past, prompting ire and debate among lawmakers and civil-rights groups before it was even officially introduced. A congressional aide working with the bill told National Journal that only four states would currently be placed under preclearance in the proposed VRA rewrite: Georgia, Louisiana, Mississippi, and Texas. All or part of 15 states were covered under the first formula. Nine states were covered in full, along with parts of six other states.
The reinstated preclearance requirement could be particularly unpopular in Texas, where a strict voter-ID law was blocked by the Justice Department in March 2012 but went into effect after the June court ruling.
The bill would also require states tagged for preclearance to remain under the Justice Department's oversight for 10 years.
The new formula includes several criteria determining whether a state falls back under Justice Department oversight. If a court has determined that a state denied any citizen's right to vote based on race or language, or if a court has found that a state imposed a prerequisite to voting in a way that abridged the voting rights of a certain race, that state would fall under the preclearance requirement.
Local jurisdictions could also fall under the preclearance requirement without their entire states being included based on "persistent, extremely low minority turnout" rates spanning the past 15 years.
The preclearance requirement would also apply to any state in which Attorney General Eric Holder has filed an objection to a voting prerequisite, unless the objection was based on a state's voter-ID law.
Already, the bill is creating divides in Congress. Members of the Congressional Black Caucus have so far indicated their support, but the Hispanic Caucus and some outside civil-rights groups believe the bill should be broadened to include a "known practices" formula, which would link federal oversight not only to geographical areas and past violations, but to specific practices wherever they occur.
The bill's sponsors have clout on this issue. Sensenbrenner, a Wisconsin Republican, helped lead the reauthorization of the VRA in 2006. Conyers, a Michigan Democrat, has been vocal on voting rights for decades, and Leahy, a Vermont Democrat, chairs the Senate Judiciary Committee.
"Through months of negotiation and compromise, Congressmen Sensenbrenner and Conyers and I have agreed on a bipartisan and bicameral proposal to restore the protections of the Voting Rights Act that were weakened by the Supreme Court's decision last summer," Leahy said in a statement. "Our sole focus throughout this entire process was to ensure that no American would be denied his or her constitutional right to vote because of discrimination on the basis of race or color."
After the Voting Rights Act passed in 1965, all or part of 15 states with a history of discrimination had to pass all election changes through the Justice Department for preclearance. Voter-ID laws and even relocation of polling places had to be approved by the federal government before taking effect statewide in Alabama, Alaska, Arizona, Georgia, Louisiana, Mississippi, South Carolina, Texas, and Virginia, and in parts of California, Florida, Michigan, New York, North Carolina, and South Dakota.
But the Supreme Court ruled in June that the formula determining which states had to go through the preclearance process — outlined in Section 4 of the law — was unconstitutional because it was based on criteria from the 1960s, a combination of which states used now-illegal literacy tests and which had low voter registration and turnout among minorities. The Justice Department could still have oversight of certain states, the Court ruled, but only if Congress passes a law with an updated formula to determine which states need that oversight.
Despite the opportunity to reinstate the preclearance requirement, civil-rights advocates panned the Shelby County v. Holder ruling. Rep. John Lewis, D-Ga., said removing the provision was "a dagger into the heart of the Voting Rights Act."
The high court emphasized how strict the preclearance requirement was, saying it should only be placed on states that clearly need federal oversight.
"While one state waits months or years and expends funds to implement a validly enacted law, its neighbor can typically put the same law into effect immediately, through the normal legislative process," said the court opinion, written by Chief Justice John Roberts.