Monument Would Invite Children to Sit in Satan's Lap
The Satanic Temple has submitted designs for an interactive display to be erected on the grounds of the Oklahoma Capitol.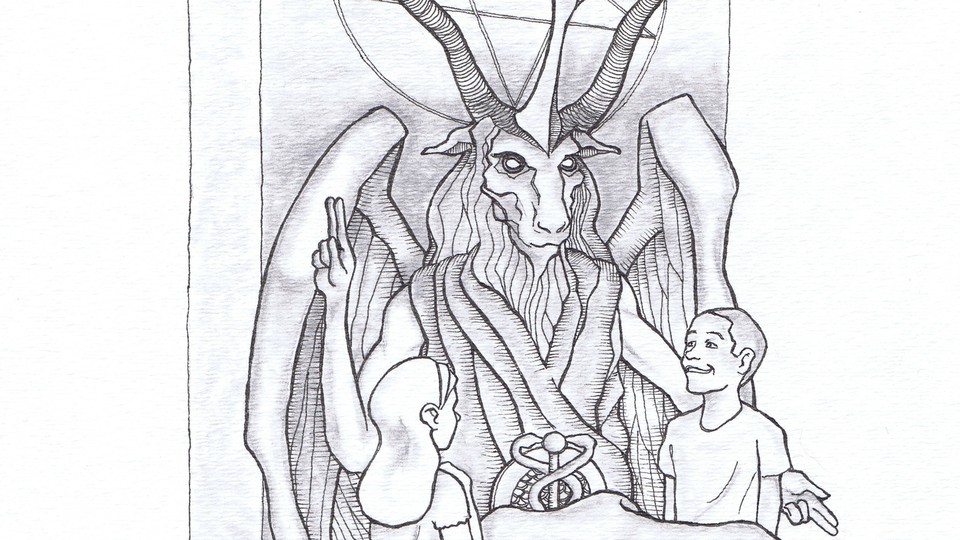 The Satanic Temple has an answer to children who from time immemorial have been encouraged to sit in Santa's lap. They're inviting them to sit in Satan's.
The Satanic Temple on Monday formally submitted its designs for a monument it wants erected at the Oklahoma Capitol. The display has been crafted to "complement" a Ten Commandments monument that already resides on the north side of Oklahoma City's Capitol building. The Ten Commandments display was spearheaded by state Rep. Mike Ritze, a Republican representing Oklahoma's 80th District, and approved by the conservative-led Legislature in 2009.
"The statue will serve as a beacon calling for compassion and empathy among all living creatures," wrote Lucien Greaves, a spokesman for the Satanic Temple. "The statue will also have a functional purpose as a chair where people of all ages may sit on the lap of Satan for inspiration and contemplation."
The monument is intended to celebrate constitutional values of religious freedom and free expression, according to Greaves, who called Satanism a "fundamental component at the genesis of American liberty."
The proposed monument features a 7-foot-tall Baphomet, a goat-headed creature which is sometimes used as a stand-in for Satan. The demon's lap, flanked by a smiling child on each side, will double as a seat for visitors. The back of the stone slab will display a passage from Lord Byron's dramatic work, Cain, that reads:
Then who was the Demon? He
Who would not let ye live, or he who would
Have made ye live forever, in the joy
And power of Knowledge?
Satanists first wrote to the Oklahoma City Capitol Preservation Commission expressing their desire to donate a monument in November; they've raised more than $8,000 on Indiegogo to help pay for the monument. The group hopes to raise $20,000 by Jan. 17. "We trust that this unique monument will also prove a favorite tourist attraction for Oklahoma's Capitol for years to come," Greaves said.
Oklahoma lawmakers have rejected the notion thus far, saying Satanists should not be given the same treatment as Christians.