Michele Bachmann Wants to Sue Obama Over His State of the Union Speech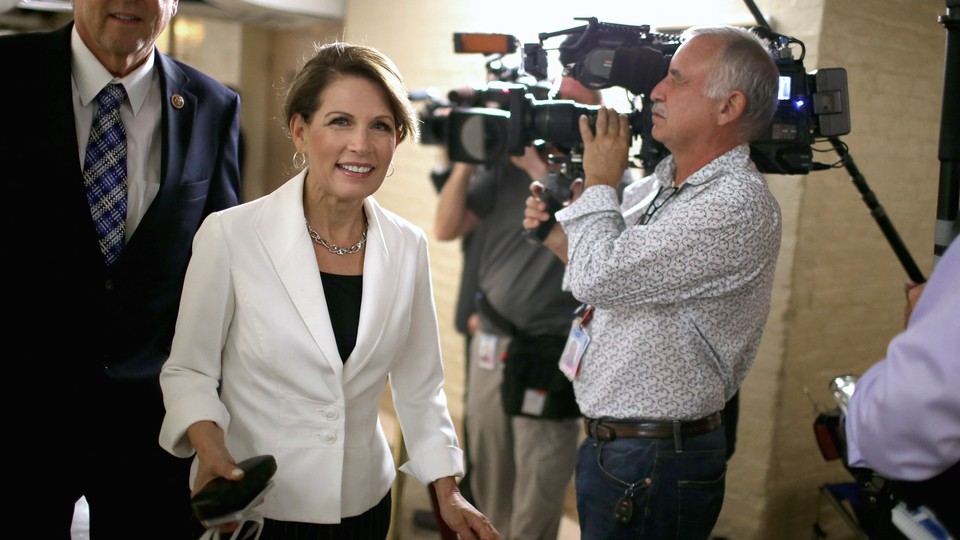 Rep. Michele Bachmann did not react kindly to President Obama's insistence that he will act unilaterally on a number of issues, threatening to sue him.
"If he wants to move forward with this unilateral activity, he better be prepared for the lawsuit that the United States Congress will bring to him," she said in response to Obama's State of the Union address Tuesday. "He may think he's king, he may declare he's a king, but that's not what he is under the constitution," Bachmann added.
Rep. Steve King echoed Bachmann's comments, noting that Obama has already overstepped the bounds of the executive branch. As an example, several conservatives cited Obama's 2012 recess appointments to the National Labor Relations Board, which are currently under review by the Supreme Court.
"He knows what he's saying. He wouldn't have to remind Congress, 'I'm going to use all my real executive authority,' that wouldn't be in the speech. What he's saying is, 'I'm going to use some of your authority.' So I agree with her that we need to take him to court," King said.
In addition to a lawsuit, King proposed bringing a resolution to the floor of the House formally disapproving of Obama's actions "that lists all of his constitutional violations, or at least the clearest ones — there are very many, I don't know that if we'd ever get to all," he said.
King said he hoped that a lawsuit — which could take a while — as well as the formal resolution would encourage Obama to cease taking executive actions without congressional approval. "If the disapproval of Congress can't do that, then we have to start looking at other steps," he said.
Rep. Tom Cole, R-Okla., did admit that Obama does have several executive powers that he can exercise without congressional approval. "The problem is, they don't outlast their presidents," Cole said. "So if you want to go write on the sand in the beach, that's great, but the tide will come in."
If such a lawsuit went forward, it would not be the first time members of Congress sued the president. Former Rep. Dennis Kucinich, D-Ohio, sued Obama over military operations in Libya, for example. But, thanks to the separation of powers, such suits are often dismissed for lack of standing.