Members of an Anti-Obamacare Coalition Are Starting to Turn on Each Other
One of the health care law's biggest cost-cutting efforts is under fire.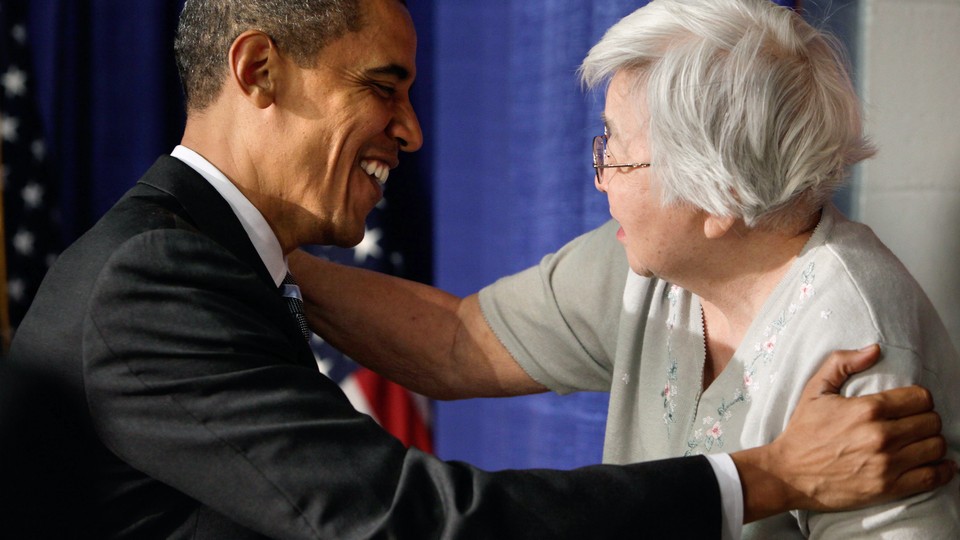 Doctors and insurance companies are scrambling for a way to insulate themselves from Obamacare's cost-cutting.
Insurers are in the midst of a major advertising blitz that they hope will convince Congress and the federal Medicare agency to scale back major cuts to privately administered Medicare plans known as Medicare Advantage.
But even as the coalition crusades against Obamacare, its members are also turning on each other.
In Connecticut, doctors are suing an insurance company for the way it has handled the cuts.
It's a battle that will spread nationwide, insurers say, as the billions of dollars in Medicare Advantage cuts put pressure on plans' ability to offer the same benefits at the same cost to seniors.
The Affordable Care Act includes some $150 billion in cuts to Medicare Advantage, a program that critics have often seen as a handout to insurers since its inception in 2003. The real-world effects of those cuts are now starting to take shape — and insurers and doctors want to stop them.
They have had success before. Last year, the Centers for Medicare and Medicaid Services backed down from a proposed cut of 2.3 percent, replacing it with a 3.3 percent pay increase, after 160 members of Congress joined industry association America's Health Insurance Plans to lobby against the cut.
The deadline for CMS to announce its proposed 2015 payment rates is fast approaching (the proposal is expected mid-February), and insurers are launching an all-out ad campaign aimed at blocking any further cuts. The reduction that CMS reversed last year was just one in a series of cuts, and insurers say the balance is still against them.
"The program was cut 6.5 percent in 2014," AHIP spokesman Robert Zirkelbach said. "Another round of cuts would be devastating for seniors."
A group of Connecticut doctors appears to agree with the insurance industry — although they're expressing it by suing a major insurer.
UnitedHealthcare, the nation's largest Medicare Advantage insurer, notified 2,200 Connecticut physicians that they would be dropped from the company's plans as of Feb. 1. The company said it was limiting the number of providers it worked with to "encourage better health outcomes and ultimately lower costs" in response to the "severe government funding cuts" to the program.
AHIP and UnitedHealthcare have said that the smaller networks drive down the cost of care for both the insurer and the patient. UnitedHealthcare has also justified the move, saying it "absorbs the cuts to Medicare Advantage plans in a way that is least harmful to members' pocketbooks."
The Fairfield County Medical Association and Hartford County Medical Association took UnitedHealthcare to court, were granted a preliminary injunction to keep physicians on the Medicare Advantage plans until a judge had deliberated, and last week received a court order to come to a settlement with the insurance company.
The outcome could have national ramifications for network size in the Medicare Advantage program as insurance companies look for ways to cut costs. Like the private insurance plans sold through Obamacare's exchanges, insurers are looking to narrower provider networks in their Medicare Advantage plans as a way to limit spending.
"It's one of the unintended consequences of Obamacare," said Mark Thompson, executive director of the Fairfield County Medical Association. "For-profit insurance companies respond to things that financially impact them. They want to be as profitable as they possibly can. You can't let the patients go, but you can let the doctors go that take care of the most difficult, complicated patients."
Yet enrollment in the program continues to grow. The percentage of Medicare beneficiaries enrolled in private plans has steadily increased over the last decade, according to a Kaiser Family Foundation report, from 13 percent in 2003 to 28 percent in 2013.
Since 2009, when the health law and its Medicare Advantage cuts passed, enrollment has grown roughly 10 percent annually, Kaiser's data say, even though the Congressional Budget Office had projected a decline.
Obamacare cut Medicare Advantage because of years of overpayments, a response to reports that said Medicare Advantage coverage came at about 114 percent of traditional Medicare's costs.
"From a budgetary point of view, policymakers felt it hard to justify paying more for beneficiaries choosing Medicare Advantage than for beneficiaries choosing traditional Medicare," said Tricia Neuman, a senior vice president at the Kaiser Family Foundation who specializes in Medicare research.
Obamacare's cuts were sure to translate into plan changes, she said.
"Reductions in overpayments would lead plans to cut benefits like eyeglasses and health club memberships that were valued by their constituents. No doubt these extra benefits are valued... The dilemma here is whether Congress should pay more for Medicare Advantage plans than for people in traditional Medicare," Neuman said.
The cuts were designed to get insurers and providers to reduce costs without impacting beneficiaries' access to care, she added. But, instead, doctors and insurers say, those cuts are being passed down to seniors.
"Washington can't cut and tax a program this large without affecting seniors' benefits," Zirkelbach said. "To suggest that cutting $200 billion from Medicare Advantage can be done without impacting seniors' benefits is just wrong."
In Connecticut, the clock is ticking for a settlement in the doctors' suit against UnitedHealthcare. Seniors have until Feb. 15 to switch from a UnitedHealthcare Medicare Advantage plan back into traditional Medicare. But because open enrollment ended in December, they've got to stick with UnitedHealthcare if they want a private Medicare plan. And if UnitedHealthcare successfully narrows the networks it could mean this year is the year they get a new doctor.