Meet the Next NFL RedZone
NBC is hoping to turn the Olympics into a cash cow.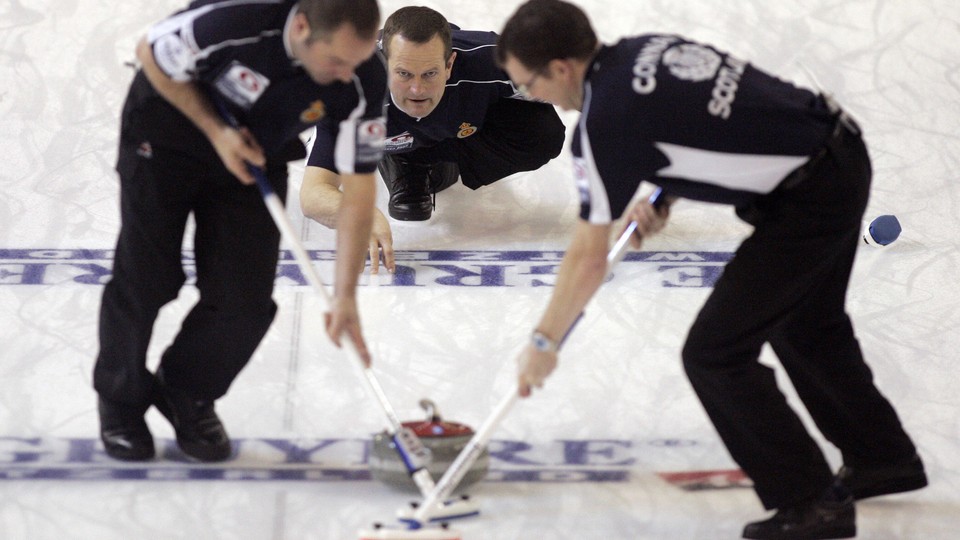 It's 8:30 on a Friday morning and you've got a problem.
You're tuned in to see if the Swedish curling team can defend their Olympic gold medal. But as the sweepers near the end of their game, you realize you're missing the big race — will Olga Zaitseva help ski and shoot the Russian biathlon relay team to victory on home snow?
For dozens, and perhaps even scores, of Americans, this would be a huge dilemma. NBC thinks it has the solution.
For diehard fans of obscure cold-weather sports, the network's online-only "Gold Zone" could be the broadcast innovation they've been waiting for. If the name sounds familiar, think of the NFL's RedZone Channel, which jumps viewers rapid-fire from game to game in order to show the most scoring plays. NBC's concept is similar — show as many gold-medal events and as much action as possible — and its on-air talent probably won't have much trouble adjusting to the format. RedZone's Andrew Siciliano will take hosting duties for Gold Zone as well.
"[N]etworks are doing whatever they can to connect the most avid and hard-core viewers," said Al Tompkins, senior faculty for broadcast and online at the Poynter Institute. And with the Olympic Games as many as a dozen time zones away, American fans have a tricky task navigating early-morning events — especially when online spoilers have a tendency to ruin the suspense of tape-delayed broadcasts.
For the diehards, waiting for NBC to show a pared-down re-airing of the day's events in a prime-time block simply isn't good enough. And the network is betting that the faster, more comprehensive coverage of Gold Zone will bring in those passionate fans, even if they are small in number.
The "whip-around" broadcast isn't new; Gold Zone debuted during the 2012 London Games. But unlike its predecessor, this year's iteration will have hosts, which NBC executives touted as a major improvement. A spokesman for NBC said the show's concept, though similar, wasn't necessarily a spin-off of RedZone. But he did highlight Siciliano's experience with the format. "He's done a great job with this type of presentation in the past," he said.
And while the network tries to highlight its niche sports, it's giving more attention to the marquee events as well. NBC is planning to roll out "Olympic Ice," a daily figure-skating-focused studio show to cover that perennially popular event.