Keystone Pipeline Inches Toward Green Light With Crucial Climate Finding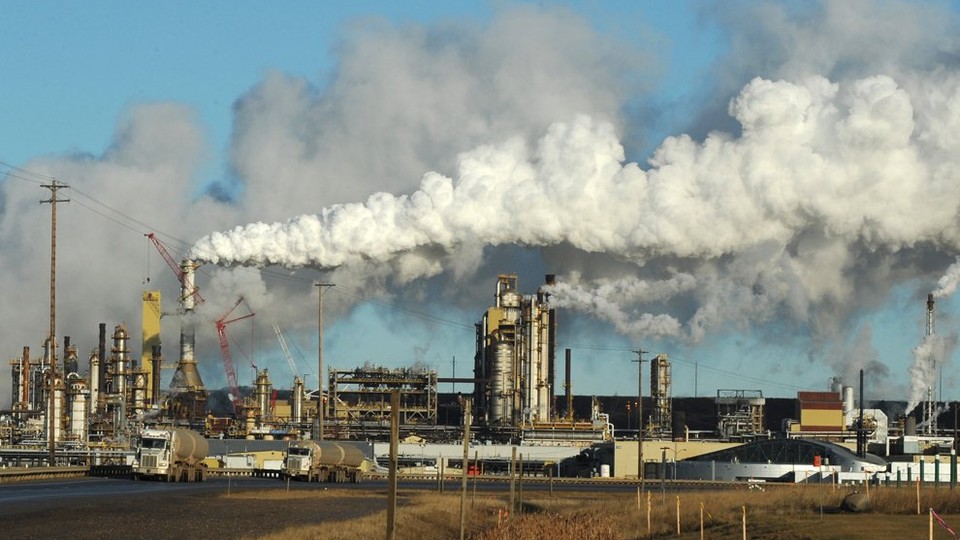 The State Department said Friday that the proposed Keystone pipeline is unlikely to bring a surge in greenhouse-gas emissions, a finding that brings it closer to approval but won't end the intense lobbying fight over the project.
A long-awaited final environmental analysis concludes that building Keystone XL would probably not have much effect on the rate of expansion of carbon-intensive oil sands projects in Canada.
"Approval or denial of any one crude oil transport project, including the proposed project, is unlikely to significantly impact the rate of extraction in the oil sands or the continued demand for heavy crude oil at refineries in the United States based on expected oil prices, oil-sands supply costs, transport costs, and supply-demand scenarios," the report states.
That's critical, because President Obama said last year that he would only approve TransCanada's pipeline if he's convinced it won't "significantly exacerbate" carbon emissions.
The report is a milestone in the years-long battle over the pipeline that would bring hundreds of thousands of barrels of oil per day from Canadian oil sands projects to Gulf Coast refineries.
But it's hardly the end, and approval of the project is far from assured.
The State Department will now move into a separate, 90-day process to take input from other federal agencies to help decide whether approving Keystone is in the "national interest."
State will also take more public comment. But there is no deadline for final State and White House decisions on the project.
The White House emphasized late Friday that plenty of vetting remains before a decision arrives.
"The Final Supplemental Environmental Impact Statement includes a range of estimates of the project's climate impacts, and that information will now need to be closely evaluated by Secretary [of State John] Kerry and other relevant agency heads in the weeks ahead," said Matt Lehrich, a White House spokesman.
"A decision on whether the project is in the national interest will be made only after careful consideration of the SEIS and other pertinent information, comments from the public, and views of other agency heads," he said.
The report is nonetheless good news for Canadian officials, who have strongly pushed for U.S. approval, as well as major business and oil industry groups and major unions that back the project.
An array of pipeline backers welcomed the report.
"The only thing left is for President Obama to declare that this project is in our nation's interest. The potential to improve our trade relations with our top ally, Canada, while enhancing our energy security is good for all Americans," said Jack Gerard, president of the American Petroleum Institute, an oil industry lobbying group fighting for Keystone's approval.
State's report is a blow to environmental groups battling the pipeline. They contend that Keystone will worsen climate change by enabling faster expansion of carbon-intensive oil sands production projects.
"The State Department's environmental review of the Keystone XL pipeline is a farce. Since the beginning of the assessment, the oil industry has had a direct pipeline into the agency," said Friends of the Earth President Erich Pica.
Pipeline opponents now plan to focus on swaying federal officials — and public opinion — during the "national interest determination" process.
"This environmental impact study — which ignores the evidence gathered in the past year that indicates the pipeline will increase our level of emissions — is by no means the final word on the Keystone XL pipeline," said Neera Tanden, president of the Center for American Progress, a left-leaning think tank and advocacy group with close ties to the White House.
The project is at the center of the highest-profile fight over climate change in recent years, and it presents thorny problems for Obama and Secretary of State Kerry, who has made global warming a major focus during his long political career.
Obama faces colliding pressures from Canada, a key international ally, and the environmental movement that's part of his political base.
Support for the pipeline from a number of big unions, another key Democratic constituency, adds to the dueling pressures.
In a sign of the political sensitivity of Keystone XL, the State Department on Friday sought to carefully stage-manage the report's release.
The department held a morning phone briefing for a small group of reporters, with the information under embargo until the study's release, and later held a teleconference for a wider group of journalists.
Assistant Secretary Kerri-Ann Jones cautioned that findings about Keystone's relationship to oil sands production levels -- which rest on "uncertain and changeable" assumptions -- are just one factor in the final decision.
"The final supplemental [report] presents considerable analysis, but it does not answer the broader question about how a decision on the proposed project would fit into the broader national and international efforts to address climate change or other questions of foreign policy or energy security," said Jones, who heads State's Bureau of Oceans and International Environmental and Scientific Affairs.
"These are the perspectives that we're going to be addressing in the next phase, in the national interest determination," she said.
The report provides a few rays of hope for pipeline critics.
It acknowledges that oil from Canada's oil sands projects brings more "lifecycle" greenhouse gas emissions--that is, total pollution from extraction, processing and other steps--than the grades of heavy oil it would displace at U.S. refineries.
While that doesn't matter so much if the oil sands will be developed and get to market regardless of whether Keystone is built, the report says it's not quite that simple if there are major market and infrastructure hurdles.
It notes that a very steep drop in oil prices, and potential "long-term" constraints on any new pipeline capacity--if that raises transportation costs--could lead to a "substantial" effect on oil sands production levels.
"While still flawed, this environmental review recognizes that the Keystone XL tar sands pipeline could have a significant effect on carbon pollution, depending on variables such as oil prices and transportation costs," said Rep. Henry Waxman, the top Democrat on the House Energy and Commerce Committee.
But the overall finding that building Keystone probably wouldn't be a catalyst for faster oil sands production prompted fresh pressure on Obama from Republicans and some pro-pipeline Democrats to approve the project.
"The president could start creating good-paying jobs with a stroke of his pen, yet for five years now the president has picked far-left special interest groups over jobs for middle-class Americans," said Sen. John Thune, a South Dakota Republican who is part of the Senate GOP's leadership team.