Investigation Shows Feds Knew of Risks Ahead of Crude-by-Rail Accidents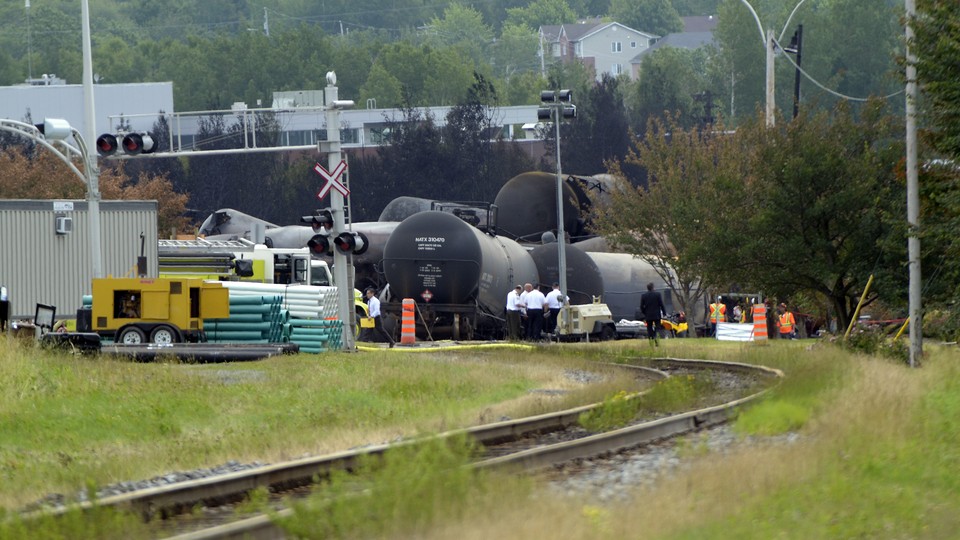 An investigation by NBC News shows that federal regulators were aware of major safety and shipment violations associated with the movement of crude oil by train car before a string of crude-by-rail crashes over the past year.
Documents obtained by NBC through a Freedom of Information Act request show that inspectors from the Federal Railroad Administration examined shipments of crude-by-rail leaving from North Dakota's Bakken formation in October 2011 and June 2012 and determined that the crude was often mislabeled as less volatile than it actually was. Inspections also revealed that rail cars were frequently being overloaded with crude oil and that in some cases the train cars that were used to transport the crude did not meet safety standards.
The second round of these inspections, conducted by the FRA, took place a little over a year before the deadly train derailment at Lac-Megantic, Quebec, where a train carrying Bakken crude ran off the rails killing dozens of people.
The accident at Lac-Megantic was only one in a series of crude-by-rail disasters in both the U.S. and Canada, with one of the most recent occurring earlier this month when a crude shipment derailed and exploded in Casselton, N.D.
Earlier this week, however, the Transportation Department, which is working to issue updated tank car regulations, said that work would not be completed until 2015.
Lawmakers calling for improved safety standards say that is too long to wait.
House Railroads, Pipelines and Hazardous Materials Subcommittee Chairman Jeff Denham, R-Calif., said on Wednesday the subcommittee will hold an oversight hearing to look at what's being done to bolster the safety of crude shipments. A date for the hearing has not been set.
Transportation Secretary Anthony Foxx, FRA Administrator Joseph Szabo, and Pipeline and Hazardous Materials Safety Administration Administrator Cynthia Quarterman will meet with representatives from the oil and natural-gas industries as well as the rail industry on Thursday to discuss additional measures to improve the safety of crude-by-rail shipments.