How to Get Civic Leaders to Think 20 Years Out
Opinion: Moderate successes in developing more diverse labor markets in Los Angeles, San Antonio, and Salt Lake City show why it behooves regions to become more receptive to immigrants, a sociology professor says.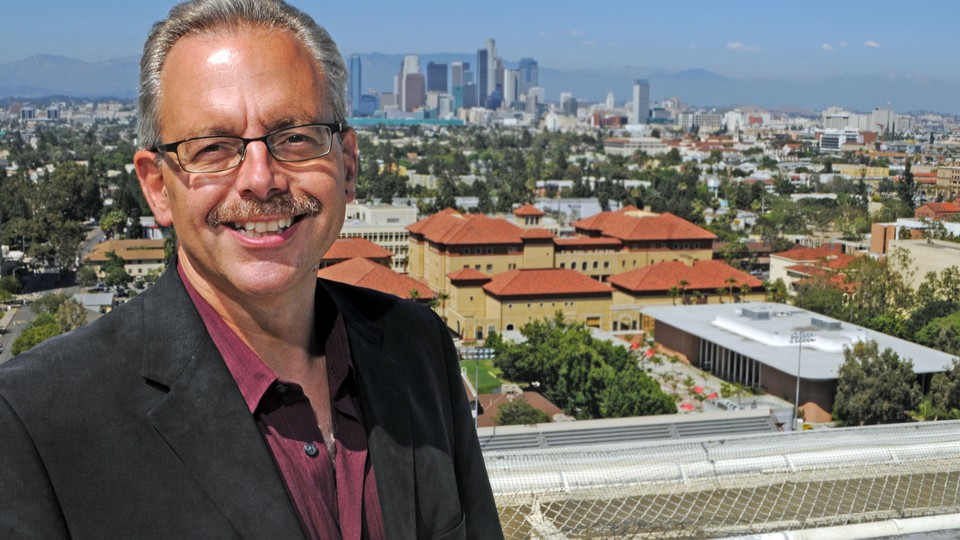 Manuel Pastor, 57, is a professor of sociology and American studies and ethnicity at the University of Southern California. At a 2012 conference, he said, "I think my role is to bring in uncomfortable topics in a way that makes people feel like they can actually talk about them."
This interview, conducted by Jody Brannon, has been edited for length and clarity.
Some of the work I've done has been oriented toward regional equity in labor markets — making sure [people of color, immigrants, and low-income individuals are] part of society that is working on being more inclusive.
A recent success we've seen in that arena occurred just last year in San Antonio when the city managed to pass a sales tax to make investments in pre-K education universal for disadvantaged kids. Not only did they bring on board the usual suspects, like the mayor, but the Chamber of Commerce came on board and championed investment in pre-K as a way to generate a labor force that performs well 20 years from now.
So how do we get the next generation of community and civic leaders [elsewhere] to think 20 years out? How do we get them to feel like all of these people are our people?
Here in L.A., we've become proficient with community-benefits agreements, by which developers guarantee hiring locally or providing housing or parks [in the area where they are building]. They make those promises and codify them before they begin the development. That's been a pioneering thing here. It began in a project in Hollywood and then Los Angeles near the Staples Center where the Lakers play and then in the expansion of the L.A. airport. Thinking regionally has helped other groups to think of how these major developments could deliver.
There's also more threading together of issues. For example, L.A. is trying to retrofit municipal buildings so they're greener and more sustainable. That gets coupled with job training to get youth and low-income people into the trades. For some of these folks, for the first time they have a steady job that's union, and they're able to think about buying a house and moving forward. That makes a difference in people's lives.
Los Angeles also has many undocumented immigrants who have a lot of aspirations. We need to make it possible for the undocumented and also people growing up in poor neighborhoods to have a platform of success.
I think I see myself in them and they see themselves in me. My dad was undocumented when he came to the U.S. in the '30s. We were poor, and he was able to get a union job. And I think it's more challenging now. Those of us who grew up in the '60s didn't see as severe a set of intersecting problems in terms of poor neighborhoods and crime and violence like there is now. I couldn't compare my growing up to what kids face nowadays — and we need to keep that in mind.
One of the most rewarding things that has happened to me as an academic was when I was making a presentation about low-income neighborhoods in Pacoima, an inner-ring suburb here in Los Angeles, and a gentleman from the neighborhood came up to me and said, "I saw myself in your statistics." His story was represented in the way we were providing a profile of the neighborhood and that was very satisfying.
For those of us who have a position in a university or a voice in the public square, we can represent and be the voice and help a person to feel seen. That's an incredibly important mission, and it's one I hold close. That's been a beacon for me — that the work we do has resonance with community-based organizations and people on the ground.
I also think we need a more complex theory of change. When you visit San Antonio now, people talk a great deal about high levels of collaboration, but it comes out of a long period of conflict. Thirty years ago San Antonio was a place where it was pretty exclusively Anglo elite. Many (non-Anglos) were shut out of politics and even basic city infrastructure.
COPS [Communities Organized for Public Service] rose up out of those neighborhood frustrations and people became engaged in advocacy to make sure their issues got to the table. Transitional figures like Henry Cisneros got active, and community interests and voices were better heard. And that spirit has since become widespread across civic leadership. It's no longer in just the poor neighborhoods but people [from all strata] recognize it's important for the entire city to deal with disadvantage.
One of the interesting initiatives is Welcoming America, which is about trying to make new destination areas more receptive to immigrants by working with the existing, older communities and helping to create bridges. That's a promising thing to do.
Take a look at California's demographic change from 2000 to 2050, and all the bumps we had — big civil unrest, Prop 187, affirmative action. What's heartening is where we are now after all that conflict. Our demographics now are changing very slowly. In Los Angeles in the last 10 years, there's not been an increase in Hispanic children; it's more settled, with people having fewer children. Sure, it was bumpy, but we just passed, one, a bill so that undocumented residents can get drivers' licenses and, two, the Trust Act so no longer are police coordinating with ICE to deport people for a misdemeanor rather than a felony.
It's not nirvana, but it's not the riven conflict of 25 or 30 years ago. Sometimes when older Americans see the demographic change, they are imaging it's the beginning of decline, but it rather can lead to a different renaissance. That's [the lesson] getting out to the Midwest. They're realizing their stagnant demography is tied to their stagnant economy. It's interesting to see St. Louis market to attract immigrants and entrepreneurs.
I'm pretty impressed by Salt Lake City. They've done some interesting stuff with planning. They've put in a light-rail system that runs through the low-income Hispanic area, seeing that it can lead to employment — both in terms of construction and operation jobs and connecting people to new work opportunities. What they see about themselves is that Salt Lake is slated to become majority-minority faster than the country as a whole, and it's interesting to see them having such a civil conversation.
The problem of inequality and lack of opportunity for immigrants are all experienced at a local or regional level. That's where they come face to face with the issue. It's one thing for the federal government to deny unemployment benefits to 1.3 million people scattered across the country. It's another thing to see a local program or project that's going to leave your neighbor out of a job. But actually, there's a lot of good stuff happening at a metro level all across the country — it's more a matter of spreading best practices, now.
Part of the reason we called it "The Greatest Generation" is that they made the huge sacrifice by going to war. But one of the reasons they were able to be great was when they got back was the GI Bill and all the investments in highways and the huge set of public works. That allowed them to be great. Then their baby boomers hit a home run without realizing they started on third base. Now we're leaving out the next generation by not investing in their education. But we can get ahead by building a platform of public policy and opportunity for all.
'MY VIEW' OF THE NEXT AMERICA
Are you part of the demographic that is the Next America? Are you a catalyst who fosters change for the next generation? Or do you know someone who is? The Next America welcomes first-person perspectives from activists, thought leaders and people representative of a diverse nation. Email us. And please follow us on Twitter and Facebook.
'MY VIEW' OF THE NEXT AMERICA
Are you part of the demographic that is the Next America? Are you a catalyst who fosters change for the next generation? Or do you know someone who is? The Next America welcomes first-person perspectives from activists, thought leaders and people representative of a diverse nation. Email us. And please follow us on Twitter and Facebook.
---
Jody Brannon contributed to this article