How Much Difference Can Obama Really Make on the Economy?
"Promise zones," one of the president's flagship income-inequality initiatives, are a study in what happens when his idealistic vision collides with real-world political constraints.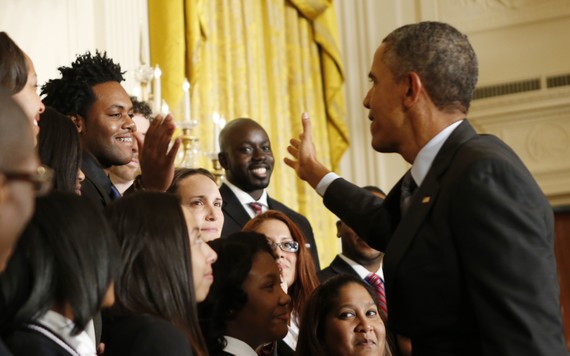 After five years of bitter partisan combat, President Obama warned Congress Tuesday that he will move forward on his economic agenda with or without their help, threatening to make an end run around legislative gridlock through a series of new executive actions designed to lay the groundwork for liberals' newly declared war on income inequality.
Although he didn't mention them by name in last night's State of the Union address, one of the president's more ambitious ideas to address economic instability is a plan to create "Promise Zones" in low-income communities, where the government would target federal investment to reduce poverty in select neighborhoods.
Obama actually introduced the initiative in last year's State of the Union address, but earlier this month, he finally got around to selecting the first five zones—in Los Angeles, Philadelphia, San Antonio, Southeastern Kentucky, and the Choctaw Nation of Oklahoma. The plan, he said, is to expand the program to 20 neighborhoods by the end of his second term. "Your country will help you remake your community on behalf of your kids," he told a White House audience on January 9. "Not with a handout, but as partners with them every step of the way."
The initiative, part of Obama's promised "year of action" on income-inequality issues, is designed as a direct government intervention into struggling neighborhoods. Basically, the idea is to blitz the Promise Zone with a menu of social services, in the hopes that the combined resources will improve economic mobility and quality of life for poor residents in the area. Selected communities will receive federal assistance from multiple agencies to combat a range of social issues surrounding poverty, with the goal of coordinating the often-haphazard flow of government spending into depressed areas. But like much of the president's anti-poverty agenda, the broad scope of the Promise Zones has been limited by political gridlock and spending constraints. With no new funding attached to the program—and no clear mechanism for determining its effect on poverty—big questions remain about whether the Promise Zones will actually alleviate poverty in the communities that need it most.
At first glance, the Promise Zones look like another tired retread of the low-tax, low-regulation "enterprise zones" embraced by conservatives as a way to spur economic development in urban areas. Championed by Jack Kemp in the 1980s and 1990s as "empowerment zones," federal enterprise zones were implemented by Congress during the Clinton Administration, producing mixed results. While some early assessments discovered that the zones did experience some job growth, reports from the Government Accountability Office found that it was impossible to tie those benefits to the enterprise zone program. Academic studies, including a 2002 paper from two University of Iowa researchers and a 2006 report in the Journal of Urban Affairs, similarly concluded there was little evidence that enterprise zones have had a measurable impact on economic growth or job creation.
Nevertheless, the idea periodically resurfaces in Republican anti-poverty platforms, most recently in the form of Rand Paul's Economic Freedom Zones Act, which would slash taxes and regulations in areas with high unemployment or unstable municipal finances. Apparently seeing similarities between Obama's Promise Zones and his own proposed legislation, Paul, who attended the White House announcement this month, smirked: "They say the sincerest form of flattery of imitation."
But while conservative poverty policies have largely shunned federal programs in favor of private-sector or state solutions, the Promise Zones envision a hands-on role for the government—not just to encourage economic growth, but to address problems associated with poverty, from improving public safety and investing in transportation infrastructure, to increasing access to affordable housing and expanding so-called "cradle-to-college" services in local schools.
The zones build on the administration's Neighborhood Revitalization Initiative, a multi-agency anti-poverty strategy established in Obama's first term. That initiative combined Promise Neighborhood grants funded by the Department of Education, Choice Neighborhood grants from the Department of Housing and Urban Development, and the Justice Department's Byrne Criminal Justice Innovation program. To be eligible for the Promise Zone designation, neighborhoods must have already received at least one of these grants, demonstrating that it is on board with the Obama Administration's community-based approach to addressing poverty issues. (It's also worth noting that the three cities awarded a Promise Zone designation—Los Angeles, Philadelphia, and San Antonio—are all led by Democratic mayors with close ties to the White House.)
"In the broadest sense, the enterprise-zone and empowerment-zone programs were about business and economic development in targeted places," says Alan Berube, a senior fellow at the Brookings Institution Metropolitan Policy Program. By contrast, he says, the Promise Zones take a more comprehensive approach to addressing income inequality, using a range of evidence-based indicators that research has shown to have an effect on poverty outcomes. "It's about anything and everything the federal government is currently doing to strengthen these poor communities," Berube adds.
Hamstrung by tight spending limits and Republican intransigence, the Promise Zones are actually a rather restrained approach to dealing with income inequality. Obama essentially acknowledged Tuesday that any major overhaul of federal poverty programs is pretty much off the table in the current Congress, and it is unlikely that the House will even pass the relatively modest tax credits Obama has requested for the Promise Zones. Instead, the zones will reward designated communities with priority for existing grants, and provide an on-site team of federal employees to help identify government resources and cut through bureaucratic red tape.
But the Promise Zones are also symptomatic of the problems that have plagued Obama's second term agenda. Faced with a Republican Party that is diametrically opposed to big-government social intervention, Obama has been forced to downsize his ambitions, and skirt congressional gridlock with unfunded executive initiatives. In the case of the Promise Zones, these constraints have collided with Obama's idealistic commitment to federal engagement at the community level, leaving the White House with an idea that is largely untested as a scalable model for reducing poverty.
"It's an incremental step, at best," Berube says. "[Administration officials] correctly see that they don't have a partner on Capitol Hill, so they are making something up that they think might help a little." But, he adds, "there have been periodic attempts to break down the walls for executing anti-poverty programs, and those efforts haven't succeeded. It's just not in the DNA of these programs."
The Los Angeles Promise Zone highlights the ambitious scope and inherent limitations of the administration's strategy. Led by the Youth Policy Institute, the non-profit implementation partner for the city's application, L.A.'s Promise Zone designation is intended to be an umbrella for a collection of place-based social programs, covering everything from charter schools and bike lanes to affordable-housing development and technical-college training.
"We have the opportunity in L.A. to showcase a new strategy for the War on Poverty, whatever you want to call it," says Dixon Slingerland, the executive director of YPI (and an Obama campaign bundler). "If over the 10 years of the Promise Zone designation, we don't see a dramatic reduction in poverty, then bottom line, no matter what else we've done, this thing hasn't worked."
YPI's work in the zone is centered around L.A.'s Promise Neighborhood grant, the Obama Administration's signature education initiative. It's loosely based on the Harlem Children's Zone, the highly touted experimental charter school initiative featured in the 2010 documentary Waiting for Superman. Since 2010, YPI's Promise Neighborhood has received $30 million from the federal government to expand a continuum of "cradle-to-college" social services, which means parenting classes, after-school and summer programs, healthcare and nutrition support, dropout-prevention programs, college-prep classes, financial-literacy courses, and so on. Additional grants from DOJ and HUD—for $1 million and $500,000, respectively—have enabled YPI to expand its community offerings into public safety and affordable housing. And while the Promise Zone designation itself does not come with funding, city officials project it could bring in as much as $500 million in additional federal funding to expand poverty initiatives in the zone.
"It's about housing, health, economic development, public safety, education," Slingerland says. "Everything you can think of that relates to how you transform a community, how you fight poverty, how you improve education—it's all wrapped into the L.A. Promise Zone strategy."
But critics of L.A.'s Promise Zone warn that the concentration of federal funding in the zone's five Central L.A. neighborhoods—Pico-Union, Westlake, Koreatown, East Hollywood, and Hollywood—could drain public and private resources from other, arguably needier, parts of the city, particularly in South L.A. While the poverty rate averages 35 percent across the Promise Zone, some designated neighborhoods have experienced substantial private development over the past decade, and have avoided the structural economic problems that have plagued other parts of the city.
Even Obama's allies in California have chafed at the program's design. Following the president's announcement this month, California Democratic Representatives Maxine Waters, Karen Bass, and Janice Hahn, whose districts include some of L.A.'s most perennially distressed neighborhoods, all demanded to know why South L.A. had been left out of the city's Promise Zone area. "When I heard President Obama's speech about how these promise neighborhoods would help poor children, all I could think about was Watts—it wasn't even the running," said Hahn, who turned down an invitation to attend the Promise Zone announcement. "Clearly it just highlighted that sometimes those that already have get more, and those that don't have anything get less."
Slingerland suggests that the preexisting economic growth in L.A.'s Promise Zone neighborhoods may be why the administration found the project attractive. In the absence tax incentives or a stronger economic development policy—both of which seem unlikely in the current political climate— the initiative is focused on connecting poor people to opportunities that already exist in their neighborhoods. "What I think made us competitive is that you have this unique combination of great need, high poverty, and economic opportunity," he said. "These are the best places to invest resources for the highest likelihood of success."
Still, this raises questions about the long-term prospects for Promise Zones: Even if they're successful, could that success be replicated in areas where job creation has stalled, or in suburban areas that lack the civic infrastructure to provide such a broad range of services?
The bigger question surrounding L.A.'s Promise Zone is whether the city can actually implement—and measure—the success of such a broad range of poverty initiatives. A fact sheet provided by Los Angeles Mayor Eric Garcetti's office outlines the core objectives of the Promise Zone, but does not provide specifics about how these goals will be prioritized, where the funding will come from, or how the city will collect and track data to determine whether its efforts have a measurable effect on reducing poverty in the Promise Zone. A spokesperson for Garcetti declined to give further details, and said that the mayor and the city's partners will meet soon to work out the next steps for the project.
Experts note that, in the past, it has been difficult to track outcomes of place-based community development programs, and research has been inconclusive regarding the effectiveness of these programs. The Obama Administration has pledged to rectify these issues with a collaborative, data-driven approach, using evidence-based indicators that have been proven to have an effect on poverty. So far, though, the administration has not explained what mechanisms it will use to evaluate the successes and failures of the president's anti-poverty policies.
"It would be relatively straightforward to do a sophisticated evaluation of the implementation, process, and outcomes of the initiative to see if it has the desired effects," says James Quane, associate director of the Joblessness and Urban Poverty Research Program at Harvard University's Kennedy School of Government and an advisrr for the Promise Zone program. "The administration seems to be given such evaluations careful consideration, but as yet none have been proposed and it's debatable if funds will be available to undertake them."
Even if the White House can prove that the Promise Zones are successful, it is still not clear that a comprehensive social intervention is the most effective solution to poverty issues. A 2010 study of the Harlem Children's Zone by two Brookings Institution fellows found that while students in the zone performed better academically than their peers in New York City, their test scores are average compared to those of students in charter schools that do not offer community services. "These findings create a large question mark for the theory of action of the HCZ," the authors write. "If other charter schools generate outcomes that are superior to those of the HCZ and those charter schools are not embedded in broad neighborhood improvement programs, why should we think that a neighborhood approach is superior to a schools-only approach?"
Quane points out, correctly, that the Brookings assessment does not account for the other, non-educational outcomes that Harlem Children's Zone seeks to address, including the effect the program has had on mitigating intergenerational poverty. Nevertheless, the point made by the Brookings researchers is salient: Just because there is evidence, for example, that single parenthood is negatively associated with poor academic performance and child poverty, it doesn't necessarily follow that community programs aimed at keeping parents together are going to be successful, much less have a measurable effect on the academic achievement and economic status of children in families that participate in the program. Moreover, given the huge costs associated with full-service community programs—the operating budget for the Harlem Children's Zone, for example, was $95 million for 2012—it is unlikely that the federal government would be able to fund these services at high enough levels to have a measurable impact.
"We have a history of getting very excited about particular approaches, and putting a lot of money into those ideas, without the kind of rigorous evaluation that these programs require," says Stuart Butler, director of the Center for Policy Innovation at the Heritage Foundation. While evidence shows that things like early-childhood education, community support, and having educated parents have a direct effect on a child's future economic opportunities, he says, "what is not clear whether the government can step in as an effective substitute where those circumstances don't exist.
"We don't know that you can gather all kinds of things that you think work and put them all in one place, and expect that its going to be helpful and cost-effective."