How Christie Could Hurt the GOP in 2016
If his scandal imperils his candidacy, it would leave the upscale wing of the Republican Party without an obvious choice.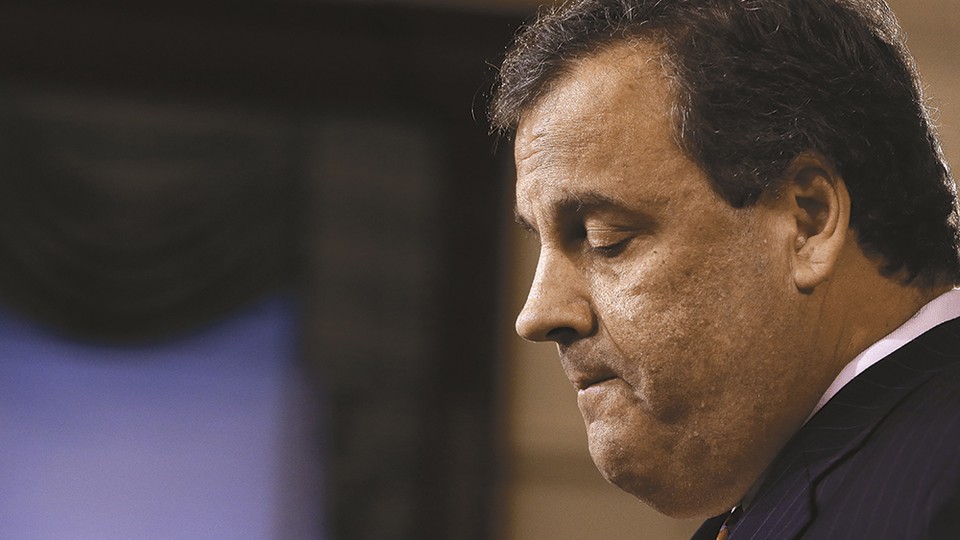 It's far too early to say whether the controversies swirling around New Jersey Gov. Chris Christie will prevent him from seriously competing for the 2016 Republican presidential nomination.
But Christie's cascading difficulties underscore the shortage of good options for voters and donors in the party's upscale managerial wing. It's still a big if, but should the accusations besieging Christie undermine him as a 2016 contender, this wing of the GOP has few obvious alternatives. That dilemma captures a long-term shift in the Republican Party's center of gravity toward its turbulent populist wing — whose confrontational champions (such as Sen. Ted Cruz of Texas) often frighten swing voters as much as they inspire activists.
As the 2012 presidential primaries demonstrated, the Republican electoral coalition now divides about evenly between a generally affluent, college-educated, and often secular "managerial" wing and a "populist" wing composed largely of blue-collar whites and evangelical Christians.
These two groups don't differ much on policy, but they diverge on style, emphasis, and priority. The managers usually focus more on economic than social issues, and they prefer candidates who embody competence rather than rage. Populists gravitate toward culturally conservative warriors who promise not so much to reform or even redirect Washington as to raze it.
Mitt Romney was the managerial bloc's clear favorite in 2012; the party's populist side auditioned an eccentric array of options (from Rick Perry to Herman Cain) before mostly settling on Rick Santorum. This division defined the GOP primary race: Romney usually won college-educated and affluent voters, while Santorum typically ran best among working-class and evangelical Republicans. Overall, evangelicals made up just over half of all 2012 primary voters and gave Romney less than one-third of their votes. He nevertheless won the race by amassing a crushing 30-point lead over both Santorum and Newt Gingrich among the remaining primary voters who did not identify as evangelicals, according to a cumulative analysis by ABC's Gary Langer.
If Christie ran in 2016, he might not depend solely on the managers. Mike Murphy, the veteran GOP consultant, says Christie's combination of bipartisan deal-making and gruff voice-from-the-bleachers persona could allow him to bridge the upscale/downscale divide better than Romney did. Christie's opportunity, Murphy says, is that "he would get the country club on pragmatism and he might get blue-collar working white voters on style."
Other Republicans are dubious that a blue-state governor who praised President Obama in 2012 and signed off on in-state tuition for the children of immigrants here illegally will find much traction in the overlapping circles of blue-collar, evangelical, and tea-party Republicans. "Christie even now would have a problem as a fusion candidate," says Republican pollster Whit Ayres, who advises Sen. Marco Rubio of Florida, another potential 2016 contender. "[Christie] does not have a lot of fans among the more conservative part."
Whether Murphy or Ayres is right about the breadth of Christie's potential appeal, few doubt that his coalition in any 2016 primary bid would tilt more toward upscale than downscale voters. Which means that if Christie can't (or won't) run, his absence would leave a bigger void on that side of the GOP divide.
So far, most Republican strategists cautiously believe Christie can weather the allegations over the George Washington Bridge lane closures and the charge from Hoboken Mayor Dawn Zimmer that his administration linked superstorm relief funds to approval of a politically connected development project. "It's a very combative culture there," says Murphy, who has consulted for other GOP candidates in the state. "If he's [just] found guilty of being from New Jersey, that won't hurt him at all." But with polls this week already showing dents in Christie's image, and multiple investigations presenting the risk of further revelations, his recovery is not guaranteed.
What is certain is that if Christie can't run, or is severely weakened, the managerial wing that has usually picked the party's nominee may find itself without a true horse. Former Florida Gov. Jeb Bush would be the most comfortable fallback, but he's displayed no enthusiasm for running. Three other Midwestern governors — Wisconsin's Scott Walker, Ohio's John Kasich, and Michigan's Rick Snyder — would attract notice, but none yet has shown quite the gravitas or polish these voters prefer. Rubio and Rep. Paul Ryan of Wisconsin would also find managerial supporters, but neither seems likely to consolidate this faction as Christie might.
This potential vacuum, notes John Weaver, the chief strategist for John McCain in 2008, is emerging even as the pragmatic, white-collar wing is losing influence and "we see an ascendency of the populist, libertarian, nationalistic wing, which is probably a little stronger than it has ever been in the modern era." Without a strong managerial candidate as ballast, Weaver worries that likely populist contenders such as Cruz and Sen. Rand Paul of Kentucky could drag the 2016 field into a conservative bidding war "that would put the party at great risk in the general election." Christie's ambitions might not be the only casualty if some wrong turns on ethics capsize his potential candidacy (to borrow from his own musical idol, Bruce Spring- steen) somewhere in the swamps of Jersey.
{{ BIZOBJ (video: 4653) }}