How Chris Christie Lost His Way
He spent so much time focused on winning over Democrats, he forgot what made his governorship significant in the first place.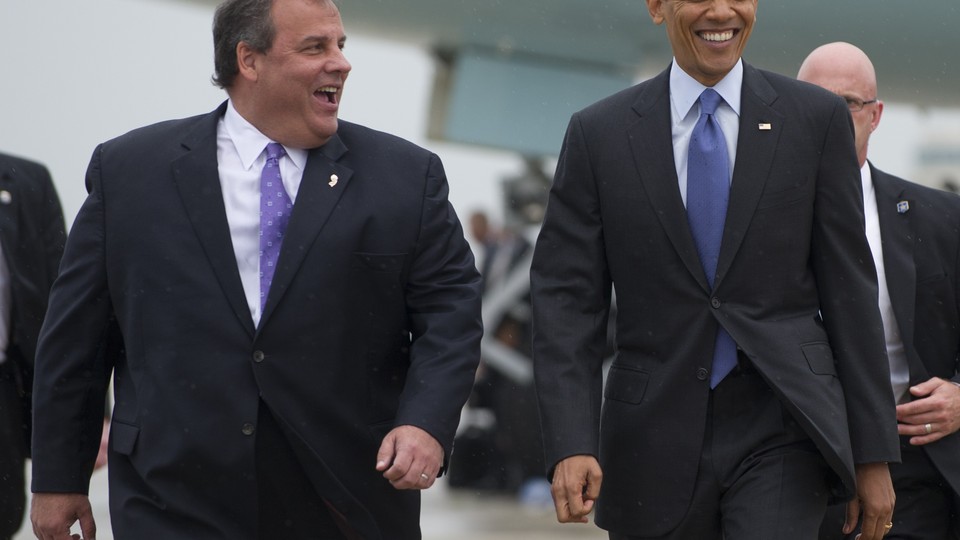 It's easy to forget now, but New Jersey Gov. Chris Christie was a hero to the Right during his first year in office. He became a fiscally conservative icon for pushing through a budget that focused on spending cuts, particularly to a bloated public sector. The governor tackled entitlements, reducing billions in scheduled pension payments. And he made his mark as an education reformer, aggressively challenging teachers' unions, calling for eliminating tenure, and proposing merit pay for top teachers.
It was this phase of the Christie governorship that put him on the national political map. His zest for political theater along with his commitment to conservative principles in a reliably Democratic state had some Republicans pining for him to run for president in 2012. Early national polls showed him as popular with the tea-party wing of the GOP as among moderates. Any discomfort over his more-moderate position on gun control and immigration was overshadowed by his charisma and zeal in attacking his liberal critics.
But at some point, he replaced his devotion to policy with a devotion to reelection. The cult of Christie went into overdrive after Hurricane Sandy hit, when he developed a politically beneficial alliance with President Obama: Praise the federal government's handling of the recovery and receive ample federal funding. Obama got a reelection boost while Christie used that episode to begin his relentless courtship of Democratic allies in preparation for 2013.
Almost simultaneously, he began attacking conservative elements of his own party, knowing they polled particularly poorly in New Jersey. He enjoyed taking shots at tea-party Republicans in Congress who were concerned about the level of federal spending appropriated for storm relief. He appointed an interim senator who didn't want to run to fill the late Sen. Frank Lautenberg's seat, allowing Democrat Cory Booker to win election without serious opposition. Before the storm, he irked Romney allies with a self-indulgent convention keynote address with sparse mentions of his party's presidential nominee.
There's nothing unusual about moving to the middle as reelection approaches — that's common for politicians in both parties. What's remarkable about Christie, though, is that the scandal now threatening his political future was borne of his obsession with winning Democratic support. Christie was already coasting to a second term when his staff pressured Democratic mayors for endorsements that were needed only to run up the score and build his bipartisan brand.
"He realizes he's popular because he's the Republican who hates the rest of the Republican Party and loves the media crack off of that," said Republican media strategist Rick Wilson, a Christie critic. "Christie could have acknowledged the president's help during Sandy without going out of his way to make it politically painful for Mitt Romney. There's something to be said for wearing the team jersey and sticking up for the team."
Bipartisanship is a welcome tonic for political gridlock, but Team Christie viewed it as a tool for his reelection, with his staff linking support for his candidacy to promises of economic development. In a state where machine politics still runs rampant, it's not particularly surprising. But for a candidate with presidential aspirations, the whole episode sounds more out of The Sopranos than effective state government.
These scandals are so damaging to Christie's presidential ambitions because they hit at the heart of what animates the tea-party movement: concern over government overreach. Tea-party-aligned Republicans have criticized the Obama administration and Republicans alike over earmarking, wasteful spending, and cronyism. Now Christie's administration has given an all-too-vivid illustration of the dangers of out-of-control government. Even if Christie had no direct connection to the George Washington Bridge scandal, it's becoming clear that his administration reveled in a play-to-pay culture where his government wielded outsized influence in picking winners and losers.
With Christie politically wounded, many now dismiss the idea that Christie was ever a top-tier candidate for the presidential nomination. But Republicans have regularly shown a willingness to nominate candidates who deviate from conservative orthodoxy, from Mitt Romney (2012) and John McCain (2008) to George H.W. Bush (1988). Even George W. Bush campaigned on a compassionate conservatism message as a subtle rebuke to the more-conservative forces in Congress at the time.
Christie's path to the presidency was running as a straight-talking outsider who accomplished a number of conservative reforms in a blue state. He still may have a shot. But in his zeal to raise his national profile, he lost what propelled him into the spotlight in the first place. It's becoming harder to imagine Republican voters will be eager to trade in Washington wheelers-and-dealers for the Trenton variety in 2016.
{{ BIZOBJ (video: 4655) }}