GOP Senator Eyes Tethering Keystone to Bill Obama Can't Veto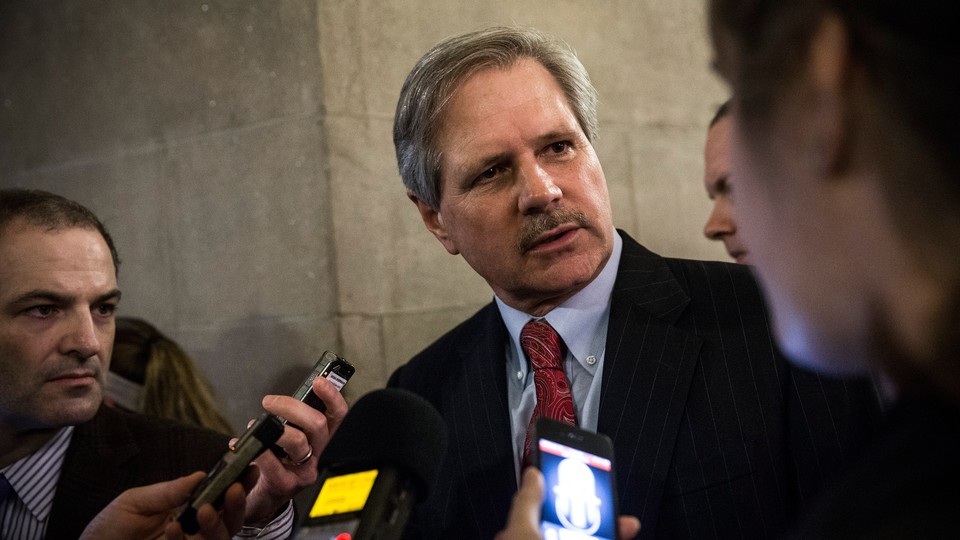 The battle over the Keystone XL pipeline could flare up again in Congress. And maybe soon.
Sen. John Hoeven said Wednesday that backers of the oil-sands pipeline are weighing efforts to attach the project to debt-ceiling legislation or another must-pass bill.
"We would try to attach it to something that [President Obama] would not veto," Hoeven, a North Dakota Republican and outspoken advocate of the project, told reporters in a briefing.
He said legislation to raise the debt ceiling, which lawmakers will consider in the coming weeks or months, is an option. Influential GOP Rep. Paul Ryan has also floated this idea. "There has already been discussion of that as a possibility," Hoeven said.
But even some Keystone backers bristled at the notion in an earlier debt-ceiling battle.
And the political strategy has not been finalized. "There's any number of bills that we have talked about but we would have to see," Hoeven said.
Hoeven noted that "the first thing is to get [Obama] to make a decision." But a spokesman for the senator later said, "If the [White House] continues to delay indefinitely, we will pursue a legislative solution prior to a decision."
There's some precedent for trying to tether a Keystone provision to high-stakes fiscal legislation.
In late 2011, Congress attached language to payroll-tax-cut legislation setting a deadline for a Keystone permit decision, prompting Obama to reject the pipeline and invite developer TransCanada to reapply (which they did).
Hoeven held a pro-Keystone briefing Wednesday with a pair of senior Canadian officials: Gary Doer, the ambassador to the United States, and Minister of Foreign Affairs John Baird.
The briefing was part of a larger push for the project Wednesday on Capitol Hill. The two Canadian officials held a separate briefing with Sens. Heidi Heitkamp, D-N.D., and Mary Landrieu, D-La.
Heitkamp warned that the longer the Obama administration's decision-making process drags on, the more support there will be in Congress to take action on the pipeline.
"We're concerned about missing yet again another construction season on the northern part of the pipeline, so as we get closer to losing that opportunity I think you're going to see more and more discussion in the United States Senate about moving Keystone unilaterally or without a decision from the president," she said.
Keystone has majority support in both chambers.
Hoeven won 62 votes on a pro-Keystone amendment during a budget debate last March, although a few Democrats later claimed that they hadn't really cast an outright pro-pipeline vote.
The proposed pipeline, which has been under Obama administration review for years, would bring crude oil from Alberta's oil sands to Gulf Coast refineries. It would also carry some oil from North Dakota's booming Bakken region.
Backers — including major business groups and a number of unions — call it a way to boost energy security and create jobs.
Environmental groups and some Democrats (the caucus is divided) oppose the project, calling it a catalyst for carbon-intensive and ecologically harmful oil-sands projects.
But a draft State Department analysis last March found that either approving or rejecting the project, contrary to environmentalists' claims, would have very little effect on the rate of oil-sands production expansion.
Keystone opponents are pushing State to reverse that finding in the final analysis that could be released shortly. Obama has said he will not approve Keystone unless he's confident that the pipeline would not "significantly exacerbate" carbon emissions.
---
Clare Foran contributed to this article