Five Energy and Climate Questions to Watch at State of the Union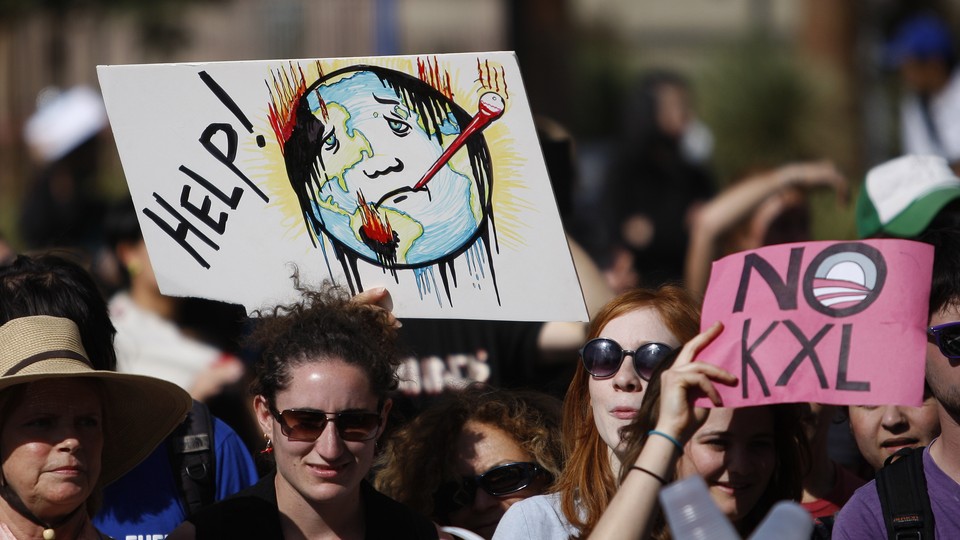 President Obama's State of the Union speech Tuesday will offer a window onto fights over climate and energy policy that will unfold during the remainder of his presidency.
Don't look for much more than rhetorical nods, at most, toward steering major legislation through the divided Congress. But plenty of questions remain about how Obama will wield his executive power over the next three years.
Here are a few things to watch for tomorrow night:
Is "all of the above" still all the rage?
Or, put another way, will Obama tack left on energy?
In last year's speech, Obama repeated his support for an "all of the above" energy strategy — one that backs expanded domestic fossil-fuel development alongside green energy.
But environmentalists, who are a piece of Obama's base, are kind of annoyed with "all of the above" these days.
A number of major green groups this month publicly broke with Obama and urged him to ditch the policy. But the letter from 18 environmental groups to the president also drew pushback from Obama adviser John Podesta.
"All of the above" is just a few words. But whether or not Obama repeats the phrase could hint at how he will approach the oil-and-gas industry during his remaining years in office — and whether more collisions with the president's environmental base are in the offing.
Green groups want him to back off his cautious support for Arctic oil, get tougher on emissions of methane — a potent greenhouse gas — from oil-and-gas development, and scuttle the Keystone XL pipeline, among other steps.
"We have three years left, so the clock is ticking," said Jessica Ennis of Earthjustice, one of the groups that signed the recent letter, during an interview that aired Sunday on Platts Energy Week TV.
Will railway safety and the West Virginia chemical spill draw a response?
Recent accidents involving the growing use of rail cars to ship crude oil have left regulators scrambling to get a handle on safety risks.
The stakes came into sharp focus last week when the independent National Transportation Safety Board warned of possible "major loss of life" from oil-by-rail accidents as the volume of shipments soars.
Amid criticism that the Transportation Department is moving too slowly to boost safety, let's see if Obama tackles a topic that's getting increasing attention alongside the U.S. oil production boom.
The recent spill of a coal-processing chemical into a West Virginia river, which left hundreds of thousands of people unable to use their tap water for days, has put a similar spotlight on chemical facilities.
Senate Environment and Public Works Committee Chairwoman Barbara Boxer, D-Calif., wants to know what steps regulators will take using their existing powers to toughen oversight.
If Obama's speech goes heavy on policy details, these could be among the topics he addresses.
Will the White House drop hints on oil and gas exports?
The Obama administration is under increasing pressure from oil companies and business groups, including the powerful U.S. Chamber of Commerce, to relax the decades-old ban on exporting crude oil.
So far the White House and Commerce Department haven't tipped their hand.
The U.S. Chamber and a prominent Senate Republican say Obama can relax the ban under his existing authorities, even as advocates eye a more sweeping legislative change that's unlikely anytime soon in the gridlocked Congress.
From the left, the Center for American Progress, in a policy wish list issued ahead of the speech, said Obama should "publicly oppose" calls for allowing crude-oil exports.
The speech also arrives as industry groups are pressing for faster approval of natural-gas export licenses by the Energy Department, which last year gave the green light to several plans. A shout-out on gas exports from Obama could signal whether more are in the offing.
Will Obama go it alone on conservation?
Environmentalists and a number of Democrats hope so at a time when bills to create major new wilderness protections are unlikely to clear Congress.
Advocates hope Obama will use his time left to more aggressively wield his executive power to declare new national monuments under a century-old law called the Antiquities Act.
"Conservation and historic preservation initiatives with broad public support should not have to be sidelined or stalled because of political paralysis," states a letter to the Interior Department last week from more than 100 House Democrats.
Does Obama have anything left in his bag of tricks on climate change?
The president talked a lot about climate change in his second Inaugural Address and State of the Union speech last year, and then laid out his second-term climate policy plan last June.
This year, he'll likely tout his executive actions on climate change and energy at a time when major legislation is dead. But are any new proposals in the offing?
We'll see. In the meantime, climate advocates are trying to create as much political space as possible for Obama's regulations.
As the midterm election approaches, Obama could use the speech to try to gain ground in the messaging wars over his executive actions, especially because a centerpiece of the second-term plan — carbon-emissions rules for power plants — is facing fresh attacks on Capitol Hill.
"We hope and expect he'll talk about the dramatic growth in clean energy, and we hope he will echo what he said in his [June] climate speech, that climate change is both a moral challenge and an opportunity, and we can't drill our way out of the problem," said Sierra Club Executive Director Michael Brune.
Amy Harder contributed