Explosions Coming Over Mountaintop-Mining Rule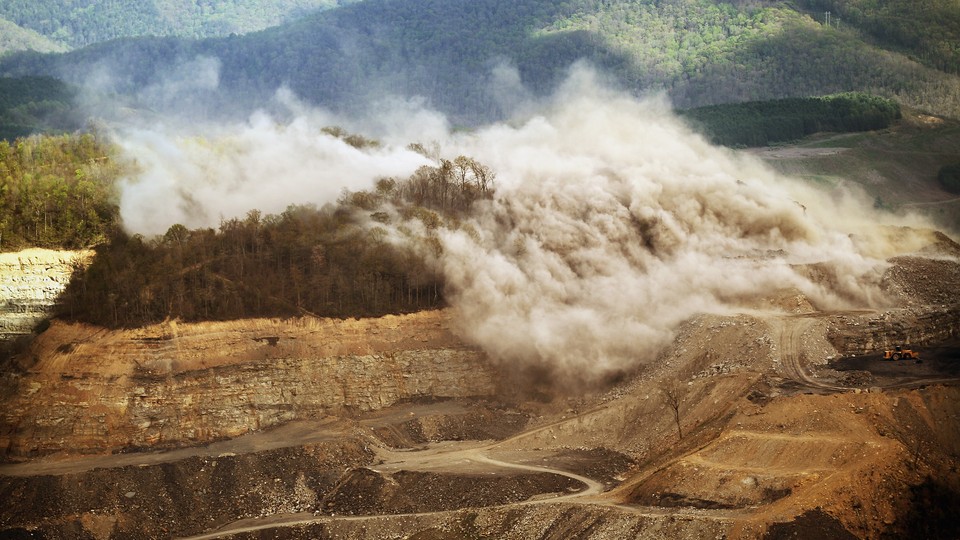 The Obama administration's efforts to rewrite a federal regulation aimed at protecting streams from mountaintop-removal coal mining will go under the microscope Thursday at a hearing of the House Natural Resources Committee.
The hearing will spotlight a report released by the Interior Department's Office of the Inspector General last month investigating allegations of misconduct within the department's Office of Surface Mining Reclamation and Enforcement in its attempt to revise a decades-old environmental regulation known as the stream buffer zone rule.
The report is the latest point of contention in revisions of the rule, but Republicans and Democrats have been at loggerheads over the issue for years.
The regulation is designed to guard against the disposal of debris from mountaintop-removal coal mining in streams. It has been subject to a number of revisions since it debuted and was most recently updated by Bush administration officials in 2008. When President Obama took office the following year, then-Secretary of the Interior Ken Salazar moved to void the 2008 version of the regulation and Interior set out to create its own version of the rule, which would likely impose stricter environmental standards on coal and mining operators. The regulation has not yet materialized, however, even in draft form.
Conservatives say a rewrite of the rule would hurt the U.S. coal industry by further limiting mining activity near streams and waterways and requiring producers to comply with increasingly stringent regulations. This ties in to the larger political narrative that the president is waging a war on coal, which Republicans have been seeking to advance since Obama took office.
"This hearing will further illustrate the lengths that the administration is willing to go to continue their war on American job creation and American energy production," said Rep. Bill Flores, R-Texas, ahead of the hearing. "It is time that we put a stop to this abusive rule-making process and the administration's unrelenting attacks on the coal industry."
Democrats, on the other hand, defend the rule as necessary to guard against pollution of streams and waterways. And at least one Democratic member of the panel is set to argue that the entire practice of mountaintop-removal mining should be reevaluated by Congress.
"Shouldn't the committee hold a hearing on whether or not blowing the tops off of mountains and then dumping them into streams impacts water quality, the environment, and local communities?" Rep. Peter DeFazio, D-Ore., said Wednesday. "We are, yet again, wasting valuable time, resources, and energy on another massive investigation into a political conspiracy theory that has already been disproven by the report we will discuss at tomorrow's hearing."
The report released in December looks into whether or not Interior officials acted inappropriately by pressuring government contractors to lower the job-loss estimate associated with the rewrite of the rule after the contractors initially estimated the rule would cost 7,000 jobs.
Its findings are somewhat opaque, however, and are likely to be seized upon by both sides in making claims either for or against the administration.
The inspector general states, for example, that the Office of Management and Budget said that calculations used to derive the original estimate as well as a revised, much-lower estimate were accurate.
The report does note, however, that OSM officials asked the contracting firm to use a different set of variables to calculate job losses after the original number surfaced. It adds that, when interviewed, a number of contractors and OSM employees said they did not think the revised estimate was as accurate as the first round of predicted job losses.
Conservative members of the panel will point to this and other details of the investigation as evidence of wrongdoing.
"This hearing is an important step forward in this Committee's investigation of this rewrite — why it happened, what motivated it, and why this administration keeps wasting taxpayer dollars pursuing this inherently flawed and grossly mismanaged rulemaking process," Natural Resources Committee Chairman Doc Hastings, R-Wash., said.
Meanwhile, a number of senators have also jumped into the fray, signaling that even after Thursday's House hearing ends, the fight is far from over.
In a letter sent Wednesday, four senators — John Barrasso, R-Wyo., Rob Portman, R-Ohio, Joe Manchin, D-W.Va., and Mike Lee, R-Utah — asked Janice Schneider, the president's nominee to serve as Interior's assistant secretary for land and minerals management, who would head OSM if confirmed, to respond to the allegations.
The senators also said they would only support Schneider's nomination if she agrees to use the original, considerably higher, job-loss estimate once confirmed.
"OSM should abide by its original position on how to estimate job losses expected to result from its proposed stream rule and we will only be able to support a nominee who shares this view," the senators wrote.
OSM is expected to release a draft version of the rule-rewrite sometime this year.
Correction: An earlier version of this article incorrectly identified Sally Jewell as the Interior Secretary in 2009.