Everything You Need to Know About the State of the Union Address
President Obama is expected to lay out a modest agenda for the year ahead, calling on Congress to collaborate with him—but he's prepared for the likelihood it won't.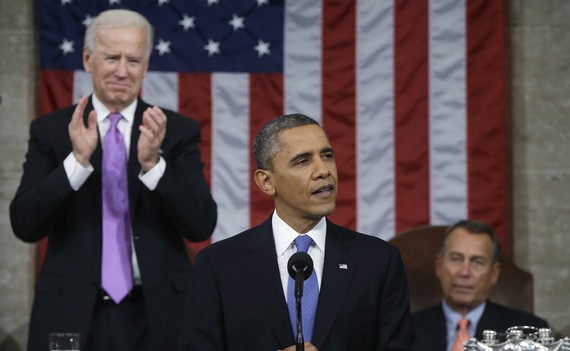 Tonight at 9 p.m., President Obama will step up to the dais in the House of Representatives for his fifth State of the Union Address. The narrative of the night, by pundit acclamation, is how Obama will try to get his groove back. It's been a rough 12 months since his last State of the Union: Congress still hasn't passed an immigration-reform bill. His push for gun control fell apart in the face of Republican opposition. And though the government shutdown looked like a major political victory, it was soon followed by the catastrophic Healthcare.gov relaunch, an even more major political stumble from which he's still regaining his footing.
Don't buy it. Even if Obama delivered a barnburner, it wouldn't move the dial much. Speeches—even the State of the Union—don't do much to turn polling around or radically shift Congress. Though it's hard to remember now, Obama finished off last year's address with an emotionally charged and widely praised call on Congress to honor the victims of gun violence by at least voting on new safety measures, a demand Congress blithely ignored.
In any case, this is expected to be a more tempered speech. But that doesn't mean it doesn't matter. Even in a modern age of dwindling audience, the State of the Union draws more views than any political event all year and sets the agenda for White House policy and the nation for 2014. Here's what to watch for.
A Modest Proposal
Don't tune in looking for a sweeping vision for transforming America: The White House has been telegraphing that this speech will feature the familiar litany of policy proposals but few grand ideas. (If it's anything else, the White House has faked the press out very effectively.) That's a recognition of reality. As the death of gun control and immigration reform show, Obama can't force his ideas through a Republican House, and he can't rely on getting anything past a filibuster in the Senate, either. Add to that jittery lawmakers facing voters in November's midterm elections and you get a recipe for smallbore ideas. Senator Chuck Schumer told The Wall Street Journal that Obama's agenda would not be "grandiose," which sounds like a backhanded compliment. But as Peter Baker notes, Obama is embracing a more restrained vision of the president's influence on history and the nation, telling David Remnick: "At the end of the day, we're part of a long-running story. We just try to get our paragraph right."
That doesn't mean Obama won't put for some ideas. Many of them will be things that he can execute without involving Congress. Just as President George W. Bush did in his second term when he hit a Democratic wall on Capitol Hill, Obama will try to exercise executive authority creatively. Take the problem of long-term unemployment, for example. Research has demonstrated a cruel catch-22: Once people are out of the workforce for a long time, it's harder and harder for them to get hired. The Wall Street Journal reported on Monday that the administration is creating a pledge not to discriminate against potential employees based on how long they've been out of work. Several major employers—including Xerox, Lockheed Martin, and Procter & Gamble—have already signed on. The president's "economic promise zones," unveiled earlier this month, are another move to help fix the economy and create jobs that doesn't require much spending—or Congress's say so. The administration's term for this approach is "the pen and the phone," and springs from a conclusion that Obama was governing too much like a prime minister; his advisers want him to act like a president.
So What Are the Policy Ideas?
Based on what the White House has said so far, here are some of the specifics to expect:
Economic Policy: In addition to the promise zones and employer pledge, expect the president to continue his recent heavy emphasis on inequality. He'll renew his call to raise the minimum wage to $10.10 per hour and talk about job training and early-childhood education, a broadly popular idea. Wary of being portrayed as a class warrior, this is all likely to be couched in terms of assisting the middle class, though he's likely to celebrate Lyndon Johnson's War on Poverty, launched 5o years ago in the 1964 State of the Union. Unlike years past, don't expect much focus on the deficit. Ironically, as the economy has recovered, there's been less focus on cost-cutting, and neither side wants to talk about it now.
Healthcare: The administration thinks that Obamacare is turning a corner and the worst is behind it. The president will emphasize the 3 million people who have gotten coverage under the law, talk about protections under the law, and vow to continue defending it.
Immigration: Despite a 2013 that started strong and ended in utter gridlock, there's a recent outbreak of optimism about immigration in Washington. House Republicans have signaled a newfound willingness to pass reforms, and Obama—having heavily favored a comprehensive bill—signaled last fall that he'd be okay with the piece-by-piece approach they prefer. Since this is his best hope for one last big piece of legislation during his presidency, the smart money is on him taking a conciliatory approach, cajoling the GOP and offering to work together rather than chastising it.
Foreign Policy: 2013 a mixed bag for Obama. The U.S. has failed to reach an agreement with Afghanistan on keeping troops in the country, and there's no solution in sight to the civil war in Syria. But Obama can point to progress on a deal with Iran to prevent it from getting nuclear weapons and in bringing Israeli and Palestinian negotiators together for renewed talks.
NSA: The president's major statement on surveillance and the questions raised since Edward Snowden's leaks came two weeks ago, but it's hard to imagine he can avoid addressing it on the State of the Union stage, perhaps recapitulating the reforms he proposed then.
The Republican Rebuttal
The GOP's response to the speech will come from Cathy McMorris Rodgers, a Republican from Spokane, Washington. She's an ally of Speaker John Boehner and chair of the Republican Conference, the fourth-ranking spot in the leadership. Her task isn't just to deliver a solid response; she'll also be hoping to break the curse that befell the last four Republican responders, all of whom were high-profile rising stars, and all of whose responses were mocked or forgotten. Picking McMorris Rodgers suggests Boehner consolidating his power, part of a broader pushback against the far-right in the GOP. But for proof that the conservatives aren't vanquished, one need look no farther than the fact that Senators Rand Paul and Mike Lee—both occasional thorns in the side of Republican leadership—also plan to deliver responses.
The First Lady's Guests of Honor
Ever since Ronald Reagan invited Lenny Skutnik, the hero of Air Florida Flight 90's crash into the Potomac River, to the 1982 address, presidents have used their invitations to find Americans who embody the policies they're backing. So far, the White House has announced six guests who will sit with Michelle Obama. Several are symbols of America resilience: Jeff Bauman and Carlos Arredondo were captured in a now-famous image of the aftermath of the Boston Marathon bombing, as Arredondo helped treat a badly injured Bauman, while Gary Moore is the fire chief of tornado-ravaged Moore, Oklahoma. Openly gay basketball player Jason Collins will be a stand-in for LBGT citizens; Joey Hudy, a teenager "maker" whose marshmallow cannon awed the president at a White House science fair two years ago represents entrepreneurship and innovation; and Kathy Hollowell-Makle, Washington, D.C.'s 2013 public-school teacher of the year, is an exemplar of early-childhood education.