Does Outing Pols Change Their Politics?
A journalist last week asserted that a member of Congress is gay, charging hypocrisy. Can politicians be shamed into supporting gay-friendly policies?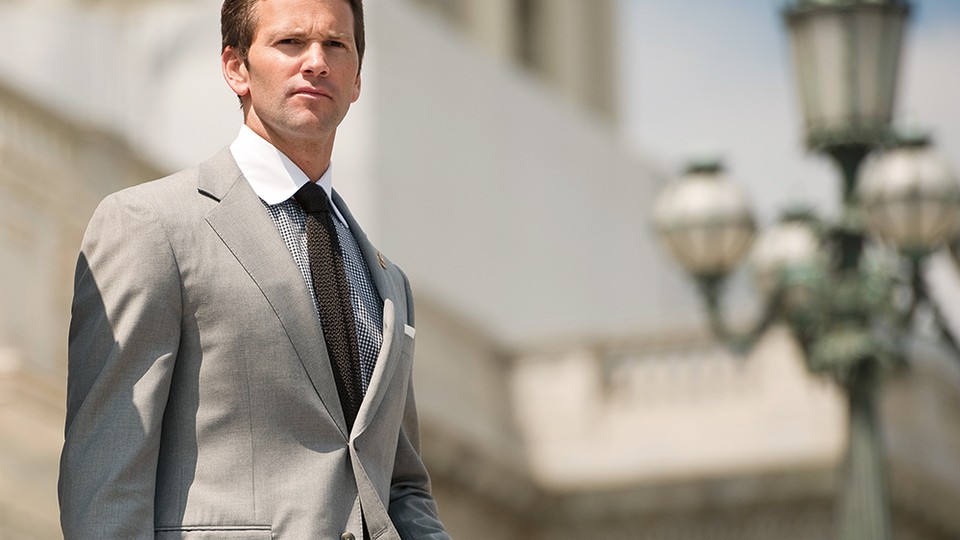 Last week, freelance journalist Itay Hod (who describes himself as a "PBS mind in an MTV world") attempted to out Aaron Schock, the 32-year-old Peoria Republican member of the House. "I've decided we should help this guy come out of the closet ... #has aaronschockcomeoutyet?" he tweeted Friday. Schock's office has deflected all questions this week, noting his previous denials.
Critics of "outing" see it as an unwelcome intrusion into someone's personal life, generally practiced as a way to make opponents of gay rights face their own perceived hypocrisy. In theory, shame is supposed to deter hypocrisy, and a formerly closeted offender is supposed to either retire or change his or her ways. But does it really work? Can the disclosure that a lawmaker is privately gay while publicly voting against the gay community alter that voting record?
Past examples of outing are few and muddled. In most instances where either a member of Congress or a state legislator has been forced out of the closet, he or she has left office before votes were taken on key issues. Rep. Robert Bauman, a conservative Maryland Republican, was among the first to have his secret disclosed. But it's an imperfect test case: He was charged with soliciting sex from a 16-year-old male prostitute on Oct. 3, 1980. He denied being gay, and lost reelection less than a month later.
Richard Socarides, the New York lawyer who was President Clinton's top White House adviser on gay issues and is one of the more widely respected voices in the community, says there is not enough "meaningful historical precedent" to draw conclusions. "Even if there were, each situation is so different and dependent on so many other variables." One example where it worked was Rep. Steve Gunderson, a Republican from Wisconsin, who was reelected in 1994 even after another lawmaker said on the House floor that Gunderson was gay. Gunderson's voting record changed dramatically on gay issues. He supported gay marriage and talked openly of his life with his partner. When he left Congress in 1997, he said he felt liberated to make more decisions based on his personal beliefs instead of following GOP orthodoxy.
There was change, if somewhat less dramatic, in the voting pattern of Rep. Jim Kolbe of Arizona, who won three terms while openly gay. Kolbe was the fourth member of the House to announce he was gay, following Democrats Gerry E. Studds and Barney Frank and his fellow Republican Gunderson. Kolbe disclosed it after threats that he would be outed, but even after coming out, he remained wary of gay marriages, instead backing civil unions. He also opposed a GOP attempt to block an executive order banning workplace discrimination. (After leaving office, he supported marriage equality.)
The political environment has changed radically just since Kolbe left office in 2003, though, making it easier in the future for gay conservatives to vote differently. Hod was clearly hoping that Schock can provide the first opportunity in the new environment to study the impact of public exposure on voting. And there is a great deal Schock could do differently: He owns a zero percent ranking from the Human Rights Campaign, the nation's largest and most influential gay lobby, having opposed it on all of its 10 issues, including hate-crimes legislation, "don't ask, don't tell" repeal, the Employment Non-Discrimination Act, and repeal of the Defense of Marriage Act.
Michelangelo Signorile was most identified with reporting on private secrets in the 1990s (he first disclosed that billionaire publisher Malcolm Forbes led a secret gay life before his death). It was Signorile, now the editor-at-large of HuffPost Gay Voices, who got a flat denial from Schock of rumors that he is gay during the Republican National Convention in 2012. "Those questions are completely ridiculous and inappropriate," Schock told him at the time. Today, Signorile defends confronting the congressman. "I think it should be reported on whenever relevant," he says, going beyond what has become known as the Barney Frank Rule, named for the former House member who argues there is a right to privacy but no right to hypocrisy. Signorile is angry at those who suggest that recent gay progress changes things. "I don't buy the argument that we've arrived and therefore it doesn't matter. There are closeted politicians voting antigay.... There still is a lot of homophobia in our society."
Of course, outing isn't the only available tactic to change a member's policies, and at any rate Schock says he isn't gay. "One of the most remarkable recent examples of how the personal can and does impact the political," Socarides says, "is Rob Portman's shift on gay rights after he realized his beloved son was gay." His HRC vote rating is just 12 percent, but he is seen as more empathetic and now says he's open to discussion about the issue. Now, gay advocates hope, the Schock conversation has the potential to change minds and maybe even some votes.