Divided Democrats Put Obama in a State of the Union Squeeze
Liberals want the president to tackle income inequality; moderates want him to focus on economic growth.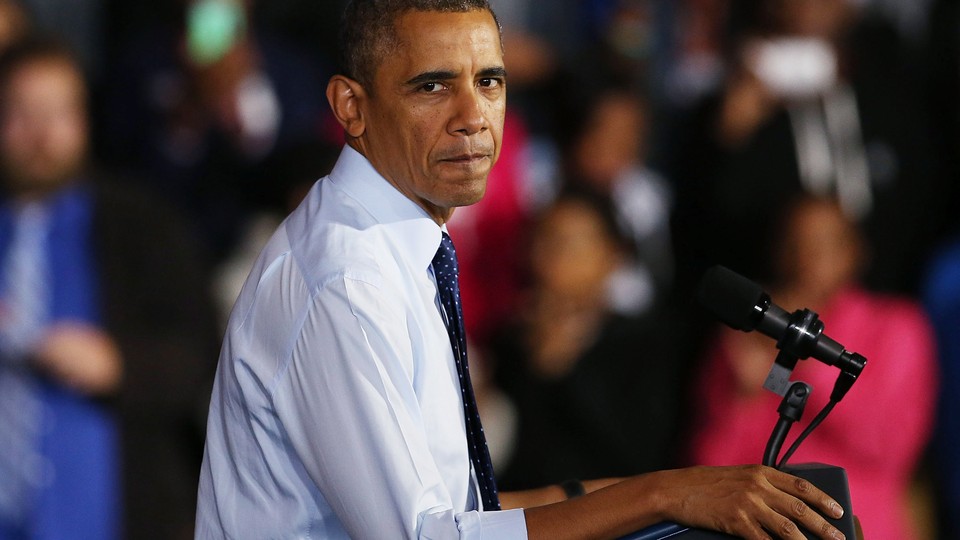 As the White House drafts a sixth State of the Union address, signs of strain are emerging within the Democratic Party, with liberals pushing the president to be more outspoken about the economic issues that now drive voter dissatisfaction. And while the speech isn't likely to make a big impact on what policies get through Congress, it could have a lasting effect on the direction of Democratic politics.
Indeed, this year's address is shaping up to be an opportunity for the White House to bridge the divide between the party's populists and Clinton-era centrists. But there's little sign President Obama will do that.
Throughout his two terms, he has assiduously avoided taking sides, governing more like a liberal but communicating like a post-partisan centrist. That's not surprising, given Obama's 2012 coalition was made up of both affluent, college-educated whites and working-class minorities — which served to overshadow the fact that their interests aren't always aligned.
Despite the differences, the party has remained remarkably united, even with the unpopularity of Obamacare, the near-extinction of its fiscally conservative Blue Dog wing, and Obama's own declining approval ratings. But that's starting to change.
"Obama needs to be responsive to where the public is. He should not overrate the component of the Obama coalition that is the affluent in the same breath as the others," said AFL-CIO Political Director Michael Podhorzer. "The real coalition that elected Obama was one that overwhelmingly is not making it in the economy."
Obama plans to use the speech to talk about Democrats' campaign-year theme of income inequality, and he'll focus on pocketbook issues like college affordability, workplace leave policies, extending unemployment benefits, and the party's signature minimum-wage initiative for 2014.
But with the economy still sputtering, it's unclear whether revisiting these previous proposals will be enough to satisfy either side.
The party's centrist wing, which generally backs entitlement reforms and free-trade agreements that appeal to the more affluent, wants Obama to use the speech to convey an economic-growth message. The liberal wing is urging a more confrontational approach toward Wall Street and higher taxes on the wealthiest Americans.
The dispute was crystallized in the reaction to a Wall Street Journal op-ed from Third Way President Jon Cowan and Senior Vice President for Policy Jim Kessler last month, arguing "economic populism is a dead end for Democrats." The op-ed drew scathing criticism from liberal groups, with the Progressive Change Campaign Committee — an organization boosting Sen. Elizabeth Warren of Massachusetts — demanding that Democrats cut ties from the group, and accusing Third Way of shilling for big business.
"Income inequality is a phenomenon that's happening that needs to be talked about. But when you get to the solutions, you run out of the easy things to do and then you get to what are we really going to do to improve the schools, create jobs, and improve the economy," said Kessler. "I think the president does a pretty good balancing act on these things. He pointed out income inequality as a vexing problem, but he also talked about trade deals and having more growth."
It will be difficult for the administration to both strike that balance and achieve its main political goal of 2014 — holding onto the Senate.
The White House has been holding private meetings with senators up for reelection, betting that red-state Democrats can benefit from economic initiatives framed in a populist manner. But with Obama's approval ratings in bad shape in these states, that strategy could be a losing one.
"There are going to be times when, because you're in a conservative state, there's going to be movement to where you distinguish yourself from the president," said Democratic pollster John Anzalone, who's working for Sen. Kay Hagan of North Carolina. (Hagan notably skipped Obama's economic speech at North Carolina State University last week.) "But that's not incompatible with the larger message on the middle class."
In his weekly address, Obama said that his State of the Union will "mobilize the country around the national mission of making sure our economy offers everyone who works hard a fair shot at opportunity and success." That means different things to different supporters.
The test for the president is whether he can continue to straddle the middle ground when his allies are outspoken as ever about a more ambitious course of action.
"We're concerned that there are some in the Democratic party, some in the progressive movement that want to abandon the Clinton legacy and move to a more left-wing agenda where growth is an afterthought," said Kessler. "It's most important to challenge our own doctrines and assumptions. That's where we find creative solutions."