DirecTV Just Lost the Weather Channel
A payment dispute has broken the relationship between the network and the satellite giant.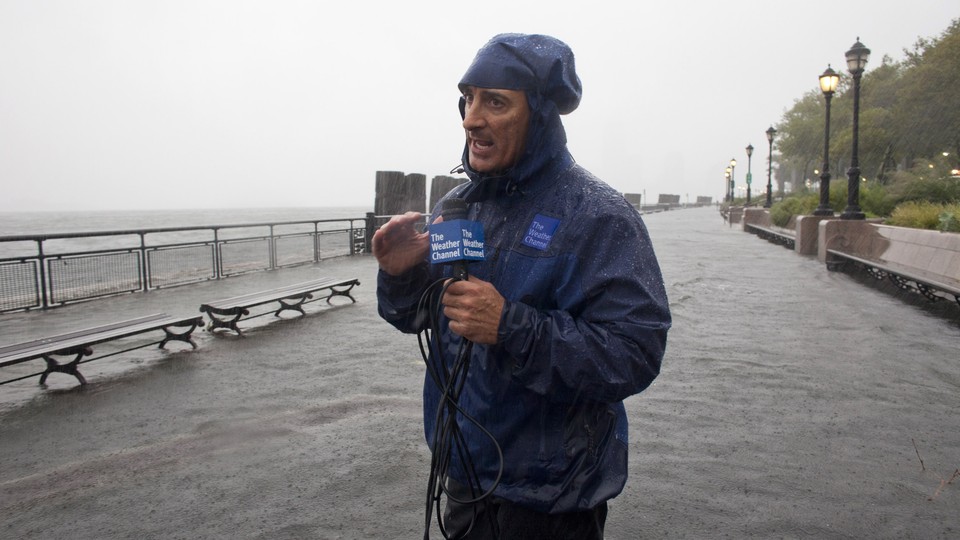 The Weather Channel's Jim Cantore can often be seen braving hurricanes, floods, or tornadoes. But today, visitors to the channel's website find him warning of a different danger: DirecTV.
As of midnight Tuesday, the Weather Channel is no longer available to DirecTV subscribers, because the channel and the satellite giant were unable to reach a new payment deal.
At issue is how much DirecTV should have to pay to provide TWC's programming to its subscribers. The 20 million people now without the Weather Channel (the negotiation deadline passed at midnight) are now less safe thanks to DirecTV's stinginess, said the weather network. DirecTV says that TWC is hiding behind faux safety concerns to try to grab extra cash.
Negotiations continue, and a deal would bring TWC back to the satellite giant, but until then, DirecTV's TWC fans will have to do without.
TWS says its demands — which it puts in the neighborhood of an increase of one penny per-subscriber, per-month — are totally reasonable. And DirecTV's refusal to pay up, the channel says, puts its own interests ahead of the safety of millions who rely on TWC during severe weather.
In fact, so dangerous and irresponsible is the satellite company's channel drop that it merits congressional action, TWC says. "Congress and DirecTV need to understand the risks to your local community," reads the Weather Channel website.
Those claims are laughable, responds DirecTV. "The Weather Channel does not have an exclusive on weather coverage — the weather belongs to everyone," said Dan York, the provider's chief content officer.
Besides, if the Weather Channel was really all about safety, it wouldn't dedicate 40 percent of its programming to reality shows, DirecTV said, citing that number — and pushback from its customers who prefer straight-weather coverage — as reasons for its unwillingness to pay a higher price. And that penny figure TWC is pushing?
That's well below that actual number the channel is demanding, DirecTV says.
For now, both companies are pushing alternatives.
The satellite provider's viewers will have to settle for WeatherNation, a smaller network brought on by DirecTV as its agreement with the Weather Channel was about to expire. Meanwhile,the Weather Channel still has its website. And it's keen to remind DirecTV how many people have visited that page so far (currently at 1,676,470).