Democrats Plan to Bring Republicans Face-to-Face With the Unemployed
The State of the Union invitations represent a new front in the battle over unemployment insurance.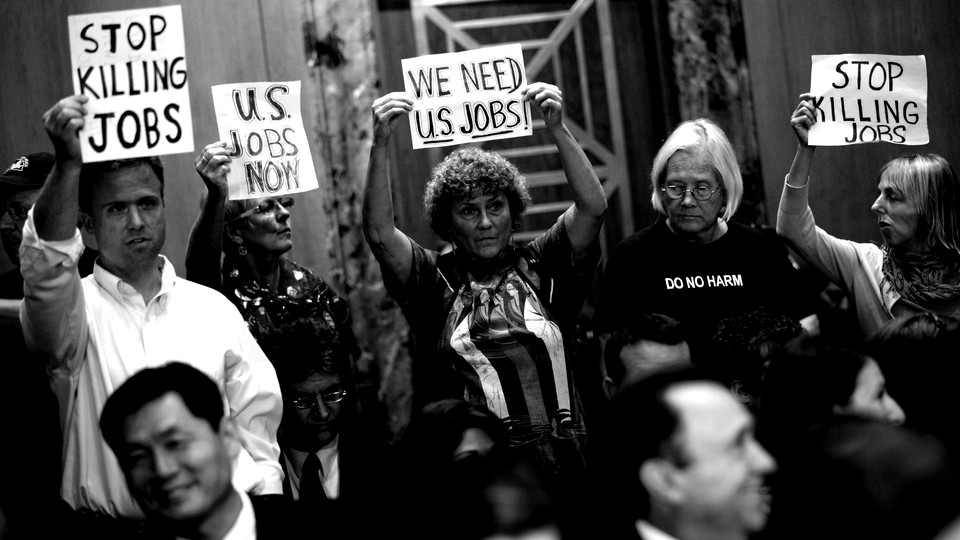 Democrats are furious with Republicans for refusing to extend unemployment insurance benefits. On Tuesday, they'll take that fight to the next level — forcing their colleagues to stand face-to-face with some of the long-term unemployed who lost their benefits exactly one month earlier.
A cadre of House Democrats are organizing a sort of sit-in at the State of the Union with about 10 members each bringing an unemployed person from their districts as their plus-one. These guests will sit inside the House chamber, just feet from the Republican members who last month refused to include a short-term extension of the insurance program in the budget agreement.
Democratic Reps. Mark Pocan of Wisconsin and Alan Lowenthal of California organized the movement, urging colleagues to bring one of the long-term unemployed with them to the State of the Union on Tuesday. Rep. Sander Levin, D-Mich., who led the fight to extend unemployment benefits during December's budget debate, has also signed on.
Pocan is bringing Brian Krueger of Mount Horeb, Wisc., with him. Krueger was laid off from his job as a steamfitter in June and has struggled over the last month to make mortgage payments. He and his wife have applied for food stamps and they've reduced lunches for their two children, according to Pocan's office. Krueger has applied for two to three jobs every day, but has still not been able to find work.
More than 1 million Americans, many of whom had already been out of work for 26 weeks, lost their benefits on Dec. 28. That number has since climbed to 1.6 million people and continues to grow as Congress wrangles over the issue.
With both sides attempting to score political points, Congress seems far from reaching a solution. Democrats are pushing for an immediate, if short-term, extension of the program, while Republicans argue that an extension must be paid for. So far, Democrats have been reluctant to find offsets to fund the program, arguing that the expiration of unemployment insurance benefits constitutes an "emergency".
In reality, the disagreement is an election-year winner for both sides, allowing Democrats to accuse Republicans of not caring for the poor and jobless, while Republicans say their opponents want to expand government without paying for it and continue to drive up the nation's debt.
The presence of the long-term unemployed could have particular resonance during President Obama's speech, which is expected to focus on income inequality and economic fairness.