De Blasio Needs to Take a Lesson From Chicago Snowstorms
Snow has buried or made political careers in the Windy City. The New York mayor should take note.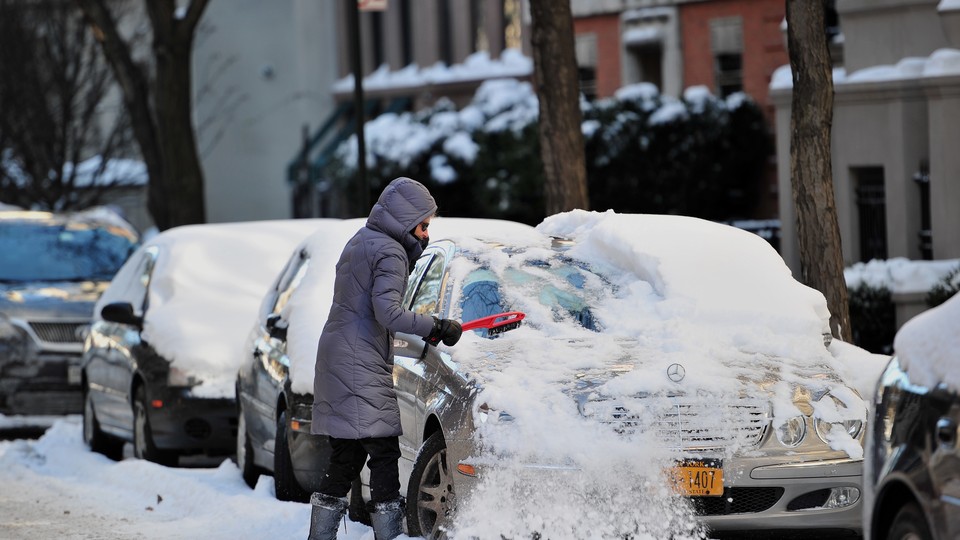 For many places, snow is snow. In major cities like Chicago or New York, snow is politics.
Newly minted New York Mayor Bill de Blasio is learning this lesson following a snowstorm that swept the East Coast on Tuesday, dumping several inches of snow and decreasing temperatures across the region. Some residents of the well-to-do Upper East Side neighborhood are complaining that the Democratic mayor is punishing them for opposing his mayoral bid by not plowing their streets sooner.
"He is trying to get us back. He is very divisive and political," one resident told the New York Post.
"De Blasio is trying to hurt the more wealthy people by ignoring us but there's no logic to that," another resident said.
Now, the report is a bit hyperbolic, but it does show how snow can affect the popularity of elected officials, especially in major cities. Just look at Chicago.
In the Windy City, where politics is king, snow has been used to punish certain neighborhoods and snow has ruined political careers.
Former mayor Richard J. Daley was known to punish neighborhoods that opposed his policies or voted for his opponents. So for Hyde Park, which was seen as reformist and "anti-machine," Daley went after them with the snowplows.
Drake University politics professor Dennis Goldford, who went to the University of Chicago during the early 1970s, describes the old-style machine politics:
During one of the first particularly bad snowstorms, there was an issue about why the 5th Ward remains unplowed for so long. Of course reporters said, 'Does this have anything to do with the fact that the 5th Ward tends to be reformist and opposed the Machine?' "¦ The mayor or the spokesman would say, 'Of course not. It's no political issue here. It's simply that we have 50 wards and somebody's got to be first.' This was usually the mayor's ward. 'And somebody ends up last. It's just as simple as that. You can't plow everybody at once.' It just so happened that the 5th Ward was last.
Snow also ruined the career of the man who succeeded the Boss of Chicago. From The Philadelphia Inquirer:
In 1979, then-Mayor Michael Bilandic saw his reelection bid buried under a snowstorm that the city could not clear.
Bilandic's failure, coupled with news accounts of how the streets of his neighborhood were surprisingly clear, gave challenger Jane Byrne the issue she needed to win.
"I hate to say it, but I love snow," Byrne said this week, watching as 22 inches of snow, the most since 1979, settled on the city.
To this day, that blizzard is still called the "Bilandic-Byrne storm".
Just before leaving office, then-New York Mayor Michael Bloomberg found himself in his own controversy surrounding lackluster snow removal, a disaster that one news organization called "political suicide," and saw his approval rating plummet.
If de Blasio wants to make it as a big-city mayor, he'd better learn how to handle the snowstorms — which could bury the city and his career in snow.
{{ BIZOBJ (video: 4648) }}