Crude Shipments Begin in Keystone Pipeline's Southern Leg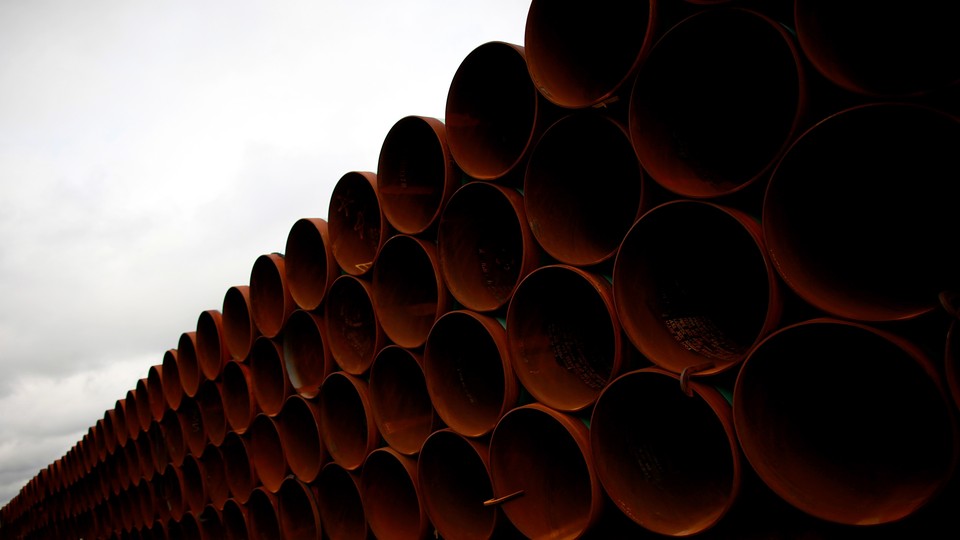 Commercial shipments of crude oil began moving through the southern leg of TransCanada's Keystone pipeline on Wednesday, even though the project's proposed northern extension is still awaiting approval.
The southern half of the pipeline, otherwise known as the Gulf Coast Project, runs from Cushing, Okla., to Port Arthur, Texas. Because it does not cross an international boundary, TransCanada didn't need approval from the State Department to construct the pipeline. The northern leg, on the other hand, requires a permit from State because it would pass over the U.S. border with Canada to reach Alberta's oil sands.
Once the department completes a final environmental assessment of the northern extension, President Obama will have final say over whether the pipeline is permitted. The president has said he will not approve the northern half of the project unless it does not significantly add to atmospheric levels of carbon dioxide.
Green groups widely oppose the northern extension, saying it will hasten oil-sands development in Canada. Criticism has also been leveled at TransCanada for building the pipeline's southern leg, with opponents of the project pointing out the potential for leaks or spills.
Keystone backers, meanwhile, say the pipeline will not have an adverse environmental impact and contend that pipelines are a safer mode of transportation for heavy crude than railroads and trucks.
Bill McKibben, the president and cofounder of environmental advocacy organization 350.org, sharply rebuked the administration on Wednesday for allowing the southern leg of the project to go forward.
"[This is] a shameful day — and a reminder that the Obama administration has boasted too often about how many pipelines they've built, how much land they've opened to drilling and mining. Expediting KXL south was not the mark of a president who really 'gets' climate change," McKibben said in a statement.
Meanwhile, lawmakers have threatened to take action on the pipeline if the president does not, with Sen. John Hoeven, R-N.D., saying earlier this month he would consider attaching a vote on the project to debt-ceiling legislation.
In an event held Wednesday to announce the start of crude shipments through the pipeline, TransCanada CEO Russ Girling said he hopes that the successful completion of the southern leg of the pipeline will help win support for the rest of the project to be built.
"The Gulf Coast project has its own purpose and utility but at the same time it was designed to be part of a larger Keystone system which includes both the base Keystone and Keystone XL," Girling said. "As we're bringing the Gulf Coast project into operation I think again [we're] showing them that this pipeline can be operated safely and that should provide baseline evidence that Keystone XL is just a pipeline and it can be built and operated safely."