Conservatives Backed the Budget Deal, and All They Got Was Grief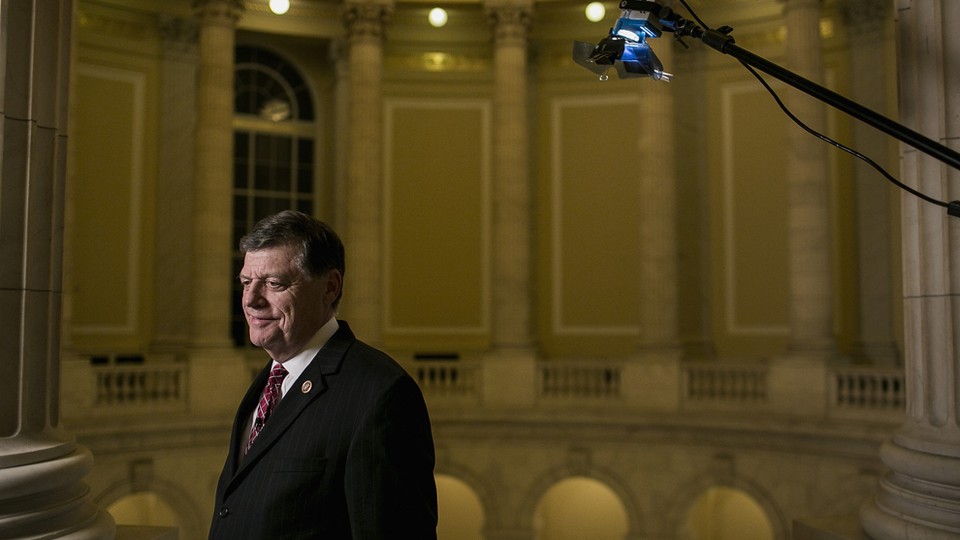 When House conservatives signed on to the budget agreement in December, they touted the idea of getting back to regular order, the ability to take a scalpel — and in some cases an axe — to programs they've been trying to cut for years.
Instead, they got a status-quo bill and a rushed process that has already come under attack by major conservative groups like the Heritage Foundation, FreedomWorks, and the Club for Growth. Most lawmakers, the groups complain, won't even have time to read the bill.
"If you're afraid that sunlight will curdle your legislative milk, maybe something's rotten," said Dean Clancy, vice president for public policy at FreedomWorks.
The situation is one more example of division within the Republican Party over fiscal matters and sustains the tension that began when conservative organizations opposed the Murray-Ryan budget in December, leading to a clash with House leadership.
A majority of Republicans are likely to back the bill anyway, arguing that it makes significant cuts to overall spending, and Republican leaders defended it Tuesday. "This bill, for the fourth year in a row, cuts discretionary spending, which has not happened since the Korean War," House Appropriations Committee Chairman Harold Rogers said. "And it reduces funding to below the level when Obama took office. I don't know what more anybody could want in terms of federal spending."
When Rogers took the bill to his caucus Tuesday, there were few objections from members, he said. Both he and Rep. Tom Cole, an Oklahoma Republican and one of Rogers' subcommittee chairmen, said that they expect the bill to earn a majority of votes on both sides of the aisle when it hits the House floor Wednesday.
"Look, we had more wins than losses in this," Cole said. "If you actually look at what discretionary spending has been all the way back to the last year of the Bush administration, where this is coming in, it's pretty hard to say, if you're a budget hawk, this does not move the ball significantly in the right direction."
Still, Republican appropriators cut more spending than the current omnibus does in eight of the 10 appropriations bills the chamber passed last year. The only department that will see less funding under the omnibus than under the House Republican plan is Defense.
By contrast, in four of the 12 bills included in the omnibus, President Obama got more funding than he asked for in his 2014 budget. That includes the funding bills for Agriculture and Rural Development; Commerce, Science, and Justice; Homeland Security; and Interior and Environment.
Republicans say that the 30-day allotment for fiscal 2014 appropriations just wasn't sufficient to take up many of the policy changes their caucus has championed. Many of those fights had to be pushed off to fiscal 2015, with Republican appropriators saying they'll have more time.
But outside groups say they've heard that tune before. "Yeah, they've been telling us, "˜We'll fight next time' for years," Clancy said.
Conservative groups are also concerned about the short time frame in which members will pass the omnibus. The House passed a short-term continuing resolution on a voice vote Tuesday that would give Congress until midnight Saturday to pass the bill. A vote on the omnibus in the House is expected Wednesday, while the Senate will take up the measure later this week.
In other words, three years after House Republicans released their Pledge to America, which included a promise to post legislation online for at least three days before voting on it, House Republicans have now given themselves less than 52 hours to read the 1,582-page bill before it hits the floor.
Conservative groups warn that the bill could be chock-full of pork projects that members may not find until days after they pass it into law. Some lawmakers have already sent out releases about benefits to their districts.
Even before the legislation was released on Monday, FreedomWorks announced that it will score a "no" vote on the bill, arguing that members won't have time to read it. Less than 24 hours after the bill was released online, the Heritage Foundation and Club for Growth joined them in key-voting a "nay" on the measure.
FreedomWorks has even gone so far as to compare House Speaker John Boehner to Minority Leader Nancy Pelosi, who famously said of the Affordable Care Act, "We have to pass the bill so that you can find out what is in it."
FreedomWorks and Heritage argue that members are pushing the omnibus through a small window to avoid too much public scrutiny. The longer the omnibus is out in the open, the argument goes, the more time special-interest groups will have to tear it apart.
Boehner, who had some harsh words for these outside groups back in December, said Tuesday that while he would like to have had more time to deal with the bill, Congress needs to pass the omnibus "as soon as possible" to avoid another shutdown.
A Boehner spokesman declined to comment on whether the speaker had considered a longer-term CR to buy members more time.
Cole and Rep. Jack Kingston, who heads the Appropriations subcommittee on Labor, Health and Human Services, and Education, said Tuesday that not much in the omnibus should be new to members. Many of the provisions in the legislation are pulled from the Senate- and House-passed appropriations measures.
"I think, under the circumstances, what we're doing is appropriate," Boehner said.
CORRECTION: The original version of this article misstated the number of bills in the fiscal 2014 omnibus that awarded more money to President Obama than he requested in his budget; the correct number is four.