Clean Energy Experts to Offer Obama a Path Forward Without Congress
A new report will suggest 200 executive actions on climate and energy.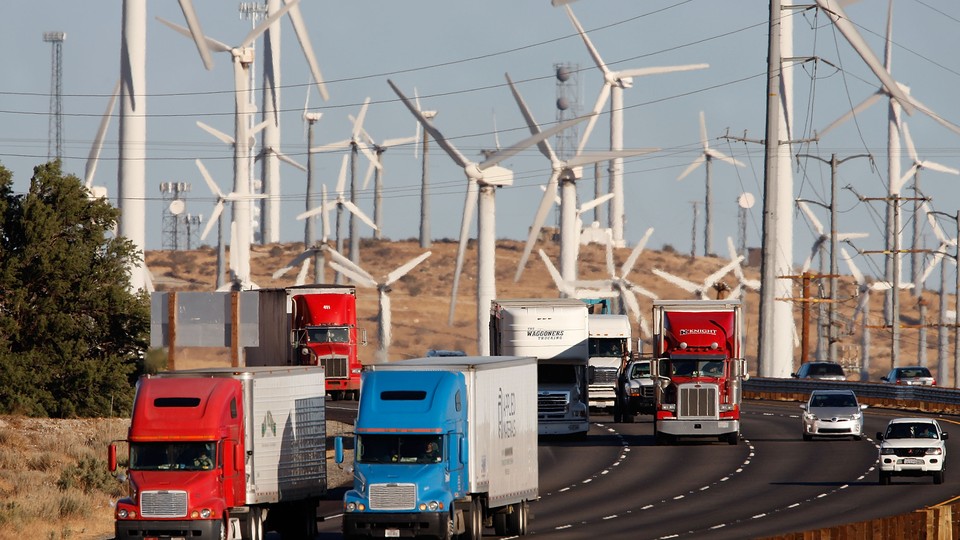 President Obama's efforts to sidestep Congress on environmental issues will get a big boost Tuesday from more than one hundred independent experts who will suggest some 200 ways he can build a legacy on climate change and clean energy through executive action.
Nearly a year in the making, a report from green-energy leaders will make recommendations for executive-branch actions in six areas: energy efficiency, renewable markets, renewable-energy financing, alternative-fueled vehicles, new business models, and natural-gas rule-makings.
"This is an exercise to have a group of people who are outside the Beltway think about how to help the president move a clean-energy agenda forward with a Congress that doesn't act," said Bill Ritter, a former Colorado governor who spearheaded the report as part of his work directing the Center for the New Energy Economy at Colorado State University.
"It isn't that the president can do all of this over the remainder of his second term; the thought is to give the president a menu of options," said Ritter, who would not disclose details of the report.
He and others, including Obama's former energy and climate adviser Heather Zichal, will present the report at an event in Washington on Tuesday, exactly a week ahead of Obama's State of the Union address outlining his policy priorities for the coming year.
"Right now the administration is looking at ways to leverage private investment, and the recommendations we're getting ready to present are the result of significant outreach to several hundred heads of organizations such as utilities companies, large energy users, and major players in the energy business," said Sue Tierney, a managing principal at the consulting firm Analysis Group, who was involved in the report and will be among the speakers at Tuesday's event.
The report stems from a 90-minute meeting Obama held with Ritter and other energy experts last March. Since that meeting, Ritter has been in regular contact with the White House and he and other experts who were involved briefed Cabinet members on the report last week.
While he doesn't have any plans to meet with Obama again, Ritter said he does plan to meet with John Podesta, Obama's new senior adviser on these issues, and others sometime in the next week or so.
One White House official praised the report. "The administration is committed to moving to cleaner energy solutions, and welcomes this set of recommendations for moving forward on energy efficiency, renewables, advanced vehicles, and other key energy priorities," White House spokesman Matt Lehrich said in an email.
The Environmental Protection Agency's carbon regulations for power plants are the cornerstone of Obama's climate agenda, and they certainly draw the most criticism. But the White House is simultaneously implementing many other components of his plan announced in June, and the report to be released Tuesday will show the breadth of what an administration can do without Congress.
Other recent actions the administration has taken irrespective of Congress include launching a wide-ranging initiative this month called the Quadrennial Energy Review, which will identify ways the administration can improve infrastructure and mitigate risks involved in energy transport and delivery. Obama also hired Podesta, founder of the Center for American Progress, a liberal think tank, to advise him on energy and climate policy, among other issues.
Zichal, who stepped down from her White House post late last year, said Podesta will be instrumental in coordinating meetings among different federal agencies on energy and climate issues.
"Driving those kinds of conversations sounds a little simplistic, but making sure agencies are talking to one another and working together to move all of these things forward is really important and having a central figure to coordinate these activities I believe is a role John is going to help fill," Zichal said.
Any increase in the president's use of executive authority is sure to provoke push-back from critics who say Obama is evading congressional oversight by moving unilaterally on his policy objectives. Obama is already facing criticism for his EPA rules, but past presidents of both parties have used executive action to bypass Congress before.
In 1993, President Clinton issued a climate action plan outlining executive actions to bolster energy efficiency, cut back on the release of methane — a potent greenhouse gas — and promote natural-gas production.
"Nearly every president has looked into how to maximize existing authority," said Dirk Forrister, a former Clinton climate aide who is now president and CEO of the International Emissions Trading Association. "President Clinton started with a climate-change action plan that included input from all of the agencies, and then later on in his presidency there was also a set of industry consultations to see if there was interest in an emissions trading system."
President George W. Bush also issued an executive order requiring federal agencies to rein in greenhouse-gas emissions. In 2007, Bush called on EPA and the departments of Energy, Agriculture, and Transportation to establish emission standards for motor vehicles after the Supreme Court ruled that EPA had an obligation to do so under the Clean Air Act.
Nonetheless, this administration faces unique challenges, including constant budget cuts and congressional Republicans seeking to curb energy and climate spending at every chance.
"Where there are investments to be made around research and development to help make the next-generation biofuels, solar panels, and energy-efficiency technology, the budgets are being cut significantly, and that is going to ultimately lead to limitations," Zichal said.
Obama himself has not paid much lip service to his own administration's climate and energy push since his speech in June, but Zichal and others say that doesn't mean the work isn't getting done.
She noted that the health care law implementation and national security issues, including the controversy surrounding the National Security Agency, have demanded much of Obama's time as of late.
"But that's not to say that there isn't a lot of important work happening," Zichal said. "Whenever there is something moving under the framework of the Climate Action Plan, their goal is to deploy as many senior Cabinet members as they can to shine a spotlight on all the progress that is being made."
Ritter agrees. "I think the president has a lot on his plate," the Colorado Democrat said. "And he is extremely well-staffed."