Chris Christie Administration Implicated in a Very 'New Jersey' Scandal
Did the governor's office order traffic congestion to get back at Fort Lee's mayor? It doesn't look good.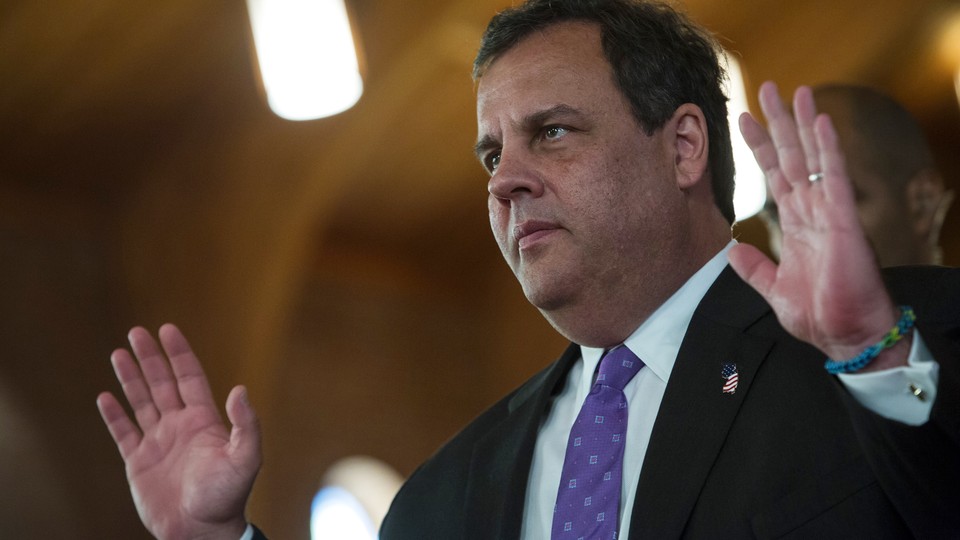 New Jersey's The Record newspaper is out today with an allegation against Gov. Chris Christie that has everything: a tale of payback and bumper-to-bumper traffic.
Here's the claim: The Christie administration intentionally closed access lanes to the George Washington Bridge from Sept. 9 to Sept. 13 to create traffic problems in Fort Lee, N.J.
What did Fort Lee do to deserve this? According to The Record, its mayor did not endorse Christie for reelection.
The plot of this episode follows an almost Seinfeldian logic, in which petty digs are settled via grand gestures. Speculation has been brewing for a while that the administration was involved, but today direct ties between the Christie administration and the Port Authority, which closed the lanes, were revealed.
The Record learned of this through leaked emails from the Christie administration that show "one of the governor's top aides was deeply involved in the decision to choke off the borough's access to the bridge, and they provide the strongest indication yet that it was part of a politically motivated vendetta — a notion that Christie has publicly denied." Christie, the paper reports, had denied that his administration played a role to play in the lane closings, which are technically part of a Port Authority traffic study.
The emails themselves are pretty damning. Here's a transcript of one.
---
David Wildstein <david.wildstein@gmail.com>
To: Bridget Anne Kelly <bridgetannekelly@yahoo.com>
Got it
On Aug 13, 2013, at 7:34 AM, Bridget Anne Kelly <bridgetannekelly@yahoo.com> wrote:
>Time for some traffic problems in Fort Lee.
--
David Wildstein was a Port Authority executive with ties to Christie. Bridget Anne Kelly is a staff member in the governor's office. Wildstein was the one who ordered the traffic study. Before the email leaks, it was only suspected that the Christie administration had a hand in the closures. These emails, however, are seemingly the first hard evidence to directly link the office to the lanes-closing plan.
In another obtained message, Wildstein replied to a person who wrote "Is it wrong that I'm smiling" regarding the resulting traffic cluster in Fort Lee. Wildstein replied "No."
Christie has canceled a public appearance for Wednesday.
Wildstein resigned from his post in December citing the lane controversy as a "distraction." When The New York Times asked him in December whether the governor was involved he replied, "You really are not serious with that question."
Well, now it's a serious question.