Can Anyone Stop Hillary? Absolutely
The former secretary of state may still be the frontrunner for the Democratic nomination, but she hasn't done much to help her cause lately.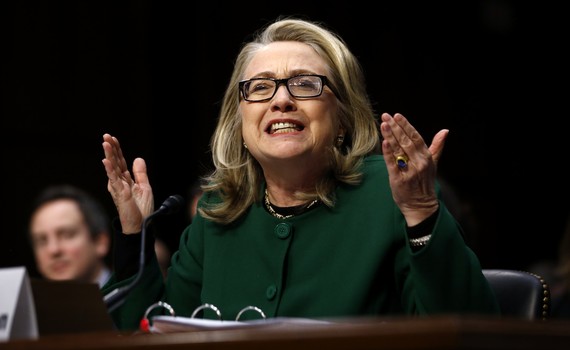 Time magazine's cover this week asks, "Can Anyone Stop Hillary?" The answer to that question is yes, but you'd never know it judging by the overwhelming belief among Democratic insiders that the party's 2016 presidential nomination is simply Hillary Clinton's for the asking.
For all her popularity among party power brokers, the sense of invincibility that currently surrounds Clinton reflects a kind of suspension of disbelief by Democrats that a more detached reckoning should dispel.
That faith in Clinton's prospective candidacy was evident earlier this month when YouGov, the non-partisan Internet polling company, asked 100 Democratic operatives and activists as part of a year-in-review survey to weigh in on whether the party's potential 2016 contenders, "regardless of who might be the frontrunners right now" had mostly helped or hurt their chances for a successful White House run. (I helped conduct the survey.)
Not surprisingly, a whopping 78 percent of the Democratic insiders said that Clinton had mostly helped her chances. The runner-up to Clinton in this assessment was Massachusetts Senator Elizabeth Warren: 42 percent of the insiders said she had mostly helped herself. Only 30 percent said that Vice President Joe Biden had improved his odds of stepping up to the top job, while 61 percent said that his efforts to date had neither helped nor hurt his chances, or did "some of both."
But if you look closely at the kind of year Clinton had in 2013, isn't it more reasonable to say that although she remains the frontrunner to lead the Democrats in 2016, she hasn't done much lately to advance her cause? Indeed, a few potential vulnerabilities have come into sharper focus that should cause Democrats to ease up on their embrace of Hillary.
Hailed as a tireless diplomat who helped restore the U.S. image in foreign capitals when she stepped down as secretary of state, Clinton's tenure at Foggy Bottom now looks less glowing.
Last year, the State Department review board on the 2012 terrorist assault on the U.S. diplomatic mission in Benghazi determined that Clinton was not responsible for lax security at the outpost. Still, this issue doesn't look like it's going away for her.
Just last week, the Senate Intelligence Committee released a bipartisan report that found that the attack, which claimed the lives of four Americans including Ambassador Christopher Stevens, was preventable and primarily blamed the State Department for failing to heed intelligence warnings about unrest in Benghazi and not beefing up security at its compound there. In a separate addendum, Republicans on the committee asserted that Clinton was ultimately accountable for the inadequate security.
Nor does Clinton's globetrotting appear so productive compared to the efforts of her successor. Veteran journalist Albert R. Hunt wrote in December that in less than a year as Secretary of State, John Kerry "has had more tangible accomplishments than his celebrated predecessor, Hillary Rodham Clinton, did in four." If Iran fulfills a deal to curb its nuclear ambitions under Kerry's watch, the comparisons for Clinton could become even less flattering.
Domestically, Clinton now has to contend with the fallout from shaky implementation of the Affordable Care Act, the central tenant of which—the federal mandate that individuals must purchase health insurance—she championed in her 2008 presidential run.
Clinton did accurately predict in September that Republicans would pay a political price if they precipitated a government shutdown over their demands to defund and delay Obamacare. But since the subsequent botched rollout of the healthcare website and the uneven enrollment in government-sponsored insurance plans, Clinton has been less vocal. She left it to husband Bill to call on President Obama to honor his campaign pledge that individuals could retain their old insurance plans that had been deemed inadequate by the government, for at least another year.
Clinton did have two high-profile sit-downs with her former boss in 2013. One was at the start of the year when the president appeared with his outgoing secretary of state in a joint interview on 60 Minutes and they shared their mutual admiration for one another. The other was when the two power-lunched at the White House in July. The official photo of the powwow released by the White House showed Obama and Clinton all smiles.
Today, Obama's job approval rating is hovering just north of 40 percent in most public opinion polls. That's hardly toxic, but it's a level that Clinton certainly can't count on to carry her into the Oval Office.
And at same time, Clinton may wear out her welcome in the White House if her prospective candidacy starts to overshadow the incumbent. "The president has little political capital left," observed one Democratic operative in the YouGov survey. "More people [now] discuss Hillary Clinton's possible campaign than President Obama." That kind of chatter won't win Clinton a lot of fans in the West Wing.
The Clinton connections—that teeming network of past and present advisers, friends, fundraisers and their charitable and corporate pursuits—will continue to come under scrutiny. Last August, The New York Times raised questions about the management at the Clinton Global Initiative as well as Hillary's    close confident, Huma Abedin, who was allowed to serve as a special government employee at the State Department while she also worked for a private consulting firm founded by a longtime Bill Clinton lieutenant which advised multinational businesses.
It wasn't an awful year for Hillary. By ABC News's count, she garnered at least 19 awards honoring her career in public service. And she reportedly collected up to $200,000 a pop for speeches to several groups ranging from the National Association of Convenience and Fuel Retailing to Goldman Sachs.
At the end of the year, Barbara Walters, the doyenne of celebrity journalism, ranked Clinton at the top of her list of the "10 Most Fascinating People of 2013," beating out the likes of Pope Francis, Edward Snowden, and the cast of Duck Dynasty. In an accompanying television interview, Walters naturally asked Clinton about 2016. "It's such a difficult decision," Hillary demurred. "And it's one that I'm not going to rush into."
Maybe some Democrats should consider that advice before they rush headlong to coronate another Clinton.
Politics has a way of surprising us. At this time eight years ago, very few Democratic pols thought Clinton could be denied the party's 2008 presidential nomination and even fewer thought that a freshman senator from Illinois would be the cause of her undoing.