Battle of the Sexes: Men's Political Giving Dwarfs Women's
What does the giving gap mean for politics?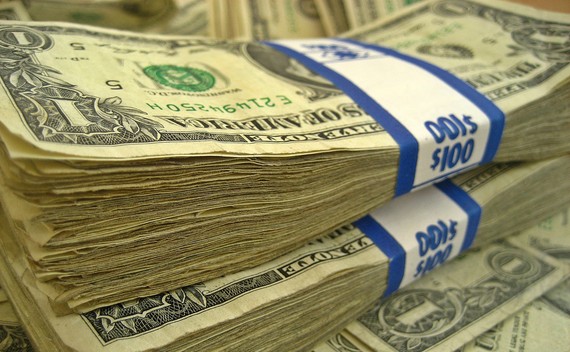 By most measures, women's representation in American political life remains disappointing. The percentage of women in elected office is way behind the percentage of women in the workforce, to say nothing of the population. And of course there's never been a female president or vice president.
But the electoral situation looks downright modern next to the fundraising scene, as demonstrated by a report from the National Council for Research on Women, Rutgers' Center for American Women and Politics, and the Center for Responsive Politics. It's a topic that some reporters—Politico's Tarini Parti and Byron Tau, for example—have tackled, but the report offers a comprehensive look at just how lopsided giving is.
First, here's the percentage of donors and of donations above $200 from men and women for the last three cycles:

Women have actually lost some ground since 2008, though the numbers are all in a consistent 2:1 range. (For smaller donations, 0.67 percent of men gave less than $200 in 2012, while 0.32 percent of women did.)
But the report focuses in particular on what has happened since the Citizens United decision triggered an explosion in money to outside groups. Overall donations to outside groups went up almost twelve-fold. There are two eyepopping stats here. First, men's giving to outside groups outnumbered women's four to one. And second, women's giving to outside groups leaped by a factor of 20 in 2012. It's too early to see if this is a trend, a blip, or a one-time jump.
The gender disparity among donors seemed to have no major effect on the gender of the candidates who received the money. Since women lean Democratic, and women give less to outside groups, that helps explain why the majority of outside spending in both of the last two elections was either against Democrats or for Republicans.
It's hard to say what all of this means, and this is still just the start of understanding the post-Citizens United landscape. Maybe the more important question is not whether more money goes to male or female candidates, but what issues and approaches the money encourages. As long as women's giving is much smaller than men's, there will be fewer women's voices involved in formulating candidate and super-PAC strategy—and with it, the agenda for elections. Perhaps if the spending gap closes up, the the gap in representation might narrow too.