Amid Pentagon Cuts, War on Assaults Intensified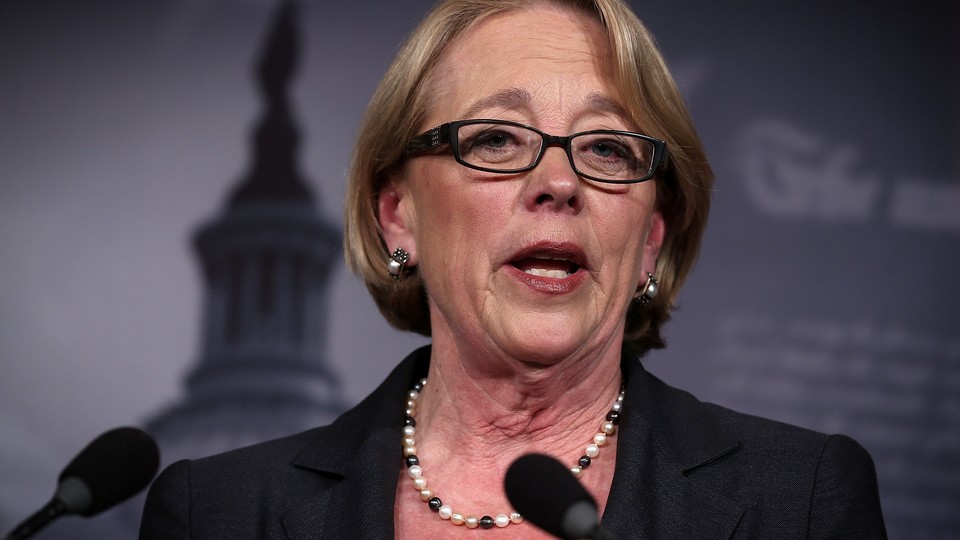 During the appropriations process for this year's budget, Congress made clear to the Department of Defense that it needs to cut back, trimming the Pentagon's funding request more than any other federal agency.
But with the backing of a bipartisan group of members, Congress sent a clear message that military officials should insulate one area from cuts: funding for the prevention and prosecution of sexual assault, a growing concern in the ranks of the nation's armed forces.
In the omnibus that passed Congress overwhelmingly last week, appropriators agreed to fully fund the Defense Department's Sexual Assault Prevention and Response Office, providing all $156.5 million that the administration requested. Additionally, Congress approved $25 million to install a victims' assistance program pioneered by the Air Force in all branches of the military.
The Air Force's Special Victims' Counsel program, started a year ago, has become a model for the military; members of Congress as well as activists say it represents a renewed focus by the DOD on reducing assaults within the military's ranks.
The program provides legal counsel for victims of sexual assault throughout the process — from reporting a crime to meeting with attorneys — rather than solely at trial. But aside from aiding victims, one of the program's major goals is to increase the number of cases that are actually reported. Sexual assaults are thought to be the most underreported crime in the military.
And there are signs that it's working. The Air Force saw a 45 percent increase in reported sexual assaults between fiscal 2012 and fiscal 2013, with 1,146 incidents reported, according to spokeswoman Rose Richeson.
The number of victims who cooperate with an investigation is also growing. The military currently allows victims to report sexual assaults under a "restricted" process, through which they can receive medical treatment and counseling without triggering an investigation or informing their superiors about the assault. Many victims are believed to choose this process to avoid retaliation within their ranks.
"We've heard from many victims about how often they're retaliated against if they bring charges forward. Over 60 percent report having some sort of retaliation. That's not tolerable," said Rep. Niki Tsongas, D-Mass., who cochairs the Military Sexual Assault Prevention Caucus and is highly supportive of the Special Victims' Counsel program.
But after the SVC program was implemented in the Air Force last year, 76 of the 706 victims who initially chose to go through a restricted process switched to unrestricted, allowing SVC counselors to help them through the process of an investigation and, in some cases, a trial. "This suggests individuals have better knowledge of the program; came forward to receive [Sexual Assault Prevention and Response Office] services; and trusted the investigation team and military-justice system, and the overall formal processes associated with unrestricted reporting," Richeson said.
Victims themselves are overwhelmingly supportive of the program. Of the 631 sexual assault victims who have worked with special-victims counselors, 93 percent report that they are "extremely satisfied" with their experience, while 98 percent said they would recommend it to another service member who was assaulted.
One victim who was assaulted before the SVC program was implemented said that she was initially scheduled to be interviewed for trial with someone who didn't have legal experience by her side. "However, I felt a lot more comfortable that come the time of the Article 32, an SVC had been appointed to me and I was confident during the interview and not intimidated. The same thing goes for testifying as well," the victim wrote, according to an Air Force release.
Members from both parties in Congress, Defense Secretary Chuck Hagel, and activists are highly supportive of the program. In a rare show of bipartisan agreement, full funding for installing special-victims' counselors throughout the military was included in both the House and Senate appropriations bills drafted last year.
But the language in the omnibus, like the SVC program, is focused largely on the prosecution — not prevention. Activists and members warn that this is merely the first step in combatting an issue that has plagued the American armed forces.
"We believe the SVC program has the potential to have a strong impact on the experience of victims who are going through the military-justice process.... Current reforms only treat the symptoms, not the underlying causes of the sexual assault epidemic," said Nancy Parrish, the president of Protect Our Defenders, a group aimed at reducing sexual assaults in the military, in a statement.
Denise Krepp, the former chief counsel for U.S. Maritime Administration and a former Coast Guard judge advocate general, said that she worked with many women during her service who had been assaulted. Krepp, who testified earlier this month at a Defense Department panel on sexual assaults, said she worries that the military isn't taking seriously concerns about the culture that allows for these kinds of attacks.
"Based on the questions that I heard at the hearing, it seems like everybody's saying, 'Well, we've taken these steps, therefore the problem's going to be solved.' And the answer is it's not going to be solved because you have people who have been in the system now for 15 years, 20 years, that are middle-range in their careers who grew up in a military that tolerated [these behaviors]. So it's not as if they're going to say overnight, 'OK, this isn't going to be tolerated.' This is going to take years," Krepp said.
But Tsongas said she has noticed a marked change in the receptiveness of military leaders toward reducing these assaults over the last decade.
"I know that all the chiefs of staff of the various services are very much focused on this, as is the secretary of Defense himself. That was not the case a number of years ago, when I remember asking Secretary [Robert] Gates a question about one aspect of how they dealt with things and he had no knowledge," she said.
But Tsongas agrees that helping victims through the process of prosecution is just one piece of a growing problem.
"It's a very complicated issue that has lots of aspects to it that we have to stay focused on. And [we have to] hold the services accountable until those numbers show a dramatic drop and demonstrate a culture that has really changed," Tsongas said.
{{ BIZOBJ (video: 4424) }}