A Trove of History As 1970s Housewives Lived It
Inside a 1976 issue of Good Housekeeping, when Betty Ford lauded homemakers and Henry Fonda did needlework.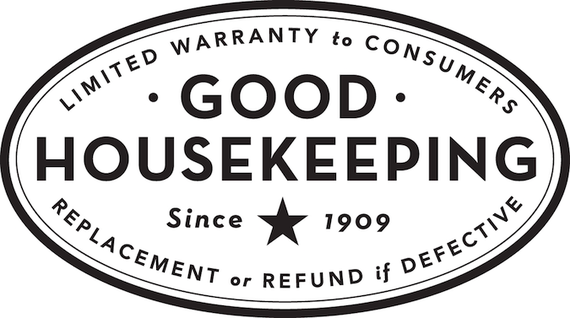 Years ago, a history teacher assigned me a report on a bygone year, and I dutifully consulted textbooks, encyclopedia entries, and even Billboard's archives to complete it. The exercise can't help but teach you something. In August of 1976, for example, the USSR tested a nuclear weapon; 8,000 died after an earthquake hit the Philippines; Liz Taylor divorced for the sixth time; "Don't Go Breaking My Heart" by Elton John and Kiki Dee topped the charts. Today these facts can be found on the first page of a Google search. Let's call them "available history."
Humans default to its 10,000 foot view. And marvels can be seen from that height! But I'd rather land in an obscure corner of the landscape and look around. An old man's diary. Yellowing land records preserved by a dutiful bureaucrat. Or take periodicals, my favorite window into America's past. Every forgotten magazine collecting dust on a shelf is a tiny window into a bygone moment. In this occasional series, I'll explore some of them, one glossy bundle at a time. The August 1976 issue of Good Housekeeping is as good a place to begin as any. It's got Betty Ford! A clip & save guide to home canning! A contest to win your own Benji puppy, just like in the movie! But first, an introduction to the magazine.
The Background
Good Housekeeping debuted on May 2, 1885. Its founder hoped "to produce and perpetuate perfection as may be obtained in the household." A little more than a decade later, the moment for that mission arrived. Home electricity and early household appliances began to reach mass markets. "Little was known about the new machines, and questions about them began to pour in to Good Housekeeping," an official history states. "The editors soon discovered that to answer the questions satisfactorily, the magazine had to begin a program of intensive investigation and research to develop firsthand information to pass along."
Staffers tested products in a research laboratory built for that purpose. Solid performers were recommended to readers to spare them from the era's hucksters. As the final issue of 1909 went to press, editors made the contract between reader and publication explicit by introducing the Good Housekeeping Seal of Approval, one of the most successful editorial features in history. If a product with that seal turned out to be faulty, the magazine would issue readers a refund.
Circa 1976, Good Housekeeping boasted a circulation of roughly 5 million readers. The issue we're perusing was edited by John Mack Carter, who spent 19 years at the top of the masthead. If you're musing to yourself about a man holding such a position you aren't the first: a few years prior, 100 feminists had staged a sit-in at Ladies Home Journal, his previous job, demanding that he resign his post. "During the meeting with group representatives, Carter said that they have a point, but that he did not plan to resign," the Associated Press reported. He went on to champion women's issues for the rest of his career, and was appointed to an International Women's Year commission by President Ford in 1976.
The Cover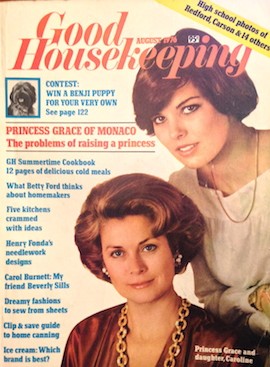 The Good Housekeeping cover that month featured Princess Grace of Monaco and her daughter, Princess Caroline. Inside the book are portraits of the whole family, alongside captions no more interesting than, "Even when they live in a palace, parents and teenagers can't always agree." I couldn't help thinking, Prince Rainier and family are just like US!
The most provocative feature teased on the cover is the interview-driven "What Betty Ford thinks about homemakers." The First Lady, "so outspoken in favor of the Equal Rights Amendment and legalized abortion," made her position clear. "We have to take the 'just' out of 'just a housewife' and show our pride in having made the home and family our life's work," she said. "A woman who is satisfied with her life at home is just as liberated as a woman with a career outside the home." She suggested that the word "homemaker" should replace "housewife," dubbed them "the backbone of our society," and avowed that while her career as a dancer, fashion model and fashion coordinator was fulfilling, "I would've missed something if I hadn't been a homemaker." She added that "there are women who can have fulfilling lives without being mothers. Some women aren't particularly suited to raising children."
Other parts of the interview struck me as different from anything that a First Lady would likely be asked or tell a reporter from a popular magazine today. For example, President Ford evidently went through a long stretch of neglecting his family:
"The satisfaction of a happy marriage and raising children," she said, "is almost more fulfilling than a career." But didn't she find homemaking frustrating? Isn't it true that she was forced to seek help from a psychiatrist to pull her through many difficult years? The First Lady explains that it wasn't homemaking itself that caused her problems. It was having the home and raising four vivacious children almost singlehandedly. As a congressman with ambitions of becoming Speaker of the House, Jerry Ford spent as many as 200 nights a year away from home, making speeches and campaigning–for himself or other Republicans. Mrs. Ford was left at home to take care of everything. She didn't dislike doing it, she just didn't like doing it alone."*
Along the same lines:
The most exciting thing in our lives was when our first child, Mike, was born (in 1950). Both Jerry and I had been anxious to have a family, although I was apprehensive about him and how he would adjust to fatherhood. He'd been a bachelor for 35 years and I wasn't sure he was going to be able to take babies.
So little was expected of the era's men (in the family realm) that a politician's wife could muse about fearing he'd dislike his own baby and report years of putting political ambitions before family. More is expected of men now, though I fear the result, in the case of many political fathers, is just greater effort spent hiding the fact that they're putting political ambitions before family. I hope Im wrong.
What the interview left me wondering, more than anything else, is how America would react if Michelle Obama, or better yet, Laura Bush, had offered something like this next suggestion, in which Mrs. Ford calls for homemakers to get paid by the government:
The First Lady... believes that some sort of monetary value should be placed on the homemaker's contribution to the running of her household–perhaps benefits, such as those given by Social Security. "There should absolutely be some financial consideration, besides just her husband," she says. Half in jest, she adds, "He may take off and marry a young chick. It happens." If a price should be put on homemaking, Betty would certainly make it higher than that of a recent study which placed a housewife's average monetary value at $5,750 per year.

Homemakers are worth at least $30,000 annually, says Mrs. Ford... [In today's dollars, the study valued homemakers at $23,541, while the First Lady valued them at $122,824.] Although her husband recently vetoed a child-care bill, Betty thinks it might be helpful to have a "good" day-care center where homemakers might occasionally leave their small children, freeing them to pursue some things of their own.
Actually, I wonder if that would've been more controversial coming from Mrs. Bush or Mrs. Obama.
When the Issue Dates Itself
The winning spread in this category was clear: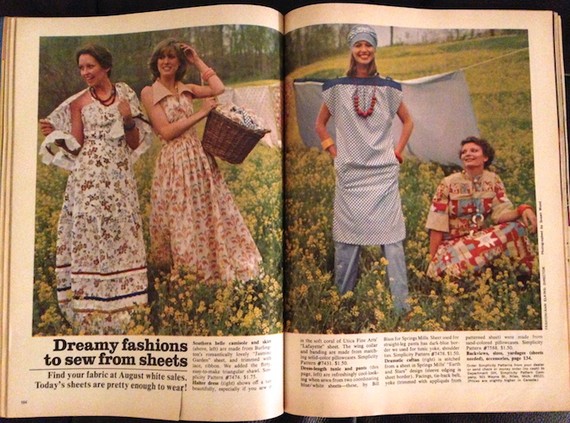 I actually have a harder time imagining those as sheets than dresses. Did people sleep on such loud sheets back then? Hopefully I can draw on the experience of readers older than me. Email is very much encouraged about any aspect of life in 1976.
The Social Customs of the Era
When "hanging out" with friends at our homes, my sister and I are a bit less formal than our mother, who calls it "having company." My grandmother, who was more formal still, called it "entertaining," as did my great-grandmother, who  most keenly felt that formality was required of her, though she was never the one hosting. It is no great insight that American life has grown less formal over the years. Still, some of the ways social norms have changed are illustrated nicely by this ad, which really makes me feel for every Good Housekeeping reader who related to it: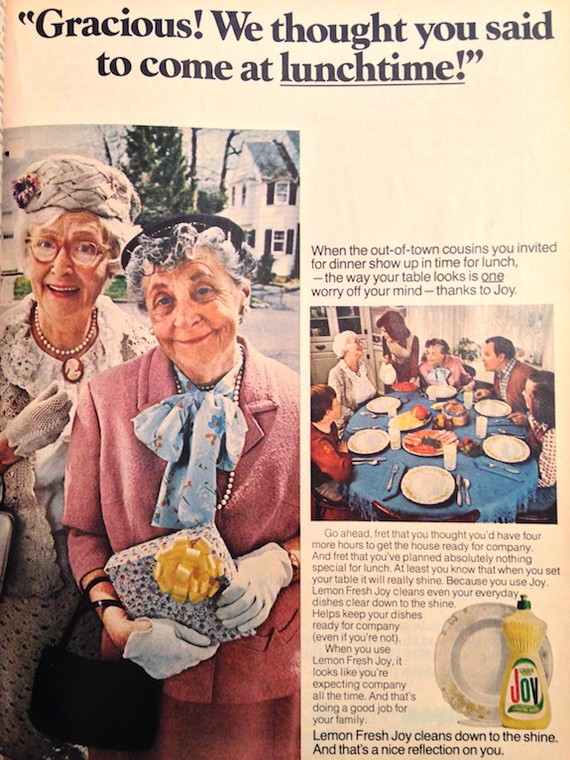 Hurray for the era of "head's up" text messages prior to a guest's arrival, no expectation of a formal lunches, and the total acceptability of paper plates to accommodate unexpected arrivals–not that there's a need for paper plates, because no one is worrying about the relative shine of their glass plates. Good Housekeeping really makes one appreciate how varied, needless and oppressive the normative expectations foisted on homemakers of that era were. "In spite of the current restaurant custom of serving salad before the meal (to keep customers happy while waiting for the entree)," the etiquette columnist counseled, "it is not a proper first course at a formal meal. Salad should be served on a salad plate with the entree, or between the entree and dessert as a separate course."
Why bother with any of it? I suppose, in some circles, that the dinner party host now frets about the provenance of the meat and vegetables they serve, and the dietary and ethics-based restrictions of guests, but at least they're being anxious over a choice that has substance and wider implications, however small, for the world. Of course, it is possible that I merely lack the refinement to discern what's been lost, having never eaten the salad course between the main course and desert.
A Vital Historical Question for Baby Boomers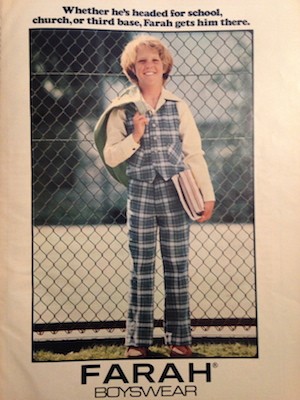 Here is another page that caught my eye. As you can see, the copy for this boy's clothing advertisement states, "Whether he's headed for school, church, or third base, Farah gets him there."
At first, I thought that this was an instance of editors missing the double entendre, since surely they weren't actually implying to mothers that if they bought clothing for their adolescent sons via a certain company, it would assist those sons in getting to "third base" with the cute girl at school. Ha ha, these things happen in every magazine, and it's funny to see a blooper from the past, is what I thought. But then it suddenly occurred to me that maybe the whole "bases" analogy wasn't yet commonplace in 1976, or had just begun and was understood that way only by young people, not older magazine readers. These are the sorts of obvious insights you stupidly miss if you don't read old magazines. The bases metaphor is so familiar that a bygone America where it wasn't operative never occurred to me**, and after some Googling, I realize its start-date as a cultural trope is not currently "available history."
A Partial List of Products Advertised in This Issue
Ban Roll-On deodorant. Quiet touch hair-painting. Thomasville Furniture. Shout stain remover. JELL-O. Lysol. Chef Boy-ar-dee Ravioli. The new Instead Convertible Strap bra. Mazola pure corn oil. Moist&Easy Snack Cake Mix. Kodak film. Bufferin pain reliever. Naturally Blonde. Max-Pax pre-ground coffee. Calgon bath oil beads. Massengill liquid douche concentrate. Playtex deodorant tampons. Carefree panty shields. Meow mix. Inner Rinse. Ivory Liquid. Borateem, the bleach substitute. 20 Mule Power industrial strength bathroom cleaner. Kenmore. Fleischmann's, "the margarine most recommended by doctors."
"Exclusive: Henry Fonda's Needlework"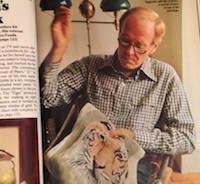 Circa 1966, Lucille Ball gave a crewelwork kit to the actor Henry Fonda, who became a devoted and reportedly talented needleworker in his spare time.
"Acting is my high," he told the magazine, "and when I get home, doing some needlework helps me calm down." This was apparently a Hollywood thing:
He enjoys the fine detail of needlework, the delicate shadings that emerge with minute color changes, and the concentration involved. And as so many performers have discovered, stitchery also helps take the tedium out of waiting around on TV and movie sets.
I wonder if, when I use the word tedium, the youngest readers of this article can even conceive of my meaning. Is the tedium I experienced in the pre-smart phone era deeper than any they'll ever experience? iPhone killed the needlepoint star.
Odds and Ends
Perusing a magazine isn't just a process of deep reflection on articles. The casual reader thumbs through pages, noticing odds and ends and ignoring others. As we conclude this installment, here's a bit more from the August 1976 Good Housekeeping:
Mrs. Charlotte Montgomery saw an innovative practice that never caught on: "Containers of white paper tissues packaged so that yellow ones feed out when a box is almost empty," as an alert that a new box will be needed soon.
An excerpt from a story on battered wives: "The older police officer asked Helen if she wanted to prefer charges. (California is one of the few states where wife-beating is a felony.) Helen asked what would happen if she did and was told that the police would find her husband, take him to the station, and book him. Probably he would then be freed on his own recognizance–to come home if he chose."
Among the "Cool Dishes for Hot Days" recipes: Curried rice and meat salad on "sleds" of Boston lettuce; Smoked tongue with piquant sweet-and-sour sauce; Summer pot roast, budget beef, cooked with beer and served cold; a liverwurst-sausage loaf with "crust" of ham.
Ad copy: "How do you add fiber to your husband's diet? There's no telling what he will have for lunch. And you'd probably have to change your way of cooking to make a fiber-rich dinner. One simple answer is to give him Kellogg's All-Bran or Bran Buds in the morning."
With that, we bid farewell to the world of Good Housekeeping magazine circa 1976. To be alerted the next time this series appears email me with "mhistory" in the subject line.
_____
* At the very end of the article the reader is told that, for 20 years, the Ford family employed "a very beautiful woman" to help Mrs. Ford take care of the kids.
**And before it was operative, was their another metaphor as ubiquitous? Did that metaphor cause the people using it to conceptualize sex in a different way than the bases, with its problematic focus on getting to the next one, or even "stealing" it?