A Defense of Chris Christie, Courtesy of the NSA
The New Jersey governor can survive the bridge scandal by using the crisis-communications strategy of the surveillance state.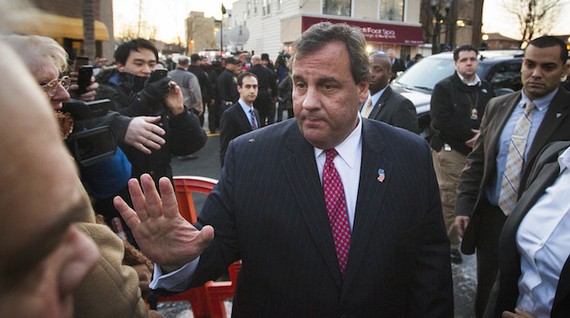 New Jersey Governor Chris Christie acknowledged Thursday that a senior member of his staff was involved in shutting down George Washington Bridge traffic, a stunt meant to punish the mayor of an affected town for opposing his reelection.
In a press conference, Christie apologized for the staffer's behavior, announced her termination, and swore he was previously unaware of the whole episode. "Later today I'm going to be going to Fort Lee, asked to meet with the mayor to apologize to him personally, face to face, and also to apologize to the people of Fort Lee in their town," he said. "They need to see me do that personally, and I intend to do that .... People of those communities for four days were impacted in a completely callous and indifferent way, and I'm going to go and apologize for that."
But does the Christie Administration really owe an apology to everyone in Fort Lee? A crisis communications strategy shaped by the NSA would suggest otherwise. Perhaps Christie can reconsider and use the following talking points, especially if it emerges that he knew more than he has so far publicly admitted.
The NSA-inspired explanation:
Going after a political rival is wrong, to be sure, but it's important to put this event in context.
There are almost 9 million people in New Jersey, and only one was targeted for retribution, an impressively tiny error rate lower than .001 percent.
Did a Christie staffer delay thousands of people? Not wittingly. Fort Lee Mayor Mark Sokolich was the only target of non-compliant behavior. No other Fort Lee resident was ever targeted for retribution, and any delays that any Fort Lee resident experienced were totally inadvertent and incidental. 
This is so despite the fact that an email shows a Christie aide being warned that Fort Lee children would be affected by the lane closures. They were one hop away from Mayor Sokolich, and thus part of the one instance of non-compliance.
The bridge closure was vital to national security because [redacted].
Since the George Washington Bridge is a potential terrorist target, everything that may or may not have happened near it is a state secret. Adjudicating this controversy on the merits would threaten national security.
A panel will be formed to figure out how to restore the public's faith in Chris Christie.
To some readers, these talking points may seem absurd or deliberately misleading, but there isn't any denying that so far they're working okay for the NSA.