A 959-Page Bill. 48 Hours to Vote. Is This Congress's New Normal?
The farm bill marks the second time this month congressional leaders have rushed through massive legislation.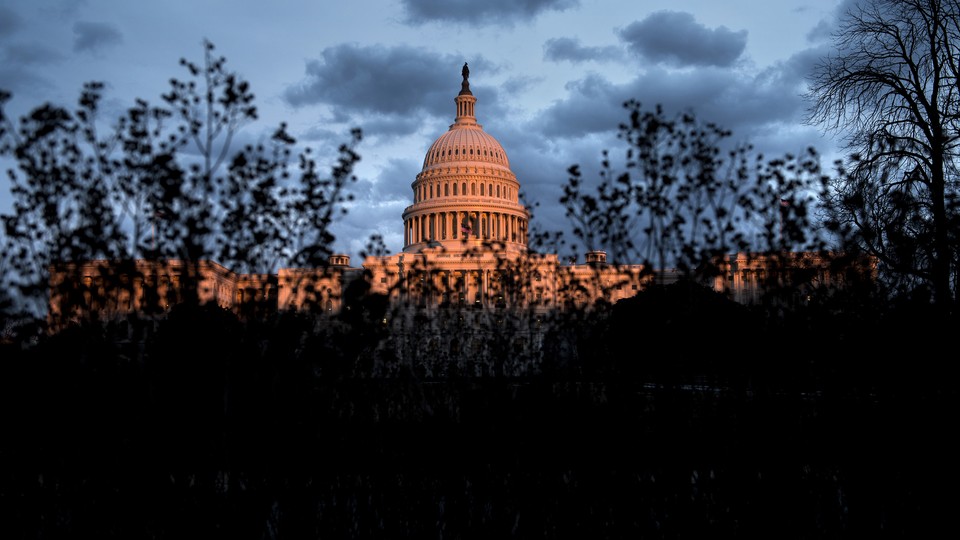 Congressional negotiators released a massive 959-page farm bill Monday night, giving House members less than 48 hours to dig through the bill before they're expected to pass it Wednesday.
Sound familiar? Congress did the same thing two weeks ago with the omnibus spending bill, taking less than a week to pass a nearly 1,600-page tome (and that's not even included the appendices!). The farm bill is expected to follow a similar route through Congress, potentially hitting the president's desk by the end of this week.
That quickened pace breaks — at least in spirit — a House Republican transparency pledge from 2011, promising constituents that they would not vote on any legislation for at least three days after it has been released for public consumption. House Speaker John Boehner's office argues that neither bill violates the three-day rule, though both were posted online on Monday evenings and scheduled for Wednesday votes.
The bill will technically be available to members over the course of three days; it was introduced on a Monday, allowing members to go through it on a Tuesday, and then scheduled for a vote on Wednesday. But when you look at how many actual hours there will be between the introduction of the bill on a Monday night and the Wednesday vote, the number will fall far shy of a full 72, with many of those hours getting sucked up by Tuesday's State of the Union.
While Congress has broken that rule before, including when the House passed its own farm bill last July, members say they are worried that it is happening more often. And even among those with wildly different political leanings, Republicans and Democrats are expressing concerns that this could be the new normal.
Sen. Rand Paul said Monday that he is "very" worried that Congress is trending toward large bills with little time to read them. "It's probably the No. 1 complaint of people at home, that the bills are too big and nobody reads them and who knows what's stuck in them at times," he said.
"It is becoming a new normal," Republican Sen. Jeff Sessions said. "We're accepting things we shouldn't accept. It's like the frog in the water: It keeps getting warmer and warmer and pretty soon he's cooked and it's too late to get out. So that's a problem."
Just minutes later on the other side of the Capitol, a visibly angry Rep. Rosa DeLauro, a Democrat, cited similar concerns, warning about food-stamp cuts buried in the bill. "You know the point is these are the people who complained and complained and complained about reading the health care bill and we had a year to read the goddamn — excuse me, the health care bill. And now they want to give us two days," she said of House Republican leadership.
Even Rep. Jim McGovern, who was a member of the farm-bill conference committee, expressed concerns about his ability to familiarize himself with the bill in time for a Wednesday vote. "I don't know what the hell is in this bill and as fast a reader as I am, when this goes to the floor I still won't know.... I don't know why we have to do this this week," the Democrat said during a Rules Committee hearing Monday.
Rep. Keith Ellison said Monday that he's still reading the omnibus, which the Democrat opposed in part because of how little time he and other members had to examine it.
Congress could have easily taken its time, passing a longer-term continuing resolution to buy lawmakers more time to read through the bill. But with time comes uproar, some members say privately. When lawmakers are given more time to read legislation, so are lobbyists, powerful outside groups, and even constituents whose concerns about tiny portions of a larger bill can kill the whole piece of legislation.
But lawmakers on both ends of the political spectrum said they find that logic insufficient. Rep. Alan Grayson, the progressive icon from Florida, called transparency "democracy," while Sen. Tim Scott, the conservative darling of South Carolina, argued: "This is about the people that we serve, not the lobbying groups."
"Their real motivation is that they've simply lost control of their own caucus," Grayson said of House leadership. "So whatever excuses they manufacture, the fact is that if they do open things up, what they find is that they splinter and shatter so they have to try to just ram things through this way without anything even remotely resembling the proverbial 'regular order.' "
Some of the members who have argued in favor of greater transparency, however, say that the farm bill is less of an issue than the omnibus passed earlier this month. Both chambers have already passed a farm bill, they say, and the areas of disagreement are few and well-known. They don't expect the new conference legislation to include many surprises.
"Conference reports, I view a little differently "¦ because everybody knows what the issues are. You've debated them, they've gone through committee, you've voted for them or against on the floor of the House, the areas of disagreement are well-known just because that's where the challenge is in the conference," Rep. Tom Price, R-Ga., said. "And so the ability to discern whether one could be supportive or not doesn't take the kind of time that it does on an original piece of legislation."
Transparency advocates and anti-pork raiders argue that a few extra days to give members — and the public — a chance to review these bills can't hurt. Given the time frame, many of these members and their staffs have long nights ahead of them this week.
"[This] is generally a primary factor in my voting no on those types of bills," Sen. Ron Johnson, R-Wis., said Monday. But he and his staff plan to work through as much of the bill as they can over the next two days. "You try to get as much information as possible before you vote no," he added, laughing.
This may not be the last time that Congress rushes through a massive bill, and next month's debt-ceiling fight could go through a similar process, as it did in 2011. But members concerned about the issue can take a strange kind of comfort in the fact that Congress is expected to do little in terms of major legislative overhauls this year, making it unlikely that they'll see thousand-page bills on their desks many more times in 2014.
This story was updated at 8:23 a.m.