6 Questions to Measure the Cost of College
Opinion: Helping families more easily and quickly learn of their contribution "is a crucial first step" to "helping more Americans enter into and succeed in higher education," two Wellesley officials write.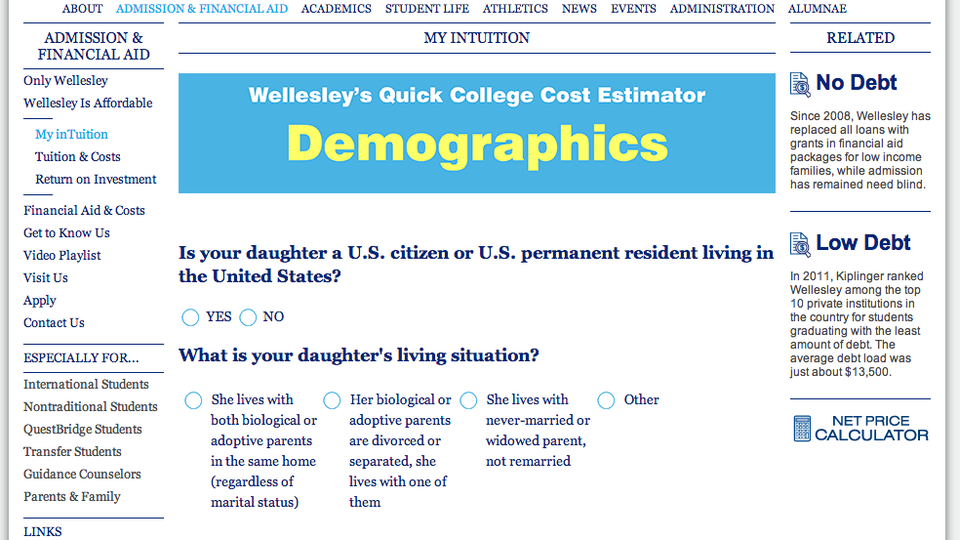 This week at a White House summit on education, more than 100 college presidents will heed President Obama's call to boost the success of low-income students, committing to a wide range of improvement measures, such as enrolling more low-income students and bolstering faculty mentoring and peer-support systems to ensure that those students thrive. Obama's focus on equal education reflects a longstanding but yet-to-be-realized national commitment to making higher education accessible for more Americans.
H. Kim Bottomly is president of Wellesly College. (Courtesy photo)This focus on low-income students comes at a crucial time. Nearly 50 years after Lyndon Johnson set forth a vision of "the Great Society," demanding "an end to poverty and racial injustice" and calling for "every young mind" to have access to "the farthest reaches of thought and imagination," higher education remains homogenous in one striking way. Socioeconomically, we are not diverse.
Even with past progress achieved by Pell Grants and other federal programs, low-income students enroll and finish college at a much lower rate than their more affluent peers. According to the National Center for Education Statistics, the college enrollment rate for low-income students was about 50 percent in 2011, compared with more than 80 percent for high-income students.
One important reason for this is the lack of information regarding college costs. Many low- and middle-income families assume they cannot afford a private four-year college. Many high-achieving, lower-income students don't even apply to, much less attend, selective schools. Yet selective colleges often have large endowments that enable them to offer substantial financial-aid packages, to have need-blind admissions policies, and to reduce or even eliminate loan burdens for students from the lowest income levels. These selective schools may cost even less than the local public university. A New York Times article last March showed, for example, that the average cost per year at the University of Wisconsin system for a low-income student is $10,000; for the same student, Harvard would cost $1,300.
There is an obvious disconnect between what families think they will need to pay, and what college actually costs — and this disconnect is one part of the explanation for unequal access. Providing more accessible and accurate information about actual college costs is a crucial first step toward achieving Obama's call for helping more Americans enter into and succeed in higher education.
Wellesley economics professor Phillip B. Levine led the development of the college's quick-cost estimator. (Courtesy photo)For Wellesley College, as for many other colleges, recruiting and helping talented students from all backgrounds succeed is a top priority. A key challenge to meeting that goal is attracting those high-achieving students who assume they can't afford a selective college. Though that challenge is unique for every institution, we've developed one low-cost solution that is simple enough to share quite widely: My InTuition: Wellesley's Quick College Cost Estimator provides anyone with an Internet connection access to a preliminary tuition estimate. While all schools are now required to offer a net-price calculator, these tools are often intimidating and cumbersome, frequently requiring answers to some 50 questions. With My inTuition, prospective students can obtain an accurate estimate in about three minutes by answering just six straightforward financial questions.
Results obtained from our calculator suggest that roughly 90 percent of families in the United States with college-age children are eligible for financial aid at Wellesley. Prospective students could pay as little as $2,000 in out-of-pocket expenses for those families earning up to $40,000 per year, and up to an estimated family contribution of $29,000 for families earning between $125,000 and $150,000 annually. (See the abstract and access the paper published by the Hamilton Project.)
Because many schools share a similar methodology for evaluating financial need, My inTuition can be easily adapted and implemented at other colleges. By broadening the applicability of the Wellesley-developed tool, schools nationwide can help families make more informed decisions about their college options. We are committed to helping to expand the use of My inTuition elsewhere, because we want to increase the number of low-income students who apply not only to Wellesley, but also to many other colleges.
For Johnson, the "Great Society" was never "a safe harbor, a resting place, a finished work." On the contrary, it was a work in progress, "a challenge constantly renewed." And it is up to all of us — educators, policymakers, citizens — to take up that challenge. It is important to remember that "great" does not simply mean rich and powerful, but morally great — rich in mind and spirit, not just in pocket.
At Wellesley, we are still heeding the Great Society's battle cry, and are excited that it has been reawakened by this administration — we are among those 100 colleges that responded to President Obama's call. Our innovative measures such as My inTuition, enhanced STEM programs, mentoring networks, and student-support systems, however modest, are important steps toward helping "every young mind" imagine and achieve full potential. Collectively, with its renewed focus among so many colleges, our country may yet achieve LBJ's dream: equal access to higher education for all young minds, no matter their family circumstances.