Younger Americans Back Transgender Worker Protections
But United Technologies/National Journal Congressional Connection Poll finds support decreases with age.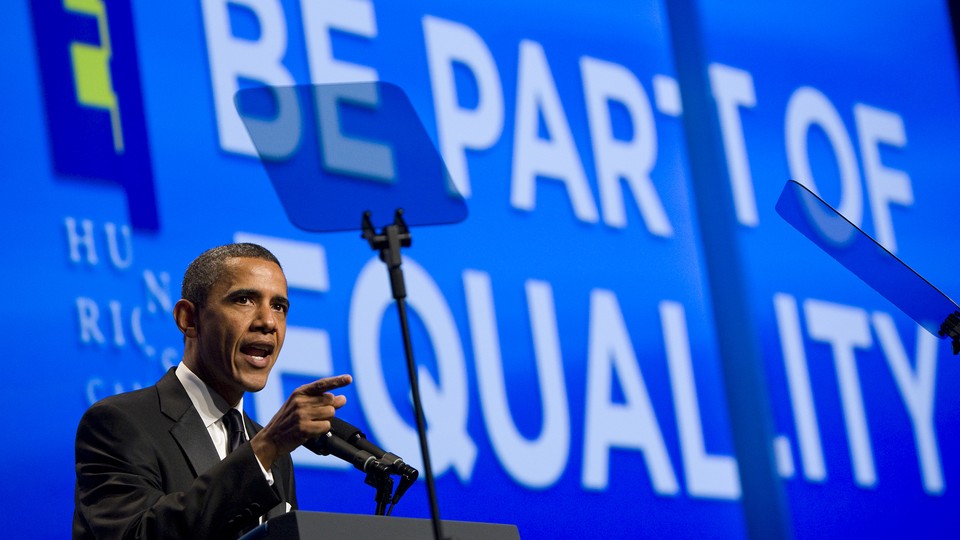 Thanks to overwhelming support among younger Americans, a majority of the country would support new legislation barring workplace discrimination against transgender people. But the latest United Technologies/National Journal Congressional Connection Poll found that older generations are less likely to support protections for transgendered people in the workplace than for gay workers.
Even among supporters of new legislation barring employers from treating workers differently because of their sexual orientation, the poll found many people were less sure overall about extending protections to transgendered people.
The numbers reflect a longtime split in the LGBT activist community, in which the "T" has often taken a backseat and seen less recognition and progress on its issues. That has started to shift among the younger generation of activists and gay-rights supporters, and the poll results show a narrower gap between support for gay protections and transgender protections among younger respondents to the poll.
The Senate passed legislation addressing both issues, called the Employment Non-Discrimination Act, in November. It included antidiscrimination protections for gay and transgender workers.
Overall, 66 percent of Americans want to make it illegal for workplaces to discriminate against workers on the basis of sexual orientation. Support is highest among 18-to-29-year-olds, 75 percent of whom are in favor. But it declines in each successive age group, with 66 percent support from those 30-49 years old; 65 percent support from those 50-64; and 57 percent support from people 65 and older, a decrease of 18 percentage points from the youngest group to the oldest.
Meanwhile, a smaller subset of the overall poll respondents — 56 percent — said they want a new workplace-discrimination bill that includes protections for transgendered people, too. And there was an even bigger generational split on that issue. It got 67 percent support from those ages 18-29; 57 percent support from those 30-49; 55 percent from those 50-64; and 42 percent from seniors.
That adds up to a 25-point gap on transgender protections between the oldest and youngest surveyed. The big shift in generational attitudes helps explain how transgender protections came to be included in the most recent version of ENDA that passed the Senate. Just six years ago, that provision didn't make it into the final version of the bill Congress considered then.
Interviews for the United Technologies/National Journal Congressional Connection Poll were conducted Dec. 5-8 by landline and cell phone with a nationally representative sample of 1,002 adults by Princeton Survey Research Associates International. The margin of error was plus or minus 3.7 percentage points.