You Can Never Be Too Ready for Hillary
Obama-weary Democrats have a new cause. Care for a Readytini?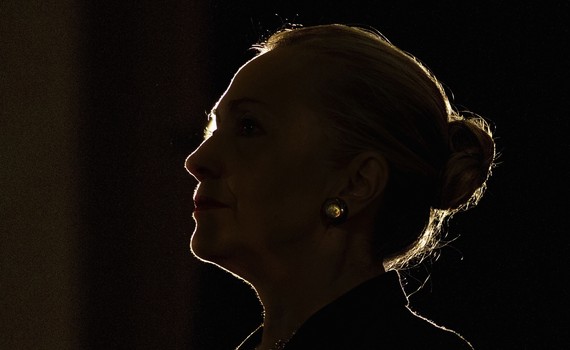 Let me ask you something. Are you ready for Hillary? I mean, really ready?
A lot of people are ready. The exact number is considered proprietary information, but the folks at Ready for Hillary, the super PAC formed to urge former Secretary of State Hillary Clinton to run for president, assure me it is very large. Ready for Hillary has 1.2 million Facebook fans, its communications director, Seth Bringman, points out.
Ready for Hillary has a communications director. It has a digital director. It has a national finance council, a Young Americans director, an LGBT Americans director, a Black Americans director, a Women's Office director and a Latino director.
"We're not creating the support for her. The support for her is out there," Bringman tells me. "We're harnessing it."
Bringman is shouting slightly to be heard over the music at the K Street lounge that Ready for Hillary has rented for its D.C.-area launch. The place is packed. Tickets are $20.16. The venue's modern decor features a mural of a pair of gigantic, thick-lashed blue eyes overhanging the entrance. Hillary is not here, but it is as if she is watching over us.
Actually, Hillary is here. There is a life-sized cardboard cutout of Hillary Clinton, wearing a black pantsuit and a slightly surprised expression. People are lining up behind a velvet rope to get their picture with the cutout, which has developed a fold in the torso and no longer stands up on its own. Hillary needs our support, or she will literally fall over.
"She's tired," says the photographer who is snapping people's pictures with Cardboard Hillary. "She's done a lot of events for us." The photographer is wearing a Ready for Hillary STAFF badge on a Ready for Hillary lanyard. Ready for Hillary has a staffer whose job it is to take people's pictures with Fake Hillary Clinton.
Ready for Hillary has three specialty cocktails available at tonight's cash bar: the Readytini; the Ceiling Breaker ("Oh, I get it!" a long-haired young woman says to her friend as they wait in the five-deep line for service); and sangria.
Ready for Hillary has a hashtag. It has two, actually, and they are flashing on screens above the bar: #DMVisREADY and #Hillary2016.
Ready for Hillary has buttons and iPhone 5 cases for sale. The buttons say, "I'm Ready for Hillary." The iPhone cases feature the iconic photo of Clinton wearing sunglasses and looking at her BlackBerry.
"People feel more connected to Hillary now," says Melissa Stafford, a 25-year-old with pixie-cut hair who works at a "reproductive-health nonprofit" and lives in Maryland. Stafford interned for Clinton's 2008 primary campaign, which did not go so well, but she thinks things would be different this time, because "the real Hillary has come out. People have a better sense of who she is."
Stafford's friend Jennifer Cyr, a fundraiser for Democrats in Congress, adds: "People used to have a real strong either-or reaction to her, like a cat. You know, people either love cats or they hate cats. But now she has more street cred. Although there are still plenty of haters."
Stafford and Cyr both got over their disappointment at Hillary losing the primary and voted for Barack Obama twice. They think he has done a fine job. Although: "I think Hillary would have done a better job, honestly," Cyr says. "I think a lot of the mistakes he's made were due to inexperience and not understanding Washington. She wouldn't have that problem."
To be ready for Hillary, it helps if you have a mild case of the Obama blues. "You probably feel as frustrated as I do. Maybe not quite as much, because you're not in the House of Representatives," says Representative Tim Ryan, tonight's headliner, giving a speech from the poorly lit stage. "Hillary can break the logjam in Washington, D.C., and move our country forward!"
There is, Ryan tells the crowd, "a nation waiting to be unleashed. An economy ready to be unleashed." People want a leader who will "not make politics transactional, but make them transformational." Ryan, an Ohio Democrat, was the first member of Congress to declare himself Ready for Hillary.
After his speech, I ask Ryan whether he wasn't pretty much dissing the Obama Administration with his call for new leadership. He denies it. He says he has spent a lot of time in Ohio campaigning with "the president," by which he means Bill Clinton. I ask him if he is angling for a Cabinet post in the Hillary Administration. He says he is committed to his work on the House Appropriations Committee.
Ready for Hillary cannot, for campaign-finance reasons, communicate with Clinton herself, though many of the 450 attendees hoped she might make a surprise appearance. Instead, the idea of Hillary hangs over the room like a ghostly aspiration—a benevolent myth, like Santa Claus. Draft committees aimed at pressuring candidates into running for president are nothing new; they did it for Goldwater in '64, for example. Ready for Hillary is hosting gatherings like this all over the country: Los Angeles, Little Rock, Tampa, Phoenix, North Carolina, New York, and Pennsylvania. Hillary will see this, and she will see that America is crying out for her to lead it. She will see that America is ready.
I ask Bringman, whose earnest mien and wide eyes remind me of Gary, the vice president's body man on HBO's Veep, whether he would be disappointed if Hillary doesn't run. He sighs. "Well, yes," he says. He does not have a second choice. "It's not something we try to think about," he says. "Our mission is to support her, every day."
To be ready for Hillary, you have to believe. "I know people who know her, and she can't wait to run, from what I understand," John Schock, a 62-year-old landlord from Baltimore with a goatee and turtleneck sweater, assures me. "I don't see how she can lose."
Schock has brought his friend Doug Shaw, a contractor, who describes himself as "to the right of the Tea Party and the right of Rush Limbaugh." Shaw is not quite ready for Hillary, but he is keeping an open mind. "If her opponent was an extreme moron," he offers, "I'd rather have her."
In time, maybe he, too, will be ready for Hillary, like the rest of the people here, who are, as the festivities wind down, being kicked out of the bar so another party can start.
"Is anybody ready for Hillary in here?" Ryan, the congressman, shouts from the stage.
"Woo!" says the crowd.
"Are you ready?" he asks.
"Woo!" the crowd says.
"Are you really, really ready?"