Why Making Women Pay More Than Men for Health Insurance Doesn't Make Sense
Take maternity off the table and men aren't any cheaper to insure than women. But Republicans wanted men to pay less anyway.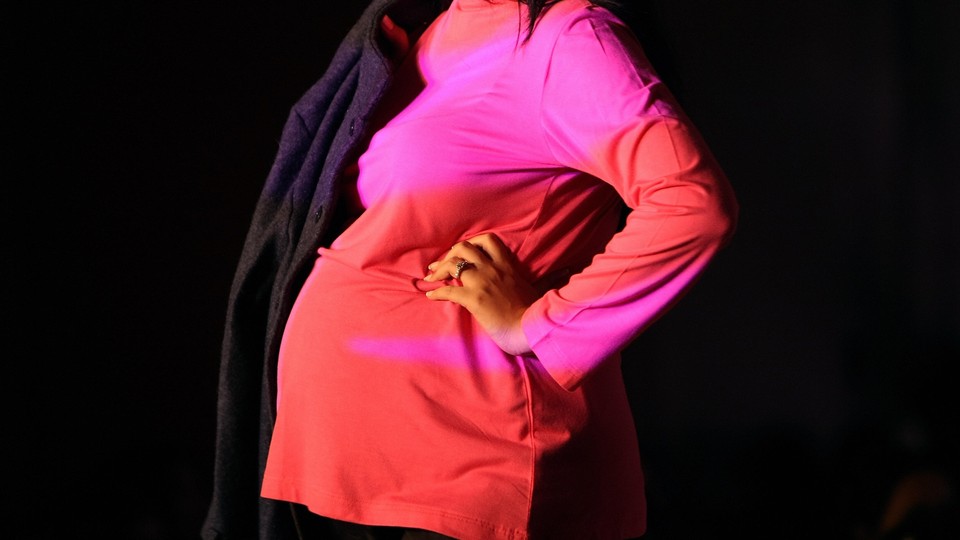 Amanda Carpenter, a speechwriter and senior communications adviser to Sen. Ted Cruz, has been loudly lamenting baby-delivery costs on Twitter.
"Was just forwarded a letter from a pregnant woman facing a big unaffordable deductible if she does not deliver by January 1 because of Obamacare," she tweeted. "Did you tell her marketplace plans carry cost-sharing protections for maternity care services?" replied Salon's Brian Beutler. "Or is that not the idea"¦"
Last week, Carpenter sounded off about how, under Obama's "gold plan," it costs $1,590 out-of-pocket to have a baby. Actually, as MSNBC's Benjy Sarlin noted, that's about half as much as it costs the average insured woman, who's been paying something closer to $3,400.
It's a funny gripe for a number of reasons. First, as The Washington Post's Ezra Klein pointed out, high-deductible health care plans, or "health savings accounts," were a central tenet of Republican health care thinking in the days before Obamacare. The high-deductible complaint is even more hypocritical with regard to pregnant women, given that prenatal care is one of the key issues at hand in the whole Obamacare debate — and one some Republicans have consistently knocked as a stupid benefit.
Rep. Renee Ellmers, R-N.C., made the point at an Oct. 30 House hearing when she pointedly asked Health and Human Services Secretary Kathleen Sebelius: "To the best of your knowledge has a man ever delivered a baby?" She's hardly the only conservative to make the case that men are being unfairly burdened by things like maternity care.
For all the hype over cancellations, very little attention has been paid to the specific reasons various plans didn't make the grade. Very often it's because the new law doesn't allow for health plans to carve out certain things that might have allowed a health plan to price a product lower in the past — like allowing men to not pay for maternity care. That's a policy known as gender rating.
"The only reason consumers are getting notices about their current coverage changing is because the ACA requires all policies to cover a broad range of benefits that go beyond what many people choose to purchase today," Karen Ignagni, president and chief executive of the health industry lobby America's Health Insurance Plans, explained recently.
Gender rating is prohibited under the Affordable Care Act. The New Republic's Jonathan Cohn notes there are a lot of good reasons for that, and Americans on the whole largely agree. Overall, 61 percent have a favorable view of the provision, according to data from Kaiser Health from 2012. That number rises to 69 percent among women as a group, and about three-quarters of women under age 50 (73 percent of whom back it). Men as a whole are somewhat less supportive with roughly half (52 percent) supporting it — a number that rises to 57 percent among younger men.
The argument for gender rating, in the days before the Affordable Care Act, had always been that women cost more to insure. But if we ignore all costs directly associated with pregnancy and childbearing (the logic here being that it takes two parties to create a child and both parties should be willing to pay equally to support that endeavor), men aren't actually any cheaper to insure than women.
"When you get older, men cost more to insure than women," explained Jonathan Gruber, a health economist at Massachusetts Institute of Technology. Later in life, men are more likely to have a variety of conditions including heart attacks, lung cancer, and liver cancer. They're also more likely to smoke, drink, and get in accidents, according to experts.
Larry Levitt, a senior vice president of the Kaiser Family Foundation, said that while Kaiser doesn't have any independent analysis of this, insurers have historically charged younger women more than men in the individual market, even though those plans rarely covered maternity services. "That tends to reverse at older ages, when men have generally been charged more than women," he said. "It's reasonable to assume that insurers set those premiums based on the patterns of health care use that they saw."
In 2008 the average expenditure per person with an expense, including expenses covered by insurance and those paid out-of-pocket, was slightly higher for women ($5,635) than for men ($4,952), according to data from the Agency for Healthcare Research and Quality. But the difference in expenditures is largely attributable to childbirth.
As shown in the chart, men's average expenditures significantly exceeded women's for hospital inpatient services ($18,984 versus $12,997, respectively). The overall mean health care expense was greater for women because of the greater percentage of women incurring more expensive services. For example, 10.8 percent of women had hospital inpatient services — that includes childbirth delivery — compared with 6.4 percent of men, contributing to a higher mean expenditure overall.
"The bottom line," says Gruber, "is that the predominant difference is actually maternity." The next time a Republican flack bemoans the cost of having a baby under Obamacare, it's worth remembering that that's a cost Republicans would have women pay.