When Jimmy Carter Was the Computer-Driven Candidate
The Georgia Democrat's campaign used email a few times a day in late 1976.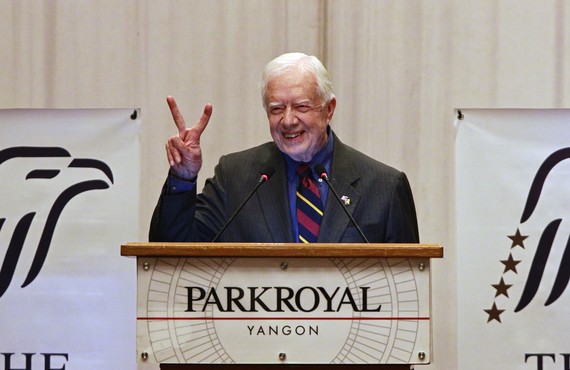 Everyone knows Barack Obama was first Internet candidate, when he deftly used new online technologies to raise massive amounts of money in small increments and to organize canvassers and supporters online during his 2008 campaign.
Or maybe he wasn't. Other versions of the story peg Howard Dean as the first Internet candidate, for using blogs and online, small-donor fundraising to surge into serious contention for the 2004 Democratic presidential nomination. And yet other versions credit Ron Paul for inventing the "money bomb" for online fundraising during the same cycle, or John McCain for pioneering online fundraising in 2000.
It turns out that the desire to stake the claim to being the most tech-savvy campaign goes all the way back to Jimmy Carter, who was known as the "computer-driven candidate" when he ran for office in 1976, according to Where Wizards Stay Up Late: The Origins Of The Internet by Katie Hafner and Matthew Lyon.
"Jimmy Carter's campaign used e-mail several times a day in the autumn of 1976," the authors of the 1998 bestseller wrote—as Nancy Scola pointed out on Twitter today, where she shared this book excerpt.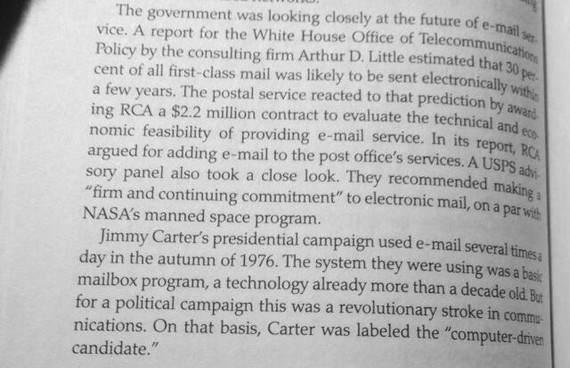 Carter's campaign jet was the first-ever to be equipped with two computers, Washington Post columnist David Broder reported—a fitting innovation for the first atomic engineer to run for the presidency. And of course the phrase that stuck all these years later was penned by Broder himself when he wrote in September 1976, "The peanut-farmer, atomic-engineer is the closest thing to a computer-driven candidate this age has yet produced."