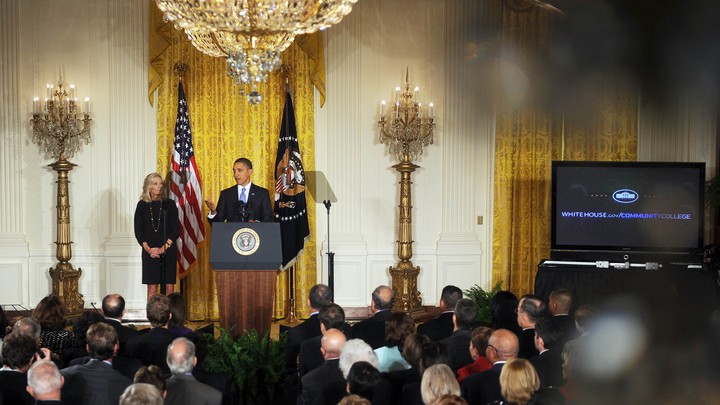 Every week, The Next America produces a collection of education articles that catch our eye. These date from Dec. 2-9.
The Obama Administration's Recruitment Wish List. The White House wants participants in a higher-education summit to commit to a concrete step that would help more low-income students graduate. The administration's suggestions for institutions include setting specific targets for low-income enrollment, partnering with local school districts and community colleges, and making remediation more relevant. The event, originally scheduled for Wednesday, will likely be held in January as the president and first lady will attend Nelson Mandela's memorial service in South Africa. Chronicle of Higher Education
Schools Step Away From Harsh Discipline Policies. Large urban districts are rethinking zero-tolerance policies, which are linked to arrest records, low academic achievement, and high dropout rates that particularly affect minority students. Districts like Broward County, Fla., are keeping students who commit minor, nonviolent offenses in school and offering them counseling rather than calling the police. New York Times
Takeaways from PISA. The most recent data from the Programme for International Student Assessment, a test taken by 15-year-olds around the world, show that U.S. students are pretty much in the middle of the pack when it comes to math, reading, and science test scores. Interestingly, socioeconomic differences have a bigger influence on test scores here than in other countries, and fewer low-income students outperform expectations. The Atlantic
How Much Student Debt Is Normal? Student debt can range from less than $5,000 per year to almost $50,000 per borrower, according to a report from the Institute for College Access and Success. In 2011-12, 71 percent of those seeking a bachelor's degree had student debt, compared with 68 percent of students four years earlier. New York Times
The Amazing Shrinking Lunch Hour. At many public schools today, students get just 15 minutes or less to sit down and eat lunch. Federally subsidized school meals are often the only thing standing between low-income children and hunger, and federal standards try to ensure that students get nutritious meals. But what's the point of providing healthy fare if students don't have time to eat it? NPR
First-Generation Students Least Sure of Their Majors. First-generation college students who select a major when they take the ACT are less sure of their choices than their peers with better-educated parents. Thirty percent of boys whose parents earned a graduate degree or higher were sure of their future majors, compared with 45 percent of boys whose parents had never gone to college. Overall, only 36 percent of test-takers in the class of 2013 selected a planned major that's a good fit for their interests. ACT
This article is part of our Next America: Higher Education project, which is supported by grants from the Bill & Melinda Gates Foundation and Lumina Foundation.
We want to hear what you think about this article. Submit a letter to the editor or write to letters@theatlantic.com.