Being president is tough. To de-stress, America's 34th president liked to cook. By the time he left office, Dwight Eisenhower had concocted a hearty collection of recipes, chronicled in his postpresidential papers. There was his famous vegetable soup and beef stew, warm hush puppies, and a lemon chiffon pie. Even "corn sticks." But nothing could get you drunk faster than Ike's eggnog.
Eisenhower got his kitchen chops as a young boy, cooking outdoors with his brothers on camping trips, says Valoise Armstrong, an archivist at the Eisenhower Presidential Library and Museum in Kansas. As president, "he was pretty much a man of his generation," Armstrong says. "He liked bourbon, he liked steak, he liked grilling. He even had a grill at the White House that he could cook on. I don't know how many presidents have barbecued at the White House."
Eisenhower had a taste for savory meals rather than a sweet tooth, Armstrong says.
However, "the holidays are a time when people indulge in sweet things and punch and special recipes," she says. "If he included the recipe, he must have liked it."
But would National Journal?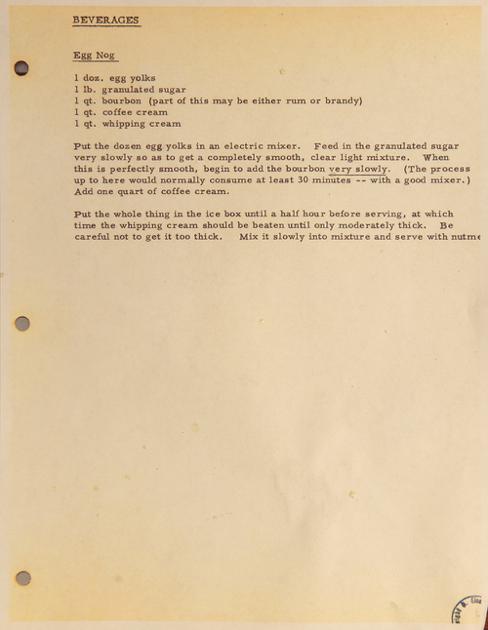 STEP 1:
"Put the dozen egg yolks in an electric mixer."
We suggest saving the whites to make Thomas Jefferson's Macaroons.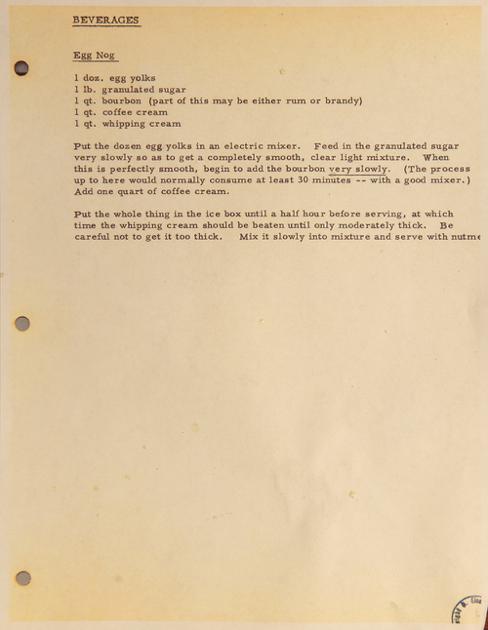 STEP 2:
"Feed in the granulated sugar [1 lb] very slowly as to get a completelysmooth, clear light mixture."