We Made Dwight Eisenhower's Eggnog
A surprisingly good, robustly alcoholic recipe from Ike's personal kitchen.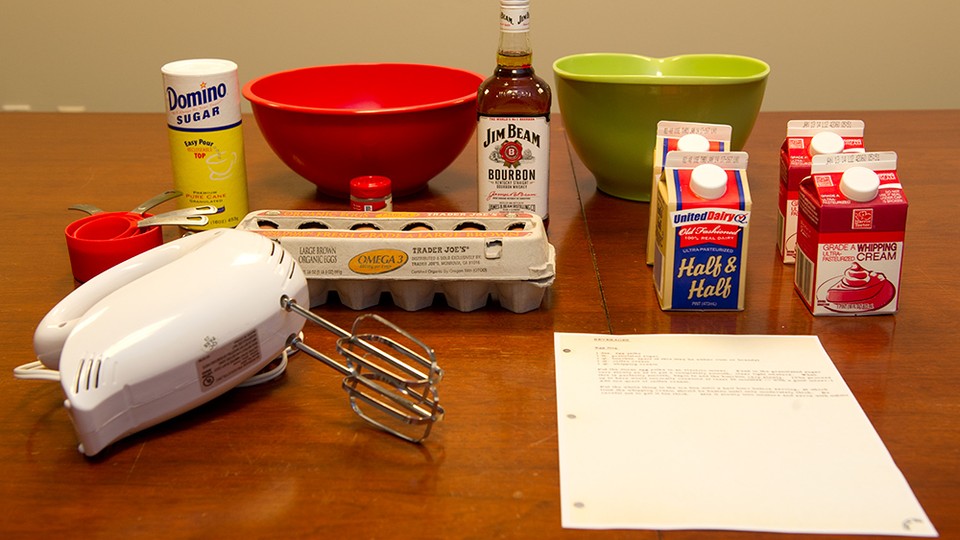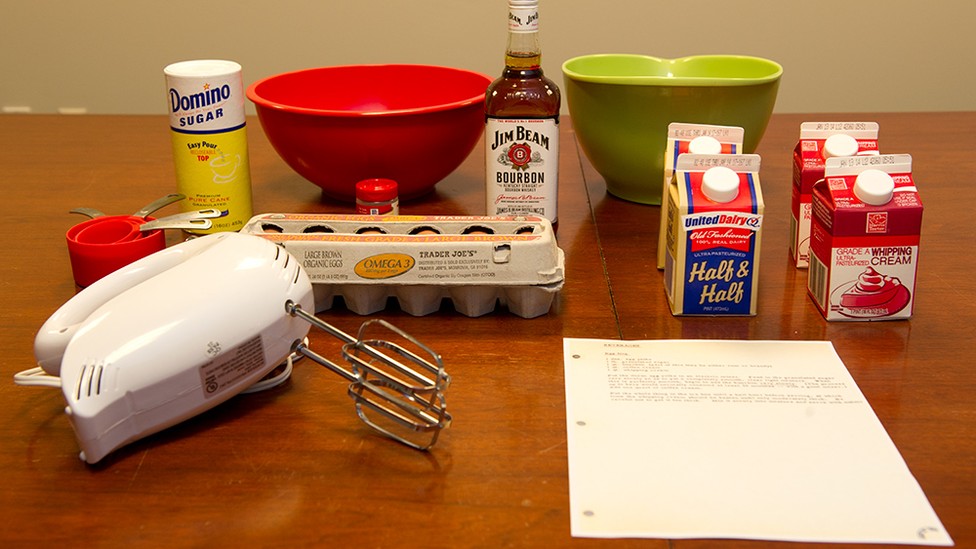 Being president is tough. To de-stress, America's 34th president liked to cook. By the time he left office, Dwight Eisenhower had concocted a hearty collection of recipes, chronicled in his postpresidential papers. There was his famous vegetable soup and beef stew, warm hush puppies, and a lemon chiffon pie. Even "corn sticks." But nothing could get you drunk faster than Ike's eggnog.
Eisenhower got his kitchen chops as a young boy, cooking outdoors with his brothers on camping trips, says Valoise Armstrong, an archivist at the Eisenhower Presidential Library and Museum in Kansas. As president, "he was pretty much a man of his generation," Armstrong says. "He liked bourbon, he liked steak, he liked grilling. He even had a grill at the White House that he could cook on. I don't know how many presidents have barbecued at the White House."
Eisenhower had a taste for savory meals rather than a sweet tooth, Armstrong says.
However, "the holidays are a time when people indulge in sweet things and punch and special recipes," she says. "If he included the recipe, he must have liked it."
But would National Journal?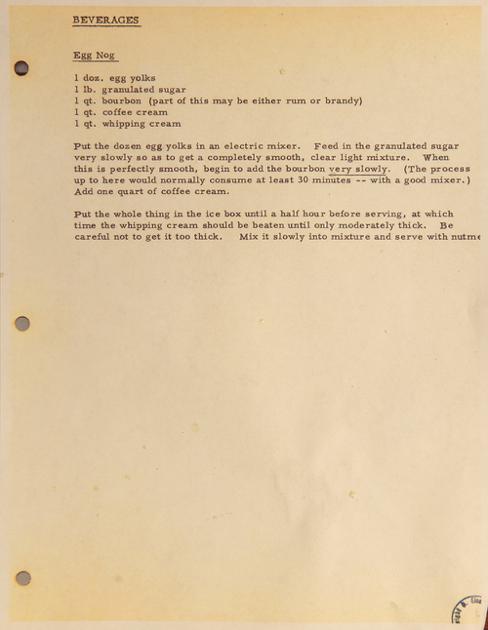 STEP 1:
"Put the dozen egg yolks in an electric mixer."
We suggest saving the whites to make Thomas Jefferson's Macaroons.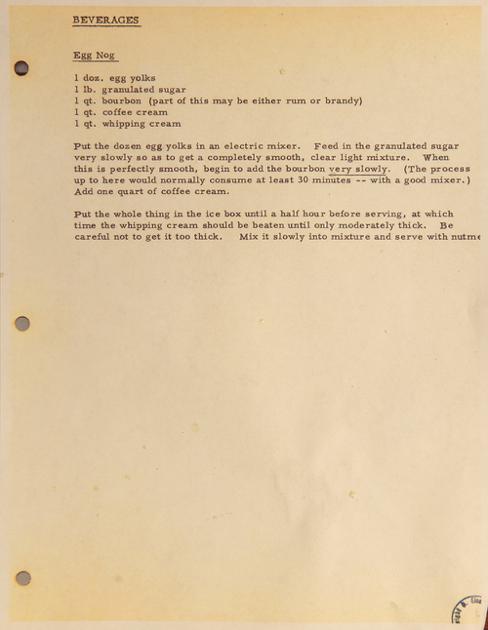 STEP 2:
"Feed in the granulated sugar [1 lb] very slowly as to get a completelysmooth, clear light mixture."
A strange direction, seeing that egg yolks and sugar are never going to turn "clear" as much as you vortex them together with a mixer. You know it's done when the mixture takes on the texture of what appears to be melted marshmallow Peeps, with few noticeable grains of sugar. It sort of looks like liquid egg salad.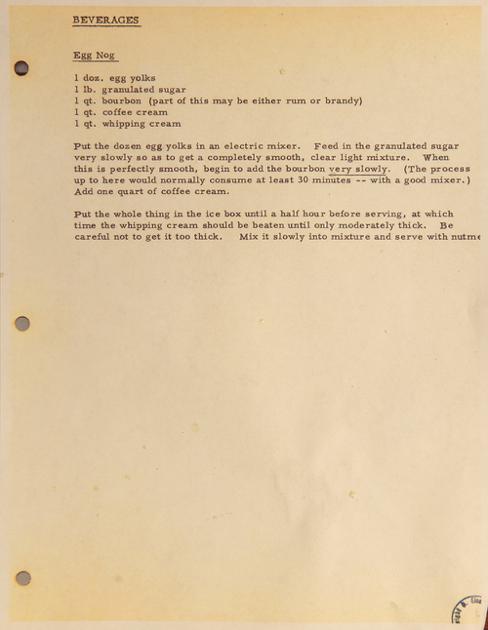 This is the melted Peep consistency you're looking for.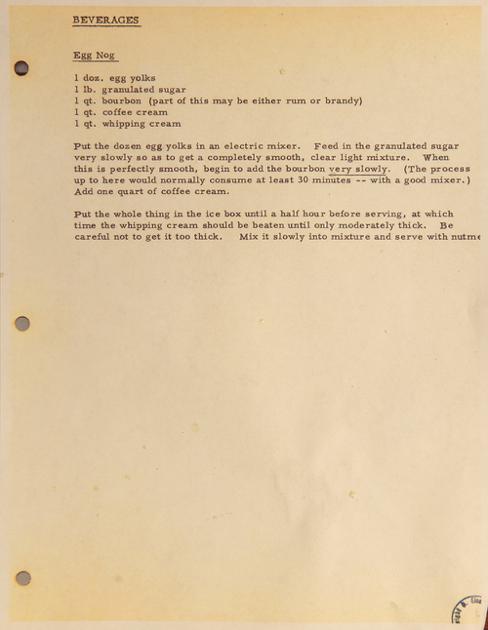 STEP 3:
"When this [the egg, sugar mixture] is perfectly smooth, begin to add the bourbon very slowly. (The process up to here would normally consume at least 30 minutes—with a good mixer.)"
Eisenhower wants you to take this step seriously—it's even underlined.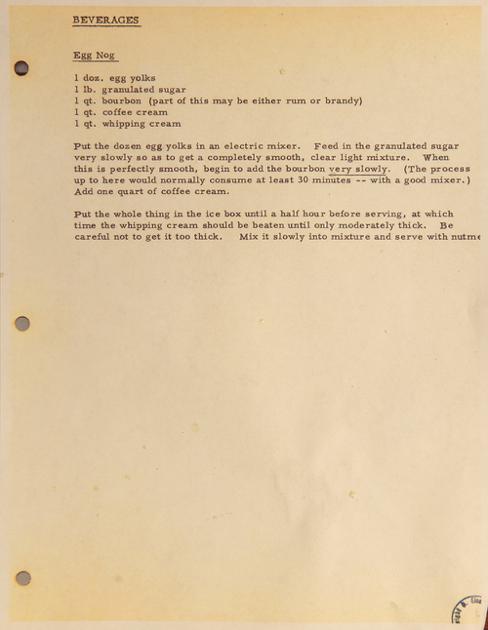 In our conference room test kitchen, 30 minutes seemed a bit excessive. The eggs and sugar appeared to be well incorporated after about 10 minutes. Pouring the bourbon in a little at a time over 10 minutes seemed to incorporate it well.
The recipe calls for a quart of bourbon. We used a fifth of Jim Beam because, well, that's the standard size for liquor these days. Don't worry, the final result was plenty alcoholic. When you feel tipsy after just one glass, remember that Ike's was stronger. The thing is, though, Armstrong says Eisenhower wasn't a big drinker and only imbibed during social occasions.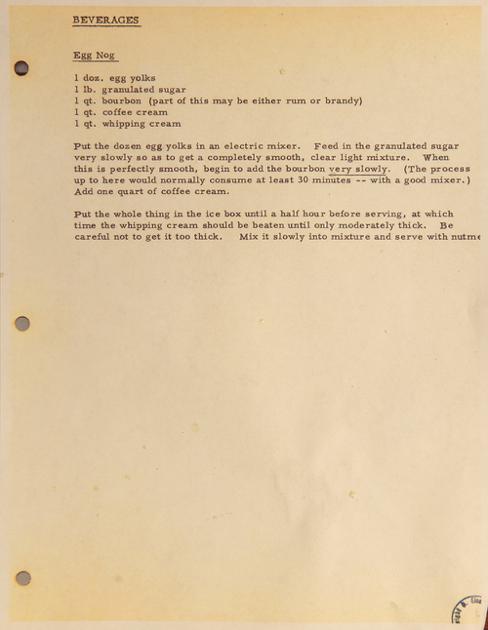 STEP 4:
"Add one quart of coffee cream."
Perhaps it says more about us than it does about ambiguous instructions that, when we first read this step, we immediately wondered if the recipe meant a kind of coffee liqueur, like kahlua, or plain cream and milk, like half-and-half. We decided to trust the experts. "That would be a lot of booze," Armstrong says, looking at the recipe. "A quart? That would be too much." Her historian gut told her go with half-and-half, and so we did.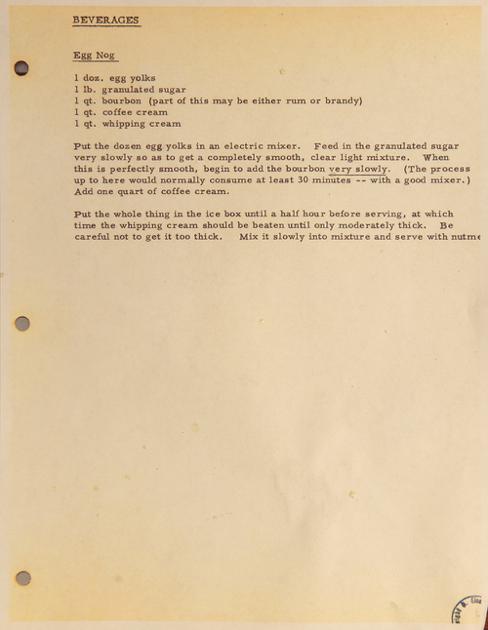 STEP 5:
"Put the whole thing in the ice box until a half hour before serving ..."
Mixing in the 21st century, we used the freezer.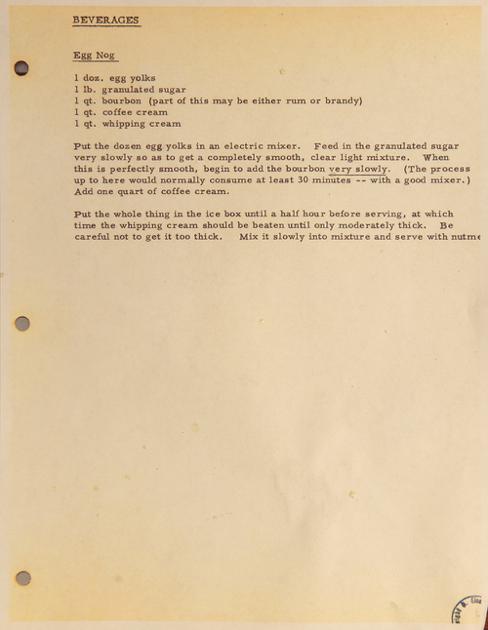 STEP 6:
"... at which time the whipping cream [one quart] should should be beaten until only moderately thick."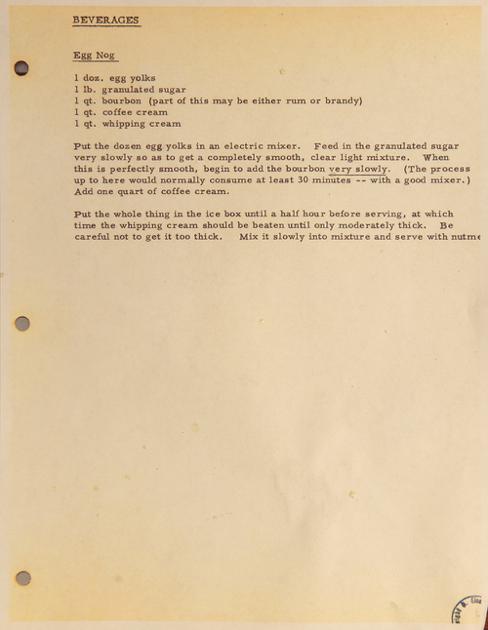 No, really:
"Be careful not to get it too thick."
Here's how we interpreted this step. More Elmer's Glue than Reddi-wip.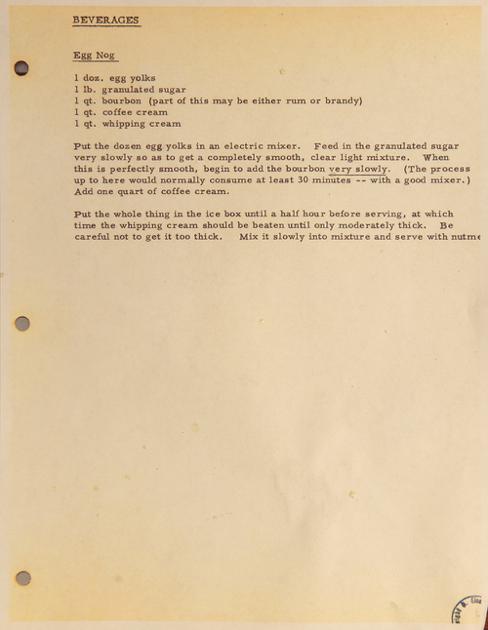 STEP 7:
"Mix it slowly into the mixture ..."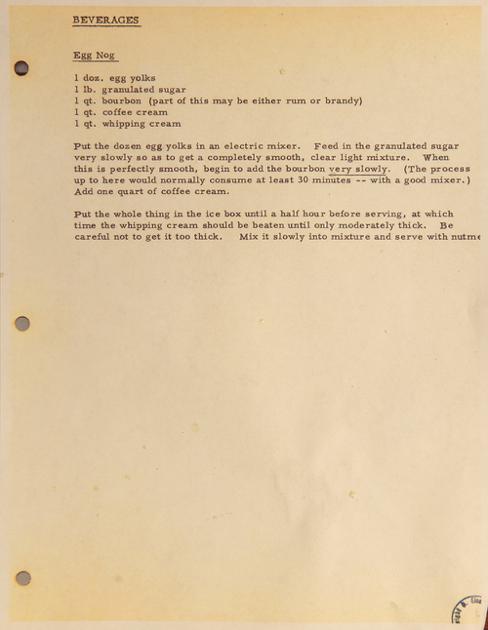 STEP 8:
"... and serve with nutmeg."
The end result was a very alcoholic, surprisingly light and creamy (in density, not in richness or calories) nog. In other words, semi-whipped melted ice cream with some bourbon added to it. It wasn't as sweet as the store varieties.
"It kinda just looks like shaving cream," Marin Cogan, our writer at large, remarked, skeptically, as the nog was served to the National Journalnewsroom. She took a sip. "You know, I actually like it."
Other responses included: "Tastes like Bourbon cream" (which it did), and "it's better than you get in the store."
The most common response from NJ staffers was a resounding "not bad!"—which probably reflects more on our own perceived cooking abilities than on Eisenhower's booze craftsmanship.
But the verdict also seemed to echo historians' ranking of the president behind the recipe. Eisenhower, after leaving office, was considered"average."
This holiday season, embrace the average and take a moment to honor the man who created the interstate-highway system by brewing his eggnog. And then, by staying well away from any moving vehicles.