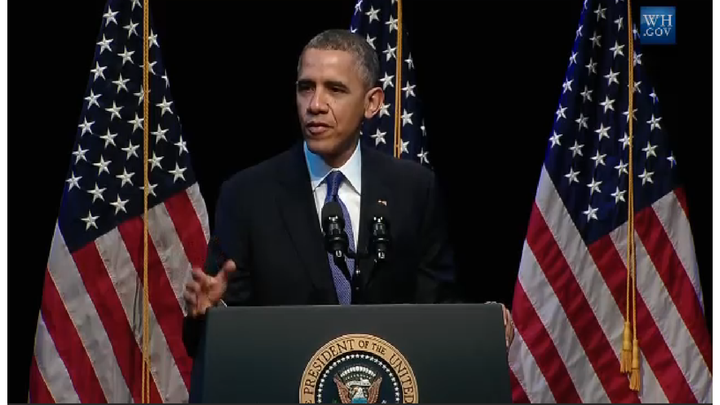 This article is from the archive of our partner
.
Speaking from the progressive Center for American Progress on Wednesday, President Obama made one of his most direct pitches for addressing income inequality. Five years into his presidency, he offered one of his most complete overviews of his economic philosophy — a philosophy hewing closely to the progressivism Republicans feared in 2008.
The president began by directly making the case for addressing the issue. "I believe that this is the defining challenge of our time: making sure that our economy works for every American."
Just last week the Pope himself spoke about this at eloquent length. How can it be, he wrote, that it's not a news item when an elderly homeless person dies of exposure, but it is news when the stock market loses two points? 
"This increasing inequality is most pronounced in our country," he continued, "and it challenges the very essence of who we are as a people."
Obama noted that the tendency to see economic issues in racial terms is wrong. "The opportunity gap in America is now as much about class as it is about race — and that gap is growing," he said. "We have to reject a politics that suggests any effort to address it in a meaningful way somehow pits the interest of a deserving middle class against those of an undeserving poor in search of handouts."
He also reiterated his support for a minimum wage increase, saying, "if you work hard, you should make a decent living." In The New Yorker, Steve Coll points out research suggesting that "a minimum wage drawn somewhat above the poverty line helps those who work full time to live decently, without having a significant impact on other job seekers or on total employment." Obama echoed this line of argument.
He laid out a multi-part strategy for addressing inequality.
"Make sure our economy is growing faster." Obama called for more government spending by reducing sequestration cuts, arguing that "a relentlessly growing deficit of opportunity is a bigger threat to our future than our rapidly shrinking fiscal deficit.
"Empower more Americans with skills and education they need."
"Empowering workers," by supporting collective bargaining rights.
Create programs for those areas hardest hit by the downturn, "communities [that] are no longer limited to the inner city."
Bolster the social safety net, including Social Security, "so it doesn't just protect people who hit a run of bad luck from falling into poverty but also propels them back out of poverty." He also called for an extension of unemployment insurance.
Maintain Obamacare.

 Part of the goal of the Affordable Care Act was to ensure that catastrophic medical conditions wouldn't mean people were forced into bankruptcy. By assuring coverage that meets certain standards of cost, it's less likely that a medical crisis results in an economic one. If, that is, the uninsured sign up for coverage and if people upgrade their insurance policies.
Stanford University's Center on Poverty and Inequality notes that the current rate is about 16 percent, with the United States ranking third globally in income inequality with the top one percent of Americans controlling 25 percent of the country's wealth. In part thanks to the still-slow pace of job growth — which the president has in the past blamed on Congressional obstruction of his jobs bill and infrastructure proposals — Americans rely on food stamps in record numbers. At the beginning of November, a measure instituted during the recession expired and vastly reduced the amount provided to families under the program. As Congress debates the Farm Bill, which includes the food stamp program, Obama has repeatedly called for program funding to be maintained in the face of House Republican cuts.
At the end of his speech, the president critiqued Republicans explicitly. If they oppose raising the minimum wage, he demanded, offer an alternative. "You owe it to the American people to tell us what you are for — not just what you're against."
Perhaps the best summary of Obama's speech is this:
It drives me — as a grandson, a son, a father, as an American — to make sure that every striving, hardworking, optimistic kid in America has the same incredible chance that this country gave me. It has been the driving force behind everything we've done these past five years, and over the course of the next year and for the rest of my presidency, that's where you should expect us to focus all of our efforts.
This article is from the archive of our partner The Wire.
We want to hear what you think about this article. Submit a letter to the editor or write to letters@theatlantic.com.
Philip Bump
is a former politics writer for
The Atlantic Wire
.