The Traffic Problems of a Small Jersey Town Won't Trip Up Christie 2016
The top New Jersey official responsible for a massive traffic jam in the city of Fort Lee quit his job on Friday — which may put to rest a burgeoning dispute that had an outside chance of sabotaging Chris Christie's 2016 ambitions.
This article is from the archive of our partner
.
The top New Jersey official responsible for a massive traffic jam in the city of Fort Lee in September quit his job on Friday, a relatively minor employment change that may put to rest a burgeoning dispute that had an outside chance of sabotaging Gov. Chris Christie's presidential ambitions.
Earlier this week, the state assembly held hearings about the sudden closure of two of the three lanes providing access from Fort Lee to the George Washington Bridge, one of the three routes from New Jersey into Manhattan. The lane closures choked traffic the week of September 9, delaying emergency vehicles and in some cases quadrupling commute times. The city had no warning — and the rationale for the closures is still unclear.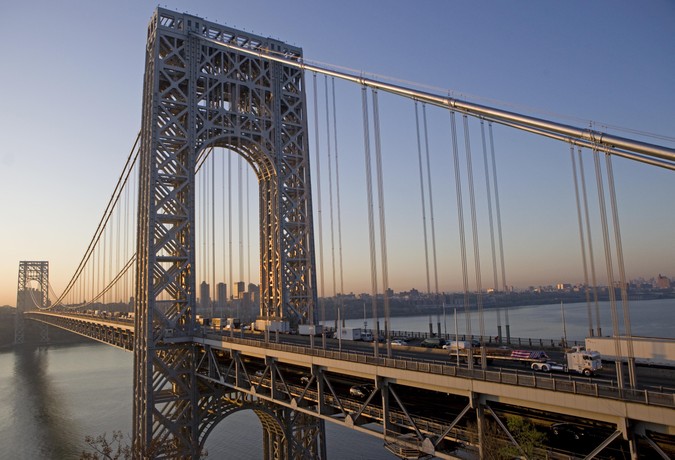 Christie ally and appointee Bill Baroni was, until today, the New Jersey representative for the Port Authority, interstate agency that manages the bridge. In a September 12 letter to Baroni, Fort Lee mayor Mark Sokolich suggested that the baffling and unexplained closures meant that "we are reaching the conclusion that there are punitive overtones associated with this initiative." The mayor, a Democrat, didn't endorse Christie during the governor's reelection bid this fall, providing a possible motive that Sokolich left unmentioned. "What other conclusion could we possibly reach?"
Last week, Baroni's second-in-command, David Wildstein, resigned his position. Wildstein was the person who told Port Authority staffers not to worry about informing the city about the imminent disruption, according to testimony at the assembly hearing — and is also a long-time friend and, like Baroni, ally of the governor's. Wildstein and Baroni both claimed that the closures were related to a traffic study, but the executive director of the Port Authority, Patrick Foye, indicated that no such study was taking place. Shortly after the hearing, state Democrats called for Baroni's resignation; he offered it today.
The only reason that this situation is worth national attention is because of how it reflects on Christie, an almost-certain presidential contender that's built his reputation on being able to work with the opposing party in a strongly Democratic state. If Christie asked his allies to screw with a political opponent in an act of retribution, that's a problem for a number of reasons for any future run.
That's a link that would be very, very hard to show. You'd need to demonstrate that the governor was complicit in initiating the lane closures, either by ordering them or by approving of the plan. You'd also need to show that the decision was made in order to teach Sokolich a lesson. There is no evidence whatsoever of either. And by accepting the resignations Baroni and Wildstein — however willingly they were offered — Christie has a foolproof response to critics of what happened: "The people responsible for the mistakes no longer work for the agency."
There are still questions. On the Friday morning following Sokolich's letter, Foye sent an email to a number of Port Authority staffers, including Baroni. "To be clear," he wrote, "I will get to the bottom of this abusive decision which violates everything this agency stands for; I intend to learn how PA process was wrongfully subverted and the public interest damaged."
The Wall Street Journal's Ted Mann reported on Baroni's response.
His email prompted a quick response from Mr. Baroni.

"Pat we need to discuss prior to any communications," Mr. Baroni wrote to Mr. Foye and Lisa MacSpadden, Mr. Foye's spokeswoman.

"Bill we are going to fix this fiasco," Mr. Foye wrote back.

"I am on way to office to discuss," Mr. Baroni typed back from his iPhone. "There can be no public discourse."
There wasn't. Why the lanes were closed remains a mystery, as does the way in which the decision was made. This morning, the Star-Ledger's Brian Donohue backed the conspiracy theory: retribution, "an explanation that once seemed utterly ridiculous ... — has actually emerged as the only logical explanation."
But unless Foye comes forward to say that Baroni told him that Christie demanded the lane closures, or unless other emails come out somehow tying the dispute more closely to the governor, it's hard to see how this damages Christie over the long term. Expect one or two attack ads mentioning Fort Lee in early 2016. And then not much more.
This article is from the archive of our partner The Wire.