To GOP's Chagrin, Energy Companies Pump Money Into Landrieu's Campaign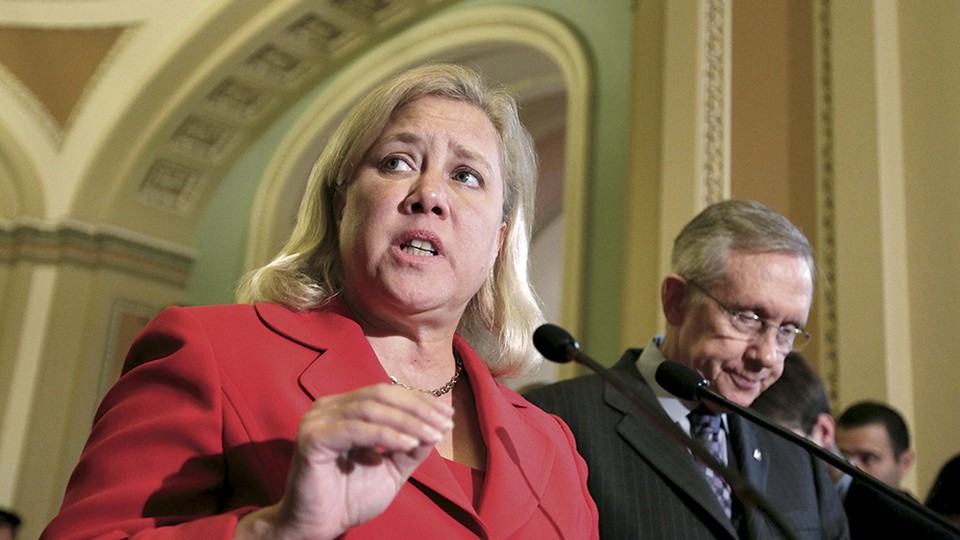 When you have a Democrat like Sen. Mary Landrieu on your side, why bother sticking your neck out for her Republican challenger?
So goes the mind-set of most big fossil-fuel companies, which are pumping more of their money to Landrieu — one of the industry's biggest supporters — than to her GOP challenger, Rep. Bill Cassidy. Republicans, who attract most of this industry's backing and see a road to the Senate majority running through Louisiana, are not happy.
"We are maxing out to her," one lobbyist for a major oil company said about Landrieu. "And yes, we are fielding phone calls and getting pressure from our friends on the Republican side, saying: 'You're missing a great opportunity for a pickup.' "
One Republican political strategist involved in Senate races sounded a similar tone, albeit from the other perspective.
"I give them grief all the time," the strategist said. "I say to them: 'What are you doing? Cut her off. Go neutral. We'll take that for now.' "
While energy companies are usually known for backing Republicans, Louisiana Sen. Mary Landrieu, D-La., is receiving strong donations from this industry. (Stephanie Stamm)Energy companies, including those in the oil, natural-gas, coal, and utility sectors, overwhelmingly favor Republican candidates. Less than one-quarter of the money from this industry has gone to Democrats so far this cycle, according to Federal Election Commission data compiled by the Center for Responsive Politics.
In fact, she is poised to chair the energy committee this Congress, given the news Wednesday that President Obama is going to nominate current Finance Chairman Max Baucus, D-Mont., to be ambassador to China, which opens up that chairmanship to current Energy Chairman Ron Wyden, D-Ore., whose dream job is to chair the powerful Finance panel. This will strengthen her position even more running for reelection and attract more energy dollars to her campaign.
"If Landrieu becomes Energy Chair in 2014, it will help her campaign since its more effective to say that she IS chair than she WILL be chair," said an energy expert who requested anonymity immediately following the news Wednesday.
Landrieu, along with Sens. Mark Pryor, D-Ark., and Mark Begich, D-Alaska, are exceptions to the rule that energy companies mostly support Republicans. This is problematic for Republicans who realize taking back control of the Senate will likely require picking up as many of these three seats as possible. Landrieu, who is leading Cassidy in most polling by a handful of percentage points, has so far received $247,600 from the oil and gas industry — the third highest out of any candidate this cycle. Cassidy, meanwhile, has received $149,500 from the sector.
Publicly, Republicans express confidence this trend will change, especially in Landrieu's race.
"As this race remains close, I think they will be under increasing pressure to make sure they are supporting both candidates and looking at the race not through partisan or incumbent lenses, but who is going to offer the best opportunity to partner in job creation in the energy sector in Louisiana," said Rob Collins, executive director of the National Republican Senatorial Committee, in an interview Tuesday.
Referring to the almost $150,000 Cassidy has garnered so far from the industry, Collins added: "The fact that they're already contributing to Cassidy in a significant way would indicate to me that he's seen positively by the industry; they're just focusing on incumbents right now, and as conditions continue to deteriorate with Landrieu, we expect they'll reconsider their position and hope they'll back Cassidy."
When presented with Collins's comment, Landrieu responded: "Well, I think the evidence, based on campaign contributions, would suggest that's not true," she said in an interview Tuesday. "The oil and gas industry knows I've been a champion for them since I came here to the Senate."
Landrieu, first elected to the Senate in 1996, has long touted her ties to oil and gas interests in a state where the industry's powerful and a strong relationship with those groups is a given. "She's been smart about that while she's been a senator," longtime Louisiana Republican strategist Roy Fletcher said. "That's a Louisiana interest."
According to Don Briggs, president of the Louisiana Oil and Gas Association, Landrieu has been reaching out to oil and gas companies, including members of LOGA, and arguing that if reelected next year, she's poised to chair the Energy and Natural Resources Committee, where she could do much more for the industry than a freshman senator.
"She naturally is using that as a tool, which she ought to, to help her get funding for her reelection," Briggs said, noting that while his association does not endorse candidates, many of its members are supporting her reelection efforts.
Cassidy, of course, is strong on oil and gas issues as well. "Put Bill and Mary together, and you say how are they going to vote on energy? They're going to vote right down the line. Mary's not going to take a vote on energy that Bill wouldn't take," Briggs said.
But the key for industry groups is that energy interests, especially oil and gas, would lose much of their clout in the Senate without Landrieu. "[Cassidy is] not going to be chairman of that committee," Briggs said. Cassidy would enter the Senate as a freshman, far from the kind of power that Landrieu would wield with the Energy gavel in her hands heading into 2015.
For his part, Cassidy is seeking to poke holes in Landrieu's support for the industry by pointing out she voted to confirm President Obama's Cabinet members who then went on to promote policies that hurt the industry.
"Senator Landrieu's support of oil and gas is not as steady as some suppose," said Joel DiGrado, campaign manager for Cassidy's campaign. "She voted to restrict hydraulic fracking as a favor to Ken Salazar. She donates thousands to anti-oil and gas politicians, most recently Ed Markey and also Barbara Boxer and Ken Salazar."
At least for now, many energy companies aren't buying these arguments.
"She has been an ardent supporter of the industry across the board the entire time she's been here," said the lobbyist from a major oil company. "There is certainly an element of: 'You dance with the one that brought you.' There's a certain amount of loyalty that is owed back."
Companies and associations that are supporting Landrieu more so than Cassidy include Devon Energy, ConocoPhillips, Chevron, Tesoro, and the American Petroleum Institute, which has not given any money to Cassidy in the first three quarters of this year, according to the Center for Responsive Politics. (Fourth-quarter filings are due by month's end.) Energy companies supporting Cassidy more than Landrieu include Koch Industries, which hasn't donated any money to Democratic Senate candidates yet this cycle, and Halliburton, which gave $3,000 to Cassidy and $2,000 to Landrieu.
When asked about supporting Landrieu over Cassidy, API President and CEO Jack Gerard deflected any direct answer about that particular race. Instead, he noted the importance of voting records of all candidates.
"There have been occasions when representing industry when members would call and say: 'Jack, let's do something for us,' and I'll look at the voting record, and I say 'No. No, you don't support the industry,' " Gerard said in a recent interview. "This isn't about just friends. It's about those who support the industry moving forward. And you see that on both sides of the aisle."
Indeed, every so often, it's an oil-friendly Democrat who wins the industry's backing the most, even if it irritates Republicans.
"I think they realize and know that people like myself — a more moderate Democrat — understand oil and gas development," Begich said Tuesday in an interview. "They recognize that it is not like it used to be that just Republicans were somehow perceived as oil and gas supporters. There are a group of us Democrats that are inclined to support oil and gas."
---
Ben Geman contributed to this article