'This Is the End of the Presidency'
Tracking the same horrible second-term path as Bush, can Obama learn from the past?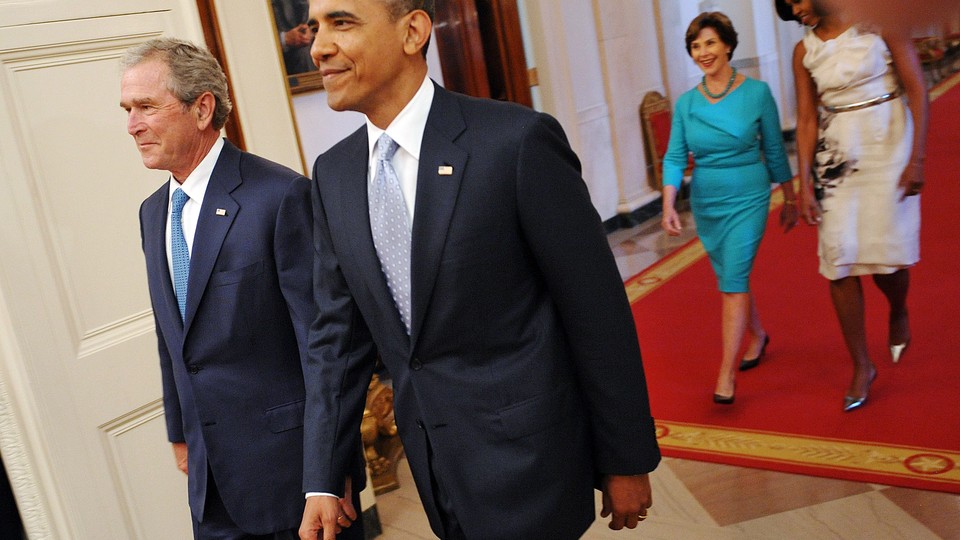 Claiming a mandate he never had, the newly reelected president foisted a bold agenda upon Congress and the public, then watched it collapse within months — a victim of scandal, cynical opponents, and his own hubris. One despairing adviser declared, "This is the end of the presidency."
That was George W. Bush in 2005. Or was it Barack Obama this past year? Reading Peter Baker's extraordinary account of the Bush-Cheney era, Days of Fire, I found a striking number of parallels between Bush's fifth year in office and the atrocious first 12 months of President Obama's second term.
My takeaway: Obama needs to shatter the cycle of dysfunction (his and history's) or risk leaving office like Bush, unpopular and relatively unaccomplished.
Here are nine analogues between Bush's 2005 and Obama's 2013, starting with "¦
1. Assuming victory came with spoils. Bush wasted no time plotting an expansive vision for his second term, ordering speechwriters to produce an Inaugural Address that made "ending tyranny in our world" official U.S. policy. His domestic agenda included changes to Social Security, immigration, the tax code, and court-clogging litigation rules. Obama unleashed an aggressively liberal agenda in his second Inaugural Address, promising to combat climate change, loosen immigration restrictions, curb gun violence, and expand human and civil rights.
Bush and Obama made the same mistake. Both men convinced themselves that they were reelected because of their agendas, rather than because of negative campaign strategies that essentially disqualified their rivals — Democrat John Kerry and Republican Mitt Romney. In fact, many of the issues claimed as presidential mandates in 2005 and 2013 actually received relatively little attention from the candidates and from the media in 2004 and 2012. On the night of Obama's election, I wrote:
Barack Obama won a second term but no mandate. Thanks in part to his own small-bore and brutish campaign, victory guarantees the president nothing more than the headache of building consensus in a gridlocked capital on behalf of a polarized public.
If the president begins his second term under any delusion that voters rubber-stamped his agenda on Tuesday night, he is doomed to fail.
Mandates are rarely won on election night. They are earned after Inauguration Day by leaders who spend their political capital wisely, taking advantage of events without overreaching.
Obama's advisers mocked the column and others like it, a sign of "¦
2. Institutional arrogance and overreach. Early in his second term, Bush brushed aside questions about Bernard Kerik's background and nominated the former New York police commissioner to head the Homeland Security Department. Baker concluded the move "demonstrated that a president at the peak of his power and influence thought he could dismiss such issues and the rest of Washington would go along." A short time later, Bush awarded Presidential Medals of Freedom to George Tenet, Jerry Bremer, and Tommy Franks, three architects of the Iraq War. "It was the act of a president fresh off reelection feeling empowered and a little defiant," Baker wrote.Bush walks off stage after presenting the Medal of Freedom to (from left) Tenet, Franks, and Bremer. (Mark Wilson/Getty Images)
Shortly after his reelection, at the height of his powers, Obama faced a choice in the 2012 lame-duck session of Congress: Lead with humility and seek compromise with the GOP on a long-term budget deal, or rub Republican faces in defeat. Obama forced his rivals to accept higher taxes on the wealthy. It was his prerogative; he won the election. And he set the tone for a harsh and humiliating 2013. Meanwhile "¦
3. First-term success haunted the second term. The increasingly unpopular Iraq war Was an issue in 2004, even after Saddam Hussein's capture, but Bush had managed to finesse it for reelection. Obama's white whale was the Affordable Care Act. In both cases, luck ran out after Election Day. The death toll rose in Iraq during Bush's fifth year. For Obama, the federal health insurance website didn't work, and millions of Americans lost their insurance policies despite his promises to the contrary.
Both presidents deceived the public about their signature policies, and their credibility crumbled. Insularity hurt both teams. Vice President Dick Cheney famously said the Iraq insurgency was in its "last throes." Obama and his advisers characterized catastrophic flaws with the ACA website as "glitches." Making matters worse "¦
4. Nobody took responsibility. Faced with failure, Bush and Obama reluctantly acknowledged the public's frustration. "Like most Americans," Bush said of Iraq in mid-2005, "I see the images of violence and bloodshed. Every picture is horrifying, and the suffering is real. Amid all this violence, I know Americans ask the question: Is the sacrifice worth it? It is worth it, and it is vital to the future security of our country."
Eight years later, a chastened Obama addressed his broken promises on health care. "I completely get how upsetting this can be for a lot of Americans, particularly after assurances they heard from me," Obama said in November. "To those Americans, I hear you loud and clear."
As I wrote last week, the presidents also shared an allergy to firing people. Their reluctance may have something to do with the fact that they "¦
5. Dragged their feet in response to crises. In his chapter on Hurricane Katrina, Baker wrote, "Now deep in the fight year of a presidency already marked by one crisis after another, Bush was slow to recognize the scale of the disaster." By the time he did, it was too late. Steve Schmidt, the vice president's counselor, wrote in an email to a colleague, "This is the end of the presidency." MoveOn PAC members and supporters march in protest of the Bush administration's handling of Hurricane Katrina. (Chip Somodevilla/Getty Images)
Despite warnings that the health care website wasn't ready, the White House went ahead with the rollout and then minimized the extent of the problems, even internally, for weeks.
In fairness, the presidents had to deal with "¦.
6. An opposition party that took partisanship to new levels. Writing of Bush's ill-fated effort to overhaul the Social Security system, Baker said, "Democrats had seized on the issue to attack Bush, calculating it was a way of weakening a newly reelected president." The Obama White House and its apologists seem to forget the zero-sum game tactics of Bush-era Democrats when they criticize congressional Republicans (accurately) for making presidential destruction a singular goal. Like Bush, Obama also had an opposite problem "¦
7. Pressure from the base. Bush got beat up by fellow Republicans over his choice of Harriet Miers to serve on the Supreme Court. Conservatives believed she was professionally and ideologically unsuited. "He was mad at his aides, aggravated that they had let this happen," Baker wrote of the Miers nomination, which was withdrawn. "But he realized he was the one who had put his friend in the situation and it was time to find a way out."
Opposition from liberals didn't stop Obama from proposing entitlement reform in public, but the protests had the intended effect in private. The president felt hemmed in by the Left during budget negotiations, according to White House officials involved in the talks.
And, of course, there were the big distractions "¦
8. Scandals. For Bush, it was the investigation of a leak the led to exposure of an undercover CIA agent. The inquiry divided the White House staff and cast a pall over the administration. For Obama, it was the IRS's review of political organizations, the Justice Department's seizure of Associated Press telephone records, and widespread surveillance by the National Security Agency. The controversies, along with the 2012 attack in Benghazi, Libya, were exacerbated by the way the White House handled them — with shifting explanations and, in some cases, outright distortions.(Photo by Mandel Ngan/AFP/Getty Images)
All of this led to a miserable fifth year and "¦
9. Failed agendas. "Of the four domestic goals he had set for 2005," Baker wrote of Bush, "three were dead." Only tort reform had been partially accomplished. Obama had a similar record, failing on guns, immigration, and the long-term budget. Through federal regulations, he made partial progress on climate change.
Bush ended his fifth year in office giving a national address on Iraq in which he showed an unusual amount of contrition and accountability. Acknowledging the war had been "more difficult than we expected," Bush offered an olive branch to war opponents.
"We will continue to listen to honest criticism and make every change that will help us complete the mission," Bush said. He was rewarded with an 8-point bump in his approval rating to 47 percent, Baker wrote, "suggesting the public was still willing to listen."
That is the one ray of light for Obama. If after the events and mistakes of 2005 Americans were still willing to listen to Bush, there may still be hope for Obama. His presidency might recover.
Of course, the next year brought a spate of worse news for Bush, primarily a grim and unrelenting escalation of war in Iraq — his white whale, the issue that eventually swallowed a presidency.
{{ BIZOBJ (video: 4631) }}