There's No Way to Follow the Money
A patchwork of vague and lax campaign-finance regulations mean hundreds of millions of dollars changed hands in 2012 with no one tracking them.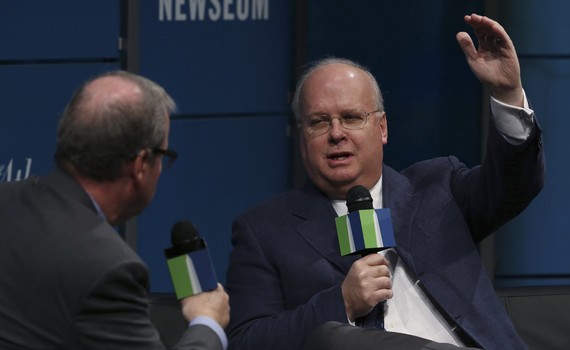 Christmas comes early for campaign watchdogs—or late, depending on your perspective. Thanks to a lag in IRS reporting rules, the tax returns of independent groups that spent hundreds of millions of dollars in the 2012 election are just now coming due. Considered together with a recent campaign-finance investigation in California, these filings hint at an orgy of self-dealing and "dark money" shenanigans unprecedented in American politics.
The first presidential election since the Supreme Court's 2010 Citizens United decision spawned what Bloomberg Businessweek called "a Cayman Islands-style web of nonprofit front groups and shell companies." These not only shielded donors' identities but also obscured the huge profits of political operatives who moved nimbly between the candidates, the super PACs, and the vendors that get their business.
The so-called "independent expenditure" groups have been "transforming the business of running a political campaign and changing the pecking order of the most coveted jobs," Businessweek noted. "With a super-PAC, the opportunity to make money is soaring while the job is getting easier to do."
Is it any wonder then that many of the biggest players from past elections jumped to the other side of the game in 2012? Or that they imported two money-making techniques perfected in campaign work: shell corporations that put fees and commissions beyond the reach of federal disclosure rules, and "integrated businesses," set up by staff and advisers to do nuts-and-bolts electioneering?
The just-settled California case offers an example of both gambits, along with a textbook case of the new dark-money shuffle. The state's Fair Political Practices Commission traced $29 million raised to run ads about state ballot measures through a daisy chain of 501(c)4 tax-exempt groups, which are not required to identify donors—hence the "dark money." The lynchpin for this maneuver was the Center to Protect Patients Rights (CPPR), run by a former Capitol Hill staffer named Sean Noble. Operating out of a post-office box in Arizona, CPPR's sole function is to accept grants, then turn around and make grants for a network of conservative nonprofits.
In the California case, $29 million from in-state donors who wanted to remain anonymous was steered to the Virginia-based Americans for Job Security, which passed $24.5 million to CPPR. Noble then made two grants: $18 million to Americans for Responsible Leadership (ARL), which passed on $11 million to the Small Business Action Committee (SBAC) in California; and $7 million to American Future Fund, which gave $4 million to the California Future Fund.
California officials called this "money laundering" and levied the state's largest-ever campaign fine—$1 million—against CPPR and ARL. They also demanded that SBAC and California Future Fund pay $15 million to the state treasury, although the latter group has already closed up shop. The settlement did not dispute the claim that these violations were "inadvertent." Nevertheless, Ann Ravel, the outgoing head of the commission, warned, "This is a nationwide issue. These groups exploit loopholes in the law to undermine the clear purpose of the law."
They also take a nice cut for themselves. According to depositions, the fundraisers and the groups that transferred the funds split a 15-percent commission on the $29 million three ways. Overall, CPPR handled about $140 million in 2012, according to a tax return filed at the last possible moment in November 2013. Noble, its unsalaried president, steered nearly $24 million to his own private consulting firms, on top of the $10 million he paid his firms in 2011.
The California fundraisers were unhappy that less than half their money made it back to the state—or that, as soon as the investigation began, Noble wrote a letter to the state commission, laying out his version of the scheme, which eventually led to a settlement. "Hell yes, I'm pissed," one of the fundraisers told investigators. "I think he panicked to prevent your agency from opening up his books."
Who Knows Where the Funds Go?
Old-school consultants such as Mark McKinnon, a strategist for George W. Bush in 2000, are dismayed by super PACs' profligacy. Without a campaign manager to "keep a handle on spending and fees," he said, "you basically have just a few people getting together to check the box on legal structure, and then they basically just divide up the money."
"How you track the actual dollars will be very difficult if not impossible," he added. "That's the ugly beauty of the scheme."
But the fact is, the old guard developed the basic practices that have transformed politics into a potential get-rich-quick scheme. One is to create a limited liability corporation, or LLC, for campaign billings--preferably with an opaque, alphabetic name that requires a trip to the state attorney's office to find out who owns VG LLC, AKPD Media, WWP LLC or NGP VAN. This practice, which effectively masks commissions and expenses, is standard for the "senior advisers" who don't appear on the payroll reports for a campaign.
A shell company is also the preferred vehicle for the "integrated businesses" set up by campaign staff to do a campaign's grunt work: ads, mail, polling, voter outreach. Some of these vendors are established firms with a large staff—for example, GMMG, which spent $302 million of Obama's campaign cash in 2012, is a huge Washington-based company that performs a variety of campaign functions. But others pop up for a single election cycle. VG LLC, for example, was anonymously incorporated midway through the Romney campaign and received $19 million for fundraising services. The campaign later confirmed that it was owned by Romney finance chair Spencer Zwick, who also charged the campaign $9 million through his older firm, SJZ LLC.
Although the Romney campaign didn't invent these perfectly legal practices, it took them to a new level. American Rambler Productions was incorporated in Delaware, where principals can remain anonymous. The Romney campaign eventually spent more than $260 million through this LLC, which, according to senior adviser Beth Myers, was set up as a general contractor for media operations to streamline operations and avoid commissions. But the collateral result is that it's impossible to determine how much of the $20 million Rambler spent on "creative" and "strategic" services went to the LLCs of top advisers Stuart Stevens, Russ Schriefer, Eric Ferhnstrom, and Myers, all of whom say they worked for a flat fee.
In addition, nine venders with ties to Romney's campaign staff received more than $160 million. Digital director Zac Moffatt, for example, steered an eye-popping $95 million to Targeted Victory, a company he co-founded in 2009. Moffat was officially on leave from the firm in 2012, collecting a $300,000 campaign salary. Myers said that like American Rambler, Targeted Victory served as a general contractor, farming out digital work to numerous smaller shops.
As a private partnership, Targeted Victory has no duty to disclose how much was paid to other companies or spent advertising on online, where 10 to 15 percent is the standard commission. Nor must it disclose the terms under which Moffatt resumed his partnership in the company, which in 2012 did more than $100 million in business for the campaign, a Romney super PAC, the Republican National Committee, and Crossroads GPS, among others.
Traditionally, commissions to the media buyer ran as high as 15 percent, with some of that kicked back to campaign staff. But as total ad spending has skyrocketed, this commission structure has been refigured. Recent practice, according to a 2012 New Yorker article by Jane Mayer, is to pay seven percent of the ad buy to the media consultant, two percent to the pollster and one percent to the campaign manager.
It's also become more common for consultants to accept a smaller commission or a flat fee. Karl Rove, a founder of American Crossroads and its super PAC, Crossroads GPS, told the Washington Post that his group gave only a 3 percent. Rove, a paid contributor to Fox News, also said he took no salary at Crossroads because donors had complained to him that "consultants set these things up, pay a commission to fundraisers, hire themselves to do the work and pay themselves too much."
That appears to be common practice in many of the new independent entities, although in the absence of subpoena power it's impossible to know for sure. The information these groups must report to the IRS or the FEC is significantly less than what the campaigns file, and the amount of money in play is enormous. The New York Times reported that the flow of cash through just the 501(c)4 "social welfare" organizations rose from $5.2 million in 2006 to $310.8 million in 2012.
Salaries are generous, where they exist. When he was ousted from FreedomWorks in an ideological struggle, Dick Armey received an $8 million severance, paid out at $400,000 a year for 20 years, to compensate for lost income. John Murray, a former aide to Representative Eric Cantor, founded a 501(c)4 called YG Network and paid himself $638,000 in 2012, though the organization handled less than $10 million in grants. But many 501(c)4 list no paid staff for 2012, despite revenues in the tens of millions. The big payoffs likely came when, like Sean Noble, the principals steered contracts to their private firms and those of close associates, who could turn around and pay them a consulting fee.
One particular suite of offices in Alexandria, Virginia, epitomizes the tangled web of easy money and overlapping personnel. RedState's Erick Erickson charged that the fifth floor of 66 Canal Center Plaza is where the Republicans' 2012 campaign efforts were "bled to death by charlatan consultants making millions off the party, its donors and the grassroots."
Suite 555 housed no fewer than 11 separate organizations, both for-profit and non-profit, working for the Romney campaign, the Romney super PAC, the Republican National Committee, American Crossroads, and assorted smaller entities. The ringmaster was Carl Forti, a legendary operative who was political director of Romney's 2008 campaign and then became a strategic adviser to his 2012 super PAC, Restore Our Future, while also serving as political director of Rove's Crossroads GPS and running a consulting firm, the Black Rock Group—all out of Suite 555. Meanwhile, Forti's partner in Black Rock, Michael Dubke, was also on the premises running Crossroads Media, the private firm that got more than $161 million in media business from its suite mates.
The New York Times created a graphic of the intermingled interests in Suite 555, but it overlooked at least one key player: Americans for Job Security, which spent $48 million in 2012. Founded by veteran GOP consultant Dave Carney and previously run by Dubke, AJS is now officially headed by Steve DeMaura. But according to a report by the Center for Public Integrity, Carney still "works in the background, drumming up business." In the California case, for example, it was Carney who steered the fundraisers to AJR (which took a $1.5 million cut) and also directed them to use Crossroads Media for any ad work.
Crossroads Media has been described as "effectively an in-house ad agency for Rove's political empire." For the tenants of Suite 555, Bloomberg noted, keeping the media business in house was "potentially a way to increase their own personal take."
If all this is too complicated to follow, it seems to be intentional. The thicket of interrelated groups makes it difficult to follow the money or discern how much anyone took home in 2012. Forti, for example, did not earn a salary from either Restore Our Future or Crossroads GPS. Did he volunteer his time? The consulting fees Black Rock Group collected from officemates who had to report then to the FEC or the IRS total more than $300,000, but there's no way to know how much Dubke might have steered to the firm in the course of spending $161 million at Crossroads Media.
FEC rules prohibit "coordination" between a campaign and a super PAC, and when consultants work for both—as several did in Suite 555—"regulators should question whether they are operating independently," campaign-finance experts told ProPublica. But without more robust spending disclosure rules such questions don't go far.
Alexander Gage, founder and CEO of Target Point Consulting, another Canal Place Plaza tenant working for both the Romney campaign and the super PAC, told the New York Times, "it's not like we're a commingled office," noting that a conference room separated his shop from Forti's Black Rock Group. As for his wife, Katie Packer Gage—who was deputy campaign director for the Romney campaign, as well as a one-time partner in another suitemate that did business with both the campaign and the super PAC—Gage said she worked out of Boston and they didn't discuss campaign specifics.
"I'm sure most of the individuals playing these roles are getting legal advice on what they can and cannot do," said Rick Hasen, a law professor at UC-Irvine who runs the Election Law Blog. "The human brain being what it is, though, I think it is very difficult to separate those roles."
No One's Watching the Store
In their 2010 Citizens United decision, the justices maintained that full disclosure of campaign-finance activity would be an adequate safeguard against the ill effects of unfettered spending. But "the transparency the Supreme Court relied upon to justify this new framework has been sorely lacking," says Sheila Krumholz, director of the Center for Responsive Politics. Mired in partisan rancor, neither the FEC nor the IRS has updated its regulations to deal with the new reality.
The current disclosure regulations at both agencies are weak, lopsided, and poorly enforced. For donors, at least, the rules attempt to track contributions all the way back to the person who writes the check, even if the trail is sometimes lost in a thicket of dark money. On the spending side, however, reporting requirements stop at the door of a vaguely named LLC, with no final accounting as to services rendered or profits made.
The FEC initiates enforcement activity only in response to complaints. But for years it has been too polarized to do even that. The panel has been largely missing in action in the crucial years following the Citizens United ruling, too paralyzed by partisan bickering to write new rules for a new reality.
As for the IRS, the agency was overwhelmed by the flood of new applications for tax exemptions since 2010. It tried to stay on top of things by issuing "BOLOs"—or "be on the lookout" advisories—with key words that might indicate political activity. Those tags—"tea party," "patriot," "freedom," "occupy," etc.—became a partisan flashpoint and the BOLOs have now been discontinued.
Two other factors hamstring IRS oversight. One is that a 501(c)4 is allowed to "self-declare" as a tax-exempt group. The result, thanks to filing extensions, is that it can operate for nearly two years before the IRS has a chance to judge whether its activities legitimately fit the definition of social welfare, or whether it should have been registered as a 527 non-profit engaged in electioneering, which would require disclosing donors and spending during the campaign. By then the election is over, and no fines or headlines will reverse the group's impact on the vote. Nor would a civil fine faze an organization supported by multibillionaires. (The $1 million levied against CPPR and ARL was quickly paid by cashier's check with no indication where the money came from.)
The other stumbling block to IRS enforcement has been the vague concept of "social welfare." The law governing 501(c)4 groups requires them to act "exclusively" for the promotion of social welfare. But in its regulation pursuant to the statute the IRS replaced "exclusively" with "primarily," creating a giant loophole through which hundreds of millions have flowed. The 501(c)4s now interpret the rule to mean that they just need to keep their political work to less than half the total reported spending. These groups also routinely claim the money they pass on to other 501(c)4s for "program support" as part of their social-welfare obligation, without identifying the other group's activities.
Citizens for Responsibility and Ethics in Washington (CREW) recently asked the IRS to investigate Grover Norquist's Americans for Tax Reform (ATR), a 501(c)4 that reported $15,794,582 in political spending to the FEC but only $9,791,515 in political spending to the IRS. If the higher figure is the correct one, then ATR spent slightly more than 50 percent of its $30.9 million budget for 2012 on politics, a violation of its tax-exempt status.
OpenSecrets.org pointed out that the higher figure also means that part of the $26 million Crossroads GPS gave to ATR in 2012 was surely used for political purposes, so it cannot be claimed as a "social-welfare expenditure" by Rove's group. Jonathan Collegio, a spokesperson for Crossroads GPS, suggested that ATR might have been spending money left over from 2011. Marc Owen, a former head of the IRS's Exempt Organizations division, examined all the filings for ProPublica and dismissed that explanation as "bullshit with a serving of horseshit on the side."
CREW and Senator Carl Levin, a Michigan Democrat, are part of the chorus that has been demanding new IRS rules on social-welfare groups. Finally, in late November, 2013, the agency did propose new 501(c) guidelines to clarify what counts as political activity and set a specific limit on it. The proposed rules address the issue of counting grants to another 501(c)4s as social-welfare spending, but do not address the delay in tax returns for "self declared" groups. Any proposed changes are sure to reignite the bitter fight waged over BOLOs, however, and the comment period will likely push any reforms past the 2014 election.
Last April, the Congressional Research Service issued a report on super PACs that concluded: "In the absence of additional reporting requirements, or perhaps amendments clarifying the FEC's coordination rules, determining the professional networks that drive super PACs will likely be left to the media or self-reporting." (Emphasis mine.)
Yet the press has been slow to investigate the financial underpinnings of the "campaign-industrial complex." Traditionally, the presumption seems to have been that these folks are motivated by ideology and personal loyalty; their payoff, if any, is just a happy coincidence and a private matter.
But rich new financial incentives may help explain why politics has become viciously polarized while the majority of voters remain in the center. It's high time for the U.S. media to ask: Was the behavior exposed by California investigators an aberration or a rare glimpse into a widespread system of money laundering and self-enrichment? Is Sean Noble a rogue actor or a typical foot soldier on the modern battlefield?
Nothing about Noble's personal payday is illegal—the California campaign violation involved donor disclosures. But it should be newsworthy as evidence that, as Washington Post associate editor Robert Kaiser observed in his book So Damn Much Money, "extremism ... pays, literally." And that was before Citizens United.
The Daily Beast's John Avlon recently described how Sarah Palin's SarahPAC spent most of its money on consultants and only a small fraction on candidates. He called the PAC "a lifestyle play, propping up an expensive ideological entourage," and was moved to quote the great labor intellectual Eric Hoffer: "Every great cause begins as a movement, becomes a business, and eventually degenerates into a racket."
The press needs to keep up.