The Republican Primary to End All Republican Primaries
Texas Senator John Cornyn's challenge from Steve Stockman, a militia-loving birther congressman, could be the ultimate expression of Tea Party nihilism.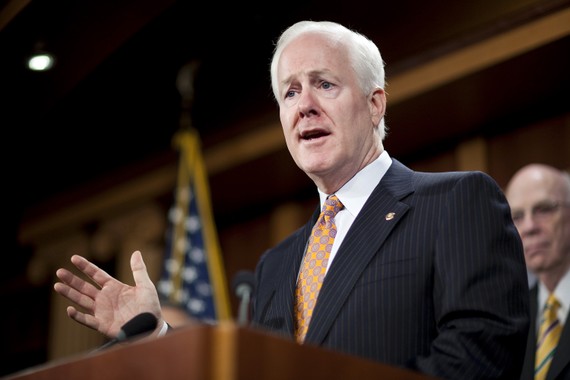 John Cornyn, the senior senator from Texas, is nobody's idea of a liberal. He once compared gay marriage to the "union of man and box turtle." He has a solid 'A' rating from the National Rifle Association. He has opposed both of President Obama's Supreme Court nominees and briefly threatened to block the nomination of Hillary Clinton for secretary of state. He is considered one of the oil industry's most reliable votes in Congress and once suggested there might be a connection between murders of judges and public anger at liberal judicial activism. When most of the Texas GOP establishment lined up behind David Dewhurst in his Senate primary against a newcomer named Ted Cruz, Cornyn remained pointedly neutral. Last year, National Journal rated him the second most conservative senator.
None of this, naturally, has exempted Cornyn from the skeptical glare of his party's right wing. Cornyn has served in Senate Republican leadership since 2007, first as conference vice chairman, then as chairman of the National Republican Senatorial Committee, responsible for getting more Republicans elected to the Senate. Serving in leadership is something only Washington Insiders do, and therefore not to be trusted. Over the summer, Cornyn initially joined Cruz's call to defund Obamacare, but he took his name off the effort when it began to look like a recipe for shutting down the government. Tea Party groups immediately branded him a turncoat. In this image from a September fundraising email from the Tea Party group FreedomWorks, Cornyn is at bottom right, looking plaintive: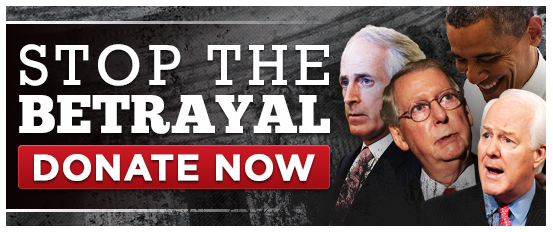 Cornyn is up for reelection next year, and on Monday—the Texas filing deadline—he got a last-minute primary challenger in Steve Stockman, a newly elected member of Congress who prides himself on reactionary outrageousness. Stockman has been calling for Obama's impeachment since shortly after taking office in January and has pushed legislation to investigate Obama's birthplace. He brought Ted Nugent as his date to the State of the Union and raffled an AR-15 for the Fourth of July. When a rodeo clown in Missouri drew controversy for wearing an Obama mask during a bull-baiting routine, Stockman promptly issued a press release inviting him to Texas: "Liberals want to bronco bust dissent," Stockman declared.
This is actually Stockman's second tour in Congress. His first stint came in 1994, when he was swept in with the Newt Gingrich wave—though once in Congress, he deemed Gingrich insufficiently conservative. The Stockman of the '90s styled himself an ally of the then-flourishing militia movement, winning in an upset by accusing a veteran Democratic congressman of supporting the federal raid on the Branch Davidian cult compound in Waco. Stockman later argued that the Waco raid was a government setup designed to create public sympathy for an assault-weapons ban. "These men, women and children were burned to death because they owned guns that the government did not wish them to have," he wrote, in an essay coincidentally published in Guns & Ammo magazine immediately after the 1995 Oklahoma City bombing. In 1996, he was defeated by a Democrat.
Stockman's past is littered with curiosities, as Tim Murphy has recounted in Mother Jones. His wayward youth found him charged with a felony for stashing Valium in his underwear; homeless, he spent several months living in a public park. In the 1990s, Stockman found Jesus and began running for Congress. He finally won on his third try, boosted by support from a direct-mail firm seeking revenge (Stockman's opponent had tried to regulate the industry) and a supposedly independent "newspaper," published from Stockman's home address, that called out government officials as "sodomites" and "mean lesbians." In his current term, Stockman has been dogged by campaign-finance violations and accusations he failed to disclose numerous business ties as required. He was one of 10 House Republicans who refused to vote for John Boehner for speaker, citing "bedrock conservative principle."
Tea Party groups had been clamoring for a challenger to Cornyn. Stockman's candidacy will test how far they are willing to go in their quest for conservative purity. Cornyn has nearly $7 million in his campaign fund; Stockman has $130,000 more debt than cash on hand for his campaign. He filed his candidacy 15 minutes before the deadline and gave an exclusive interview to the website WND, a clearinghouse for birther theories: "We are extremely disappointed in the way [Cornyn] treated his fellow congressmen and ... undermined Ted Cruz's fight to stop Obamacare," Stockman said. The Tea Party Patriots immediately expressed their support; the Senate Conservatives Fund vowed to "watch the race closely," calling Cornyn "part of the problem in Washington." Both Cruz and the Club for Growth, however, said they would stay out of the race.
Right-wing primary challenges to conservative Republican senators are about to become a dominant political story, with Cornyn joining Mississippi's Thad Cochran and Kentucky's Mitch McConnell in trying to fend off threats. Even if the insurgents are easily defeated, they will have forced GOP incumbents to confront and repudiate the radical element of their party and the vocal faction of the Republican base that supports it. The Tea Party is itching to prove that it still has the rabble-rousing capacity it showed in 2010, when its pyrrhic drives elevated losers like Sharron Angle and Christine O'Donnell but cowed the surviving Republicans.
But if even staunch conservatives like Cornyn can't satisfy the right, the Tea Party has truly entered its dada period. Before, right-wingers were content to purge actual moderates, like former Indiana Senator Richard Lugar and Delaware Representative Mike Castle, or patrician establishmentarians like Dewhurst. Now all it takes to provoke their wrath is the belief that government ought to be allowed to function. Next, perhaps they'll they turn on Cruz, who serves on several Senate committees and is vice chair of the senatorial committee. I asked a GOP consultant who follows Senate races what Cornyn's supposed sin against conservatism had been—what transgression earned him the wrath of the right. "Well," the consultant answered, "the honest answer is that he's not crazy."