The Obama 'Selfie' Photog Speaks: 'Photos Can Lie'
The journalist who snapped the picture seen 'round the world says everyone's getting the story wrong.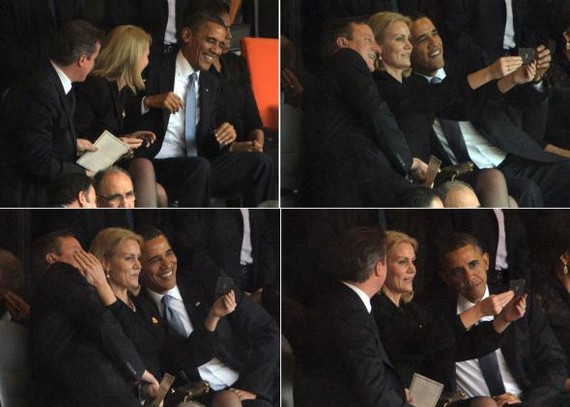 Roberto Schmidt, the AFP photographer who snapped three leaders of the free world in a "They're just like us!" moment taking a selfie, says the moment he froze in time has been blown way out of proportion and is being interpreted incorrectly. Far from being an inappropriate moment of levity during a somber ceremony, the picture took place during a joyous and loud interval during the four-hour celebration of Nelson Mandela's life in Johannesburg:
I captured the scene reflexively. All around me in the stadium, South Africans were dancing, singing and laughing to honour their departed leader. It was more like a carnival atmosphere, not at all morbid. The ceremony had already gone on for two hours and would last another two. The atmosphere was totally relaxed—I didn't see anything shocking in my viewfinder, president of the US or not. We are in Africa ....

I doubt anyone could have remained totally stony faced for the duration of the ceremony, while tens of thousands of people were celebrating in the stadium.
Nor was Michelle Obama stony-faced throughout, Schmidt wrote on AFP's "Behind the News" blog:
I later read on social media that Michelle Obama seemed to be rather peeved on seeing the Danish prime minister take the picture. But photos can lie. In reality, just a few seconds earlier the first lady was herself joking with those around her, Cameron and Schmidt included. Her stern look was captured by chance.
The White House has been accused of propagandizing by tightly restricting news photographers' access to the president. And photographers have been right to urge news consumers to be wary of the flood of perfect images that come out of the White House, however appealing they may be. But sometimes, Schmidt reminds us, news photos may not be telling us the truth either.