The Most 'Alaska' Headlines of the Year
"Rescued snowmachiner says she didn't hallucinate wolves" and other run-ins between humans and animals above the 49th parallel.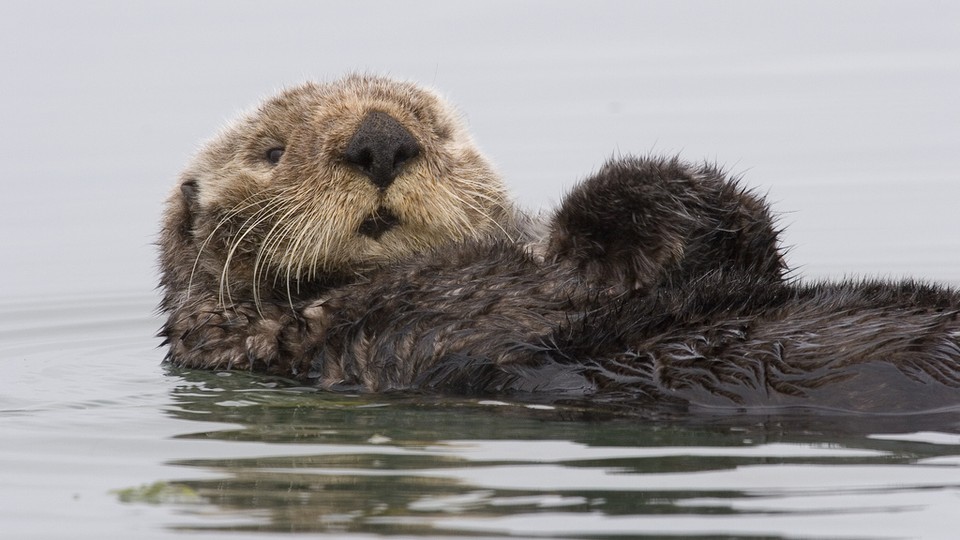 Move over, "Florida Man," the year's best headlines — and by best, we mean those seemingly written by Mad Libs — belong to the animals of Alaska, and their often ill-fated interactions with humans.
Enjoy.
The man threw a piece of meat at the bear, which ate it, she said. Then he offered another piece, she said.
"That's when it kind of went ballistic."
"As soon as I saw it, I thought 'small bear.' " Afterwards, he said, he recalled terrible maulings and fatal attacks in Alaska by black bears a little more than 100 pounds. "Have you ever tried to fight with a 5-pound house cat? They've got claws and teeth and they can hurt you, too."
... [Being Alaska, the story then segues into a run-in with a moose.]
Marshall said she spoke to the animal — "I said, 'Go away, go away,' " — but instead it kicked her with a foreleg, hitting her hard on the right thigh. A second blow by the moose hit her in the left hip. That's when she decided to keep quiet.
[A lot of bear maulings happen in Alaska.]
Jim Tuttle knew the bear that mauled him.
Its nickname was Buddy. Tuttle and the hunters he guided often spotted the small female grizzly in the rolling tundra northwest of Anaktuvuk Pass.
The man who was mauled by a black bear after tossing barbecue meat at the animal Saturday has been ticketed for illegally feeding game, Alaska State Troopers say.
A reminder: Anchorage bears aren't hibernating yet.
He still misses Buddy, one of four turkeys he incubated at home four years ago after receiving a shipment of eggs from his home state of Nebraska. The turkey used to rub up against Vinduska like a cat or a dog. He'd also get bored and chase cars.
"He would run out and bite at their tires," Vinduska said. "You'd see these people go, 'What the heck?' A turkey is biting at their tires. He'd be so proud when they drove off like he ran them off."
One of three men on a charity bike ride from Idaho to Alaska shifted into high gear on the Alaska Highway in the Yukon when a wolf started pursuing him. Mac Hollan managed to fire a blast of pepper spray into the wolf's face, but the pursuit continued.
"We were out (looking) for caribou or anything. Wolverine. Whatever we could find, and we run into that bear," said [James] Tazruk...
Kevin Mayo says rescuers may have trampled any wolf tracks and her vivid description makes him believe his mother saw the predators. But mostly, he's happy his mother was found alive.
His father, Scott Mayo, was found safe a few hours later.
Thirsty and missing three shoes, a horse that went missing for a week in the Chugach Mountains has been rescued, according to its owners.
At about 5 p.m. Saturday, Christene Gravley said her husband B.J. and a friend, Rose Brigmon, had emerged from the Chugach with Windy, the animal that escaped from a sheep hunting camp last weekend.
The politi-cat survived the brawl with an estimated 5-inch gash along his side, a punctured lung and a fractured sternum, CNN reports. Stubbs is reportedly now breathing on his own after relying on a chest tube since the attack over the Labor Day weekend. He has been receiving care at the Big Lake-Susitna Veterinary Hospital.
BONUS CANADIAN HEADLINE
An unidentified American visiting Dawson, Yukon, deliberately swallowed a human toe that's the draw — and the dare — in the Downtown Hotel's famous "Sourtoe Cocktail" ritual. Drinkers are supposed to let the toe touch their lips, but the man nonchalantly swallowed the toe along with the cocktail in one gulp and dropped $500 on the table to pay the "fine" for taking the toe.