The Long Budget Nightmare Is Over
They grumbled a bit, but senators passed the compromise budget deal.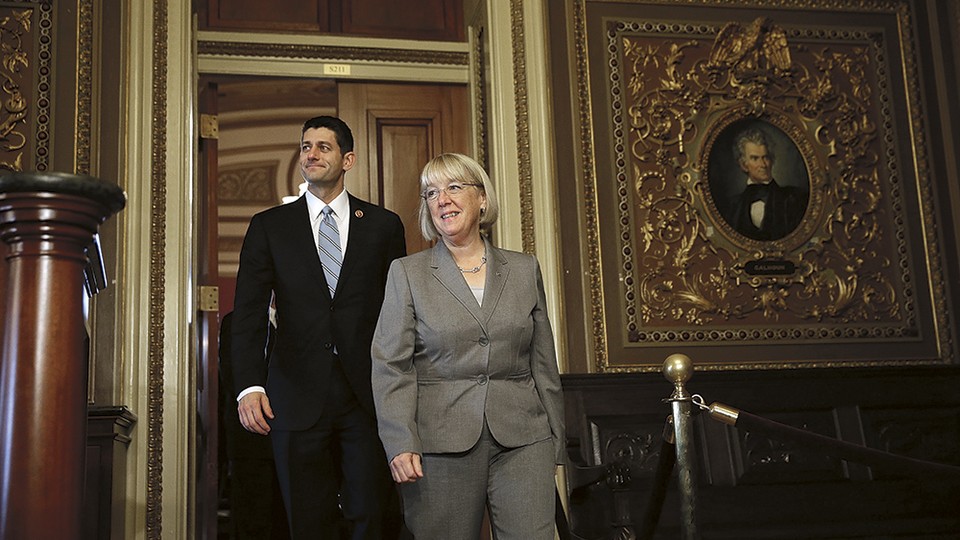 They called it "small." They called it "flawed." But Congress passed a two-year budget deal, ending months of acrimony on Capitol Hill and ensuring that the New Year will ring in with far less chance of a government shutdown.
The Senate passed the Bipartisan Budget Act of 2013 on a 64-36 vote Wednesday, sending the bill to President Obama's desk, where he has said he'll sign it.
The modest deal, cooked up by Senate Budget Chairwoman Patty Murray and House Budget Chairman Paul Ryan, sets top-line spending levels for the government through October 2015, while reducing sequestration cuts by $63 billion over the next two years.
When asked how she felt after the bill she worked on for nine months finally passed the Senate, Murray was characteristically brief. "I am good," she said. When pressed for more information, she added: "I'm glad that we have given some continuity back to the American people."
The bill sets top-line spending for the remainder of fiscal year 2014 at $1.012 trillion — the halfway point between the Democratic and Republican budgets. Now that it has passed, congressional appropriators can formally begin the task of funding the federal government.
Senate Appropriations Chairwoman Barbara Mikulski; her House counterpart, Rep. Harold Rogers; and their subcommittee chairs have already begun discussions and will be working through the holidays to craft a 12-bill omnibus package that Congress will address when lawmakers return in January. The current funding mechanism, a continuing resolution passed at the end of the October shutdown, expires Jan. 15.
But while the budget bill will allow appropriators to do their work and lend some certainty to businesses and federal agencies, it has drawn criticism for failing to address some of the nation's long-term fiscal issues, including entitlement spending, the debt ceiling, and tax reform.
Sen. Mike Johanns, R-Neb., who is retiring next year, opposed the budget bill Wednesday, saying he worries that while the deal has likely prevented a shutdown in January when the current continuing resolution expires, it has taken the pressure off Congress to deal with big-picture items.
"The pressure is off now. Nothing will happen for the next 24 months. No entitlement reform. There'll be no serious budget discussion, because now we're on auto-pilot for the next two years," Johanns said Wednesday.
But in a Congress that has failed to accomplish most of its major goals in 2013, even passing a small-ball budget agreement was deemed a success by several lawmakers.
"I think the majority of Americans are surprised that there's any agreement," Sen. John McCain, R-Ariz., said on the Senate floor while praising Murray Wednesday.
Though the bill passed with a majority of the majority in both chambers, not everyone is happy with its contents. Democrats in both chambers have complained loudly that it does not extend unemployment-insurance benefits, which expire on Dec. 28.
And several senators in both parties are concerned about a provision that will reduce benefits for retired veterans. A cadre of lawmakers are already pushing legislation to eliminate the pension cuts, and the Senate Armed Services Committee has vowed to take up the measure next year.
"I have no doubt. We will repeal it. OK? Without a doubt," McCain, a member of the Armed Services Committee, said Wednesday. "I promise."
In the meantime, Murray and a bipartisan group of senators plan to introduce a technical fix that will exempt disabled veterans from the pension changes. A vote on that change could come as soon as Thursday, and Murray allies believe that it could pass easily under unanimous consent. The question is whether the measure will make it to the floor.
"We're running into the same problem that everybody is right now, which is that a there's a certain number of Republicans that are intent on blocking everything," a Senate Democratic aide said.
That measure has the support of Ryan, as well as other House Republicans, according to the aide. However, it will not be paid for, adding $600 million to the budget's price tag.
Republicans, meanwhile, are pushing to end the cuts for all retired military personnel. One proposal from Sens. Roger Wicker, R-Miss., and Lindsey Graham, R-S.C., among others, would pay for it through a provision in Obama's 2014 budget proposal that would tighten the proof-of-eligibility requirements for individuals receiving the Earned Income Tax Credit.
"What I'm hearing around here is a lot of agreement that it needs to get fixed," said Sen. Kelly Ayotte, R-N.H. "My hope is that it will happen pretty quickly, that we'll get together on a bipartisan basis with the House."
Despite Majority Leader Harry Reid's predictions this week that the deal would usher in a new era of bipartisanship among senators, Republicans are adopting a starkly different view, frustrated that they cannot offer amendments on most legislation and can no longer block presidential nominees since Democrats invoked the so-called nuclear option.
"The fact that this discriminatory cut in pensions for active duty military can't be fixed because Senator Reid won't allow any amendments to something that would enjoy broad bipartisan support says a lot about how broken the Senate is," said Minority Whip John Cornyn, R-Texas. "I think the Senate is as divided as it has ever been, and it's thanks to Senator Reid."