The Grinches Who Stole Christmas Programming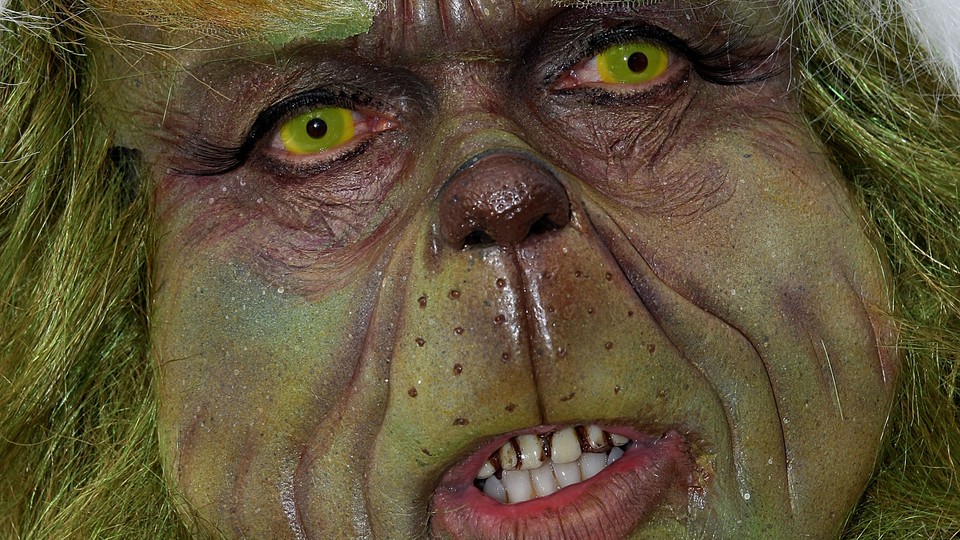 It's Christmas Eve in Montana. You turn on your TV for a time-honored viewing of It's A Wonderful Life. But you can't find the Christmas classic, or even the NBC affiliate that's supposed to be carrying it it. Or perhaps you're in North Carolina, hoping to watch some NBA basketball after the Christmas feast. Or northern California, settling in to watch your 49ers finish out the regular season. And you can't.
For viewers in eight media markets, TV blackouts are coming at an unfortunate time. The real Grinch, say cable and satellite advocates, is broadcast conglomerates trying to steal consumers' money by hiking up prices to carry their stations. Sorry, Scrooge, broadcasters respond, but you're to blame for your unwillingness to pay a fair amount for our service.
So, what's the cause of all of this bickering? The disputes stem from an issue most people don't give much thought — retransmission consent agreements. Current law requires cable and satellite providers to meet every few years with local TV stations to determine how much they'll pay to keep the affiliate's programming on their lineup. If they can't settle on a number, subscribers to that regional provider lose access to the station until the negotiation is resolved.
In Montana, for example, Bonten Media Group — which owns NBC Montana — is at odds with DISH Network over payment for its programming. DISH claims the group is trying to triple its prices; NBC Montana said that number is misleading and its demands are still below the prices some major cable channels command. In the meantime, DISH customers in Missoula, Butte and Bozeman will be without Sunday Night Football, Parks and Recreation and all other NBC programming.
"These blackouts are increasing rapidly because these broadcasters realize that they can play these TV companies off of one another," said Brian Frederick, spokesman for the American Television Alliance. ATVA's partners include a number of cable and satellite companies, such as DISH, DirecTV and Time Warner Cable.
The problem, Frederick said, is when broadcast companies force price hikes by blacking out stations on one company and telling customers to find a new provider. The company, lacking a popular channel and losing viewers, is then pressured into a bad agreement to avoid losing market share. Then the same tactic is used on the next provider when its retransmission consent agreement is re-negotiated.
Those claims are part of a manufactured crisis, countered the National Association of Broadcasters' Dennis Wharton. Satellite and cable companies are unwilling to pay a fair price, he said, and are resorting to disruptions — NAB doesn't like the term "blackout" — in hopes of pressuring Congress to intervene.
"Their motivation here is to try to get the TV viewers who are pawns in their little game here to call Congress and say, 'I want my TV back,'" Wharton said.
Will it work? That remains to be seen. Sources on both sides said they expect Rep. Steve Scalise, R-La., to unveil legislation soon that would eliminate retransmission consent rules. Scalise proposed similar legislation with then-Sen. Jim DeMint, R-S.C., in 2011. Meanwhile, Rep. Anna Eshoo, D-Calif., is pushing a bill that would allow the Federal Communications Commission to grant interim carriage of stations while negotiations are ongoing. It would also give consumers choices on purchasing broadcast stations through cable and satellite providers. It's unclear if either bill can gain traction in the House.
ATVA has not endorsed any specific legislation — "There's a lot of potential solutions," Frederick said — but the group supports efforts by members of Congress to reform the current law. It's also calling on the FCC to do more to "protect consumers."
Wharton said that push for reform has led to more viewers getting blacked out so that satellite and cable companies can use them as an example of why the rules are unfair. He advised blacked-out viewers to find a new provider or even use their antenna — whatever it takes to watch their Christmas specials.