The Federal Government Just Bought a Dinosaur
And it might just have bought a prehistoric crocodile, too.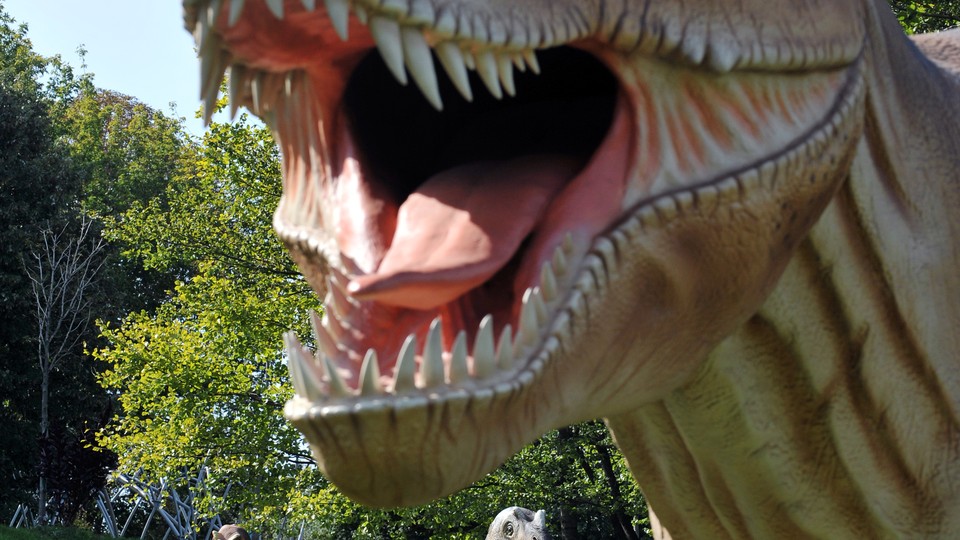 Doswellia are 7-foot-long carnivorous reptiles with boxy bodies, flat heads, and long necks — and the National Park Service just bought one a home.
Safari enthusiasts, however, will not get to see the creature in action. Doswellia have been extinct for somewhere in the neighborhood of 200 million years, and the specimen in question is just a skeleton. But it's a rare find, even as fossils go, and paleontologists were excited when they came across the skeleton this summer in northeastern Arizona. Nearby, researchers also found the well-preserved, 2-foot-long skull of a phytosaur, a relative of the doswellia and a distant ancestor of the modern crocodile.
And researchers say that beneath both finds, they've found the petrified and fossilized remains of a prehistoric pond ecosystem, full of prehistoric fish, amphibians, plants and reptiles.
All of this was too much for the Park Service to resist, and on Monday the service announced that it had bought the formerly private land for preservation and further excavation. In total, the service purchased 4,265 acres (just over 6.5 square miles). The land will now become part of the Petrified Forest National Park, a 146-square-mile stretch of protected wilderness in Arizona that is — as its name suggests — rich hunting ground for fossil finders.
The land was purchased for about $1.3 million with funds from the Land and Water Conservation Fund, a program that uses royalties from offshore oil and gas drilling to buy high-priority land. Additional support came from an anonymous private donor, the Park Service says.
Putting the land into federal conservation will keep park vistas pristine, the service said in a release. The arid area features several high-elevation sites from which to survey its colorful rock formations.
Despite the use of royalty fees — rather than direct taxpayer contributions — new federal land acquisitions are frequently controversial in Congress, as western Republicans have questioned why the service would acquire more land at a time when it has a multibillion-dollar maintenance backlog on its existing holdings.
But this purchase had a strong local backing, including from Democratic Rep. Ann Kirkpatrick — who cited the park's economic benefits through tourism — and Republican Sen. John McCain.