The Biggest News in the Healthcare.gov Report: Just How Bad It Was
In order to boast how far the federal site has come, HHS laid out how poorly it used to run.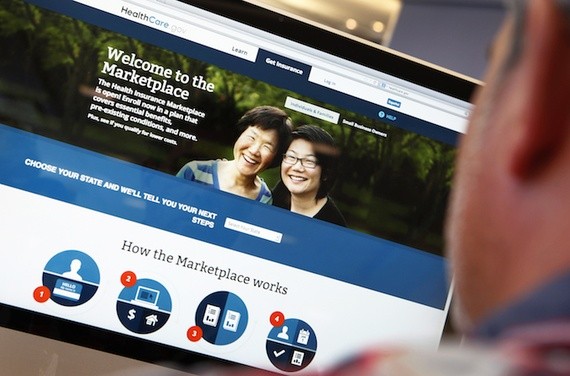 Federal officials said Sunday they had achieved their goal of making Healthcare.gov work smoothly for the vast majority of users.
"The site is now stable and operating at its intended capacity," Jeffrey Zients said in a morning conference call with reporters that formally announced the achievement of a trio of goals.
As expected, Zients—the former health-care-management consultant and Office of Management and Budget official tasked with leading the website-repair effort—said the site would now be able to serve 50,000 users at the same time and had reduced error rates and page-load times to acceptable levels.
"The bottom line: Healthcare.gov on December 1st is night and day from where it was on October 1st," Zients said.
To drive that point home, the Department of Health and Human Services released a report that detailed just how badly the site was functioning in October and early November. According to the Healthcare.gov Progress and Performance Report, the site was offline more than it was online in at the start of November: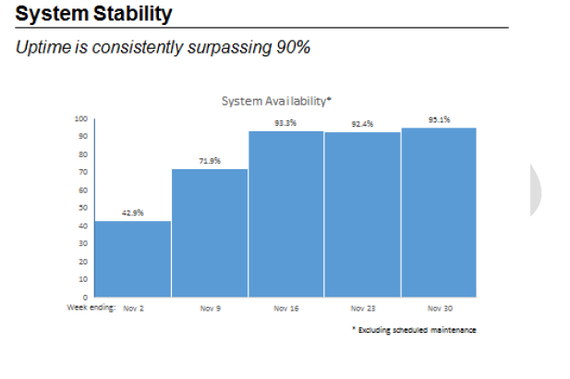 Zients said uptime in October was similar to what was seen in that first week of  November. That means that by the time President Obama spoke in the Rose Garden on October 21 to urge people to use a 1-800 number instead of Healthcare.gov, the site had been functionally offline the majority of the time during its first three weeks.
Uptime "the week ending November 2nd, was only 42.9 percent," Zients said. "In fact, that's what we think the system averaged through most of October as well."
People trying to use the site in October had an "unacceptable user experience marked by very slow response times, inexplicable error messages, and system outages," he said.
In addition to the increase in uptime since then, load time and error rates have been markedly decreased. According to the HHS report, error rates were rapidly brought down in the first two weeks of November: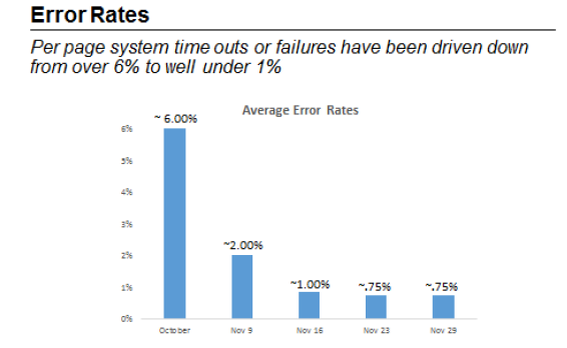 And load times were also dramatically reduced during this time: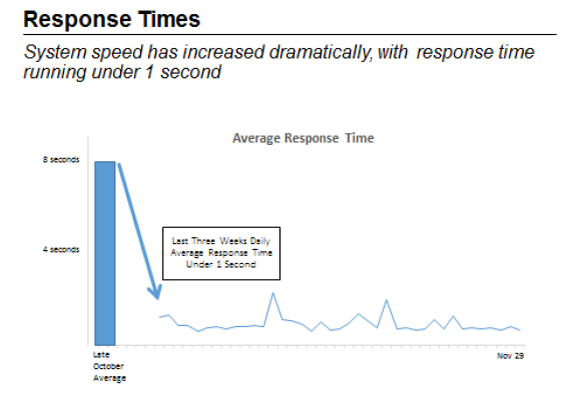 A substantial number of hardware upgrades were also put in place to correct the massively inadequate pre-launch build-out: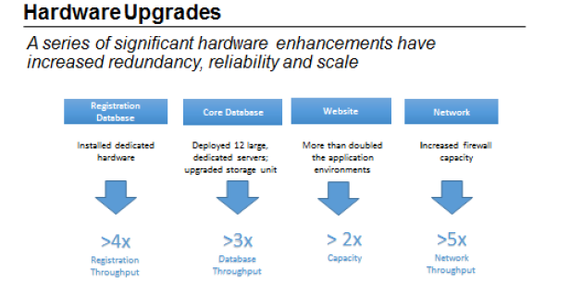 Zients said his conclusion after studying the site in late October was that it needed a new management structure and approach, one "working with the speed and urgency of a high-performing private-sector tech company." That team was soon brought into place, he said, and will continue to build on the work done so far in the months ahead. Zients declined to say who would replace him as operational head of the Healthcare.gov repair effort in January, when he is scheduled to become director of the White House National Economic Council.
For now, "I am head down focused on this project 24-7," he said.
As for the critical question of whether the error rates in transferring consumer purchase data to insurers through "834 forms" had been brought down, Centers for Medicare and Medicaid Services spokeswoman Julie Bataille said that fixes had been put in place but that that question could not be resolved until there was an "increased volume of traffic" and number of people seeking to buy insurance.