The American Campaign Operatives Behind Mandela's Presidential Campaign
Stanley Greenberg and Frank Greer got to see the late icon up close when they worked for his election.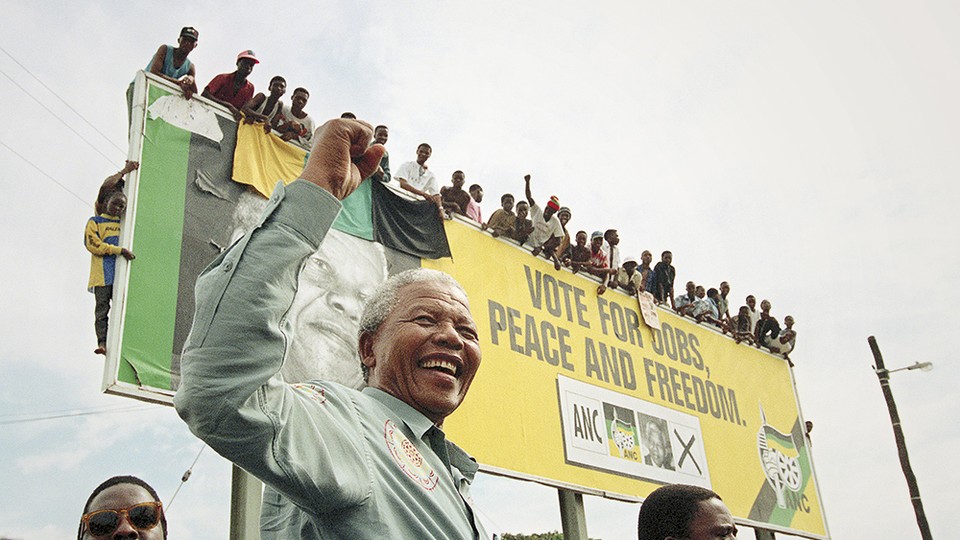 Millions of Americans were moved and inspired by Nelson Mandela. But only a handful ever worked for him.
Stanley Greenberg and Frank Greer, two longtime Democratic political consultants, make both lists. Just after their leading roles in Bill Clinton's 1992 presidential election, Greenberg, a pollster, and Greer, a media adviser, joined a nonpartisan delegation that conducted a 1993 election workshop for all of South Africa's political parties. When a representative of Mandela's African National Congress approached them after the meeting to work for his campaign in the nation's first postapartheid election the next year, each quickly agreed.
From that day forward, few Americans saw Mandela from as revealing a perspective as they did. Greenberg spent more time on the ground, but both advised him in his 1994 campaign and subsequent presidency. And each, in a career of serving outsized personalities and incandescent achievers, recognized Mandela as a titanic figure distinguished by his distinctive blend of determination and empathy, idealism and pragmatism, sweeping vision and personal kindness. "In meetings where he was making enormous judgments that had immense consequences, he was also doing personal things for the people in the room," Greenberg recalled this week. Greer said, "The more you got to know him, he was bigger than his public image, because he was so thoughtful and generous. I had rarely seen anybody who was so big of spirit."
For each man, the opportunity to advise Mandela struck a deeply personal chord. Before beginning his polling career, Greenberg had lived in South Africa as a young political scientist, written an "impenetrable" book about it, and testified in Congress for sanctions against the apartheid government. Greer saw his work in South Africa as a culmination of his opposition to segregation ("our own system of apartheid") in the Alabama of his youth. Both were conscious of their incongruous status as white Americans advising an African movement whose grueling racial struggle was symbolized by Mandela's 27 years in prison. And yet both say they were welcomed, not least by Mandela himself.
Mostly, each perceived in Mandela a leader with an unmatched sense of proportion and perspective, who could peer distantly into history's long arc without forgetting the humanity of those around him. Greenberg saw this combination most vividly when Mandela met with his closest advisers during the turbulent final days of the 1994 election that ultimately saw his selection as president.
The group sat in the ANC's Johannesburg headquarters trading reports about armed attacks on voters and blatant vote-stealing by the Inkatha Freedom Party, a rival rooted in the Zulu tribe, in its stronghold of the northeastern province of KwaZulu-Natal. Quickly, a sense of outrage grew around the table, fueled partly by memories of an assault from Inkatha supporters on the ANC headquarters itself only a few weeks earlier.
While the group bristled with demands to challenge the election results, Mandela said nothing. Instead, he circled the table, quietly pouring coffee or tea for his aides. Only after everyone spoke did Mandela finally intervene. He told the group there would be no protest, no press conference, no cloud over the results. "We will not do anything to make the election illegitimate," he said simply.
To Greenberg, who recounted the story in his 2009 memoir, Dispatches From the War Room, the moment captured Mandela's greatness. While his advisers were windswept by their (understandable) sense of grievance, Mandela recognized that with the ANC still headed for victory, it was more important to avoid questioning the validity of an election that consecrated the historic shift of power from the white minority to the black majority. "There was a calmness about him amid this madness," Greenberg said. "He had his eye on the prize and this unbelievable mature judgment that let him "¦ go to obviously the right decision."
Greer saw Mandela's unique combination of gifts when he sat alone with him just before his sole 1994 debate with F.W. de Klerk, South Africa's last apartheid president and the leader of the opposing National Party. The stakes were enormous, and yet Mandela surprised Greer by asking if he had any children; when Greer said he had a young daughter, Mandela asked if he had a picture of her. After Greer produced it, Mandela wrote her a note on the back, so that, he told Greer, the little girl would know why her father was so far from home. Then Mandela walked into the debate and sealed his victory with a dominating performance.
In power, the ANC has struggled to deliver on the initial campaign slogan Greenberg and Greer helped coin: "A better life for all." Greer remains sympathetic to the ANC, but Greenberg, disillusioned with Mandela's successors, now advises the opposition Democratic Alliance. Yet they remain united in the conviction that Mandela's unique ability to advance his goal of a multiracial democracy, while tirelessly reassuring those who feared that result, allowed him to unify a nation that might have fractured into chaos. Mandela viewed empathy, concession, and pragmatism as servants to ideals, not their enemies — a lesson too many Americans have forgotten.